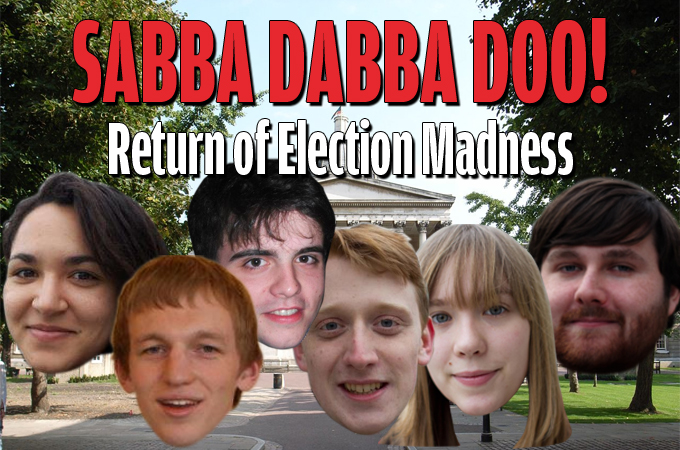 Sabba Dabba Doo! Return of Election Madness
Facebook goes wild as campaigning begins
The beginning of campaigning for this year's UCLU elections has arrived, accompanied by  the usual glut of Facebook groups and election related statuses.
With ten sabbatical officer positions now up for grabs as opposed to the previous six there are a raft of additional candidates vying to fill the lucrative roles in addition to fourteen part-time positions including Union Chair and Activities Officer.
The high profile role of Democracy and Communications Officer, currently held by Sam Gaus, is being contested by self described "common sense Irish student" Ben McCabe, and Dan Warham, who is endorsed by ULU President and resident BNOC Michael Chessum.
McCabe told The Tab that he is standing because he believes that it is wrong for UCLU to "impose their minority views on the entire student body", stating that it such attempts are "simply arrogant"  and that he wants to see "a transparent union that works solely in the interests of students' welfare".
Warham is also claiming that he will deliver greater transparency, saying that "students have the right to know what their officers do and why they do it."
As expected the elections have their fair share of those who are running on a "socialist" platform, such as Stella Christou who is running to become Education and Campaigns Officer. The founder of the UCLU Marxist Society not only wants to push for "socialist policies against Tory education cuts" but also to "oppose splitting the NUS" and "fight for socialist policies on a national level." Her campaign comes armed with a flashy red-flag style flyer.
Stella's flyer is not the only piece of stylish literature floating around the blogosphere. Women's Officer contender Beth Sutton has popped up with a flyer suitable for Superman and (Dumble)Doris Chen has continued the superhero theme (sort of) with her homage to the one man Voldermort was afraid of. Presumably she will be hoping to gain a bounce in the polls from her association with the late Hogwarts headmaster.
Here at The Tab we will be bringing you election updates right through until polling ends next week, including candidate interviews and all the results as they come in.
The Tab: #1 for election coverage.