The Best Coffee Around Campus
Fed up of feeding your student loan to Nero for an average, overpriced cappuccino? Charlie Marmion is here to help.
Students and coffee go together hand in hand. Whether you're looking for an energy injection whilst frantically writing your essay, something to do whilst engaging in a spot of procrastination, or a medium over which to catch up with friends, coffee fits the bill perfectly. Despite this, from talking to some of my friends I can't help but feel that people don't really know the drink that they swear by, confusing their lattes with their cappuccinos, their espressos with their macchiatos. Shameful.
The only way to really tell the difference is by trying an independent coffee shop, instead of blissfully sipping on your nondescript Starbucks. It might seem a little pretentious, but the people working there typically love their coffee, and believe me, that makes all the difference.
Here are some of my favourites:
Tapped and Packed (TAP)
114 Tottenham Court Road, W1T 5AH
Anyone who has been at UCL long enough will know Tapped and Packed. Immediately recognisable by its love affair with bicycles and novelty Victoriana spoons, this place exudes London cool. If you and your beard/thick-rimmed glasses combo are looking for a place to hang out whilst planning your upcoming independent film in Equatorial Guinea, look no further. The coffee is strong and tasty without the need for any additives; my cappuccino certainly hit the spot. Moreover, with their funky looking loyalty card, buy six coffees and you'll get one free: far more generous than the ten typically required from the larger chains. One gripe perhaps would be the food – my £4.50 sandwich was pretty much mayonnaise and nothing else – but don't let that distract you from one of the best coffees closest to campus.
Kaffeine
66 Great Titchfield Street, W1W 7QJ
Tucked away from the hustle and bustle on Great Titchfield Street, don't let this one's small stature fool you. Despite vaunting a minimalist style full of exposed brickwork and wood, Kaffeine remains warm and welcoming, cramped with loyal locals. But if the coffee is good, the staff are excellent. Friendly and outgoing, they are what make the place for me: not only do they seem genuinely interested in how you are when they ask (!),  they really want you to enjoy what you're drinking. Announcing my flat white with a "Charlie!" (nice to see it hadn't changed to Marley/Charlotte/Henry à la Starbucks…) and wishing me a good day, my Monday morning blues were gone in an instant.
Store Street Espresso
40 Store Street, WC1 7DB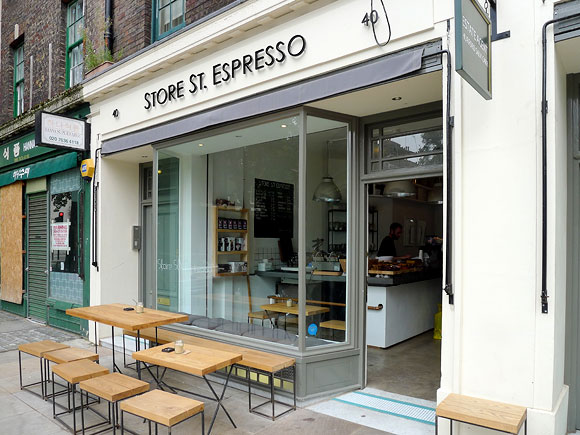 Proceed down Gower Street and you'll find Store Street Espresso, a light and airy space for some afternoon downtime. The coffees, while seemingly small, are fantastic – all have double shots, so if you are ordering a latte (or equivalent), all you are losing is a bit of milk. And when the espresso is this good –featuring the preferred Square Mile variety – milk is really an option rather than a necessity. Second year Tracey agrees, loving the "delicious coffee in Robin egg blue coloured mugs", and the praise doesn't stop there:  many flock here for the superb array of sandwiches and muffins available every lunch time.
Lantana
13 Charlotte Place, W1T 1SN
Named after "a highly invasive weed that thrives in unlikely environments", Lantana certainly does just that, hidden away just off Goodge Street. Yet the placed is always packed – mainly for the delicious breakfasts and lunches, but the coffee certainly cannot be sneered at. Self-proclaimed coffee "obsessives", they brew a wide range of beverages, but the finest is without a doubt their flat whites. Rich, yet light, it never fails to please – pair it with one of their delicious apple streusels and you have a match made in heaven. Combine all of this with the relaxed, almost slap-dash atmosphere; you really can't go far wrong.
Leyas
20 Camden High Street, NW1 0JH
Even though it's not right next to campus, UCL students and Camden go together like a horse and carriage. Leyas is undoubtedly one of the best. Located just by Mornington Crescent, its tiny façade is easy to miss. Nice staff and even nicer coffee, one area Leyas particularly prides itself on is its latte art and here it did not disappoint – my latte was effortlessly poured by the barista with a beautiful leaf shape surface, looking almost too good to drink. To top it all off, it's also very reasonably priced (definitely far more economical than the extortionate Pret next door). So grab a couple of friends and take a visit – they've even got board games for when conversation runs out!
Reynolds
53 Charlotte Street, W1T 4PA
Without a doubt a local gem, each time I go back Reynolds continues to impress. Just two doors up from Icco's, this cute as a button café attracts people of all sorts: passers-by, students, local office workers, all stopping off for a bit of afternoon r&r. Unlike some of the other café's listed, Reynolds feels very roomy, so if you're looking for a quiet place to do some work it will most likely fit the bill. Price wise, it's more than reasonable for what you get. Not only are they bigger than some, your regular latte is full bodied and flavoursome. Or, if you're looking for interesting alternative, try the vanilla ice cream and espresso. Add the exemplary service to the equation and I think we're onto a winner. But don't just take my word for it: even my mum called the cappuccino's "fantastically well-balanced", and she's a hard gal to please.
Now this is not meant to be exhaustive – there are many other great places around which are just begging to be tried. But if anything, a very clever man once said that "variety is the spice of life", so next time you and your friends are thinking of another trip to Costa, maybe try one of the above instead.