Autumnal Alumni Fashion
Style inspiration from some of UCL's famous names
alumni
autumnal alumni fashion
Chris Martin
jonathan ross
katrina russell
London Tab Fashion
paula rego
professor heinz wolff
rabindranath tagore
ricky gervais
Sometimes we're so busy emulating the great academics of UCL – Robert Browning, Stella Gibbons, Alexander Graham Bell, to name a few – that we overlook the potential style inspiration waiting to be taken from the accomplished names among our alumni.
When intimidated by the standards set by Francis Crick and Christopher Nolan, why not channel your intellectual insecurities into the equally relevant field of their wardrobes?
Timeless style: Ricky Gervais in 1983, his last year at UCL. American Apparel, dangerously within walking distance of the UCL campus, offers the Unisex Sheer Jersey Scarf in white, £15, while Primark (also now nearer than it should be) is abundant in white t shirts around the £2 mark. Tuck your shirt into your high waisted trousers, roll up your sleeves and you can recreate the look in your lunch break.
Chris Martin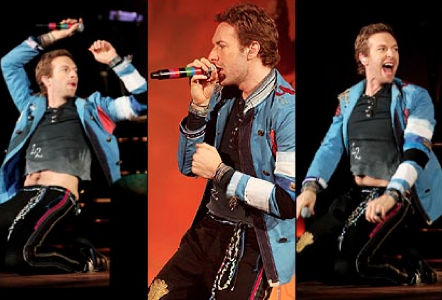 Martin's military jackets bring the Sergeant Pepper look to the 21st century, and with a trip to Zara, you can do the same in your halls for under £70.
Ignore the wet bread music and focus on the popstar militancy exuded by Martin as he throws his shapes (above).
Ricky Gervais and Jonathan Ross
This time modelling the burgundy suit, manifold style icon Gervais and fellow UCL graduate/ comedian/fashionista Jonathan Ross.
Rabindranath Tagore, forerunner of both Bengali political poetry and the maxi length.
When Tagore lamented the interference of purity with vain 'ornaments,' he clearly wasn't thinking of the British winter climate. A new maxi dress is the perfect way to reward your intellectual self-enhancement, while at the same time keeping legs shielded from the cold.
Artist Paula Rego has an enviable wardrobe herself. The fantastical style of her often psychotic damsels complements this winter's gothic romanticism perfectly. Just layer a simple black body or vest with a classic chiffon skirt for a beguiling day-to-night look.
Professor Heinz Wolff, BSc Physiology and Physics
When seeking innovation and inspiration, take it from the man who invented the term 'bioengineering,' as well as a new standard in sassy neckwear.
Remember to keep a balance between imitation and creation, and maybe one day you'll be as style-setting a UCL graduate as Ricky Gervais.