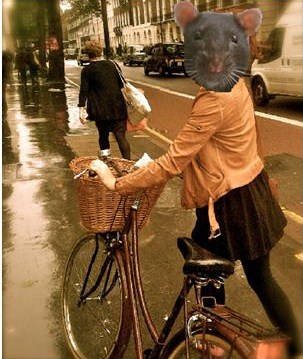 Life as a London Cyclist
Alexandra Simpson exposes the harsh realities of life in the London cycle lanes.
The streets of London: bright lights, sirens and foul-mouthed taxi drivers. Everyone has their place in the pecking order. It goes something like: cars, taxis, buses, pedestrians, tractors, stray cattle, road kill, more cars, and then cyclists. It's sad but it's true: that's just the way the hierarchy crumbles.
Embarking on my daily journey to UCL, I never know what escapades await my Raleigh and me. Could today be the day I'm finally bludgeoned by an irate taxi driver? Am I to be attacked again by an angry pensioner with a Sainsbury's bag for cycling on the pavement? Yes cyclists occasionally jump queues, run red lights and have broken up roads to make way for cycle lanes, but give us a break! Life as a London cyclist is hard. Think I'm exaggerating? You're obviously not a cyclist.
It seems that to cycle on the city streets is to sport a sign reading 'Verbal abuse welcome'. The caricature of the 21st century cyclist portrays a flashing fluorescent moron, cutting people up and causing problems. Even the nicest of individuals is left susceptible to the nastiest of wraths just for being on two wheels.
'Move out of the f***ing way!'
Far too frequently we are forced to endure a chorus of car horns and filthy insults and crippling road conditions as we try to evade hospitalisation: Moon-sized craters in the road, shards of glass scattered menacingly and the perpetual looming shadow of the number 29 that would rather run you over than run late. And if you thought our difficulties end as we dismount, think again. The omnipresence of thieves, vandals and abandoned bikes can make finding a secure spot to leave your two-wheeled friend trickier than getting a mention in Malcolm Grant's newsletter.
The good news is Boris Johnson seems to be on our side: he's constructing more of his (modestly termed) 'Cycle Superhighways' as we speak, in the hope of encouraging more people to "take to pedal power" and making your journeys insult, pain and injury-free (perhaps even enjoyable). "The biggest danger to cyclists is themselves. If you're responsible and you respect the rules of the road, the chances of accidents are severely reduced" says veteran cyclist and maestro Peugeot rider Rufus. "Sex on a cycle, on the other hand, rarely ends well".
Nevertheless don't be put off. Joining the cyclist ranks may entail a loss of respect from everyone else on the roads, but you'll gain an extra 20 minutes in bed (oh, and I suppose it's a rather nice gesture, what with global warming and all). Moreover (cue corniness), your bike may enter your life as a handy machine, but it will quickly become one of your most faithful friends, getting you out of sticky situations and listening to your love-life lamentations when nobody else will. Worried you won't be able to handle the city streets? Keep your headphones out and your lights on and you should be fine. Just watch out for those uncouth cabbies…