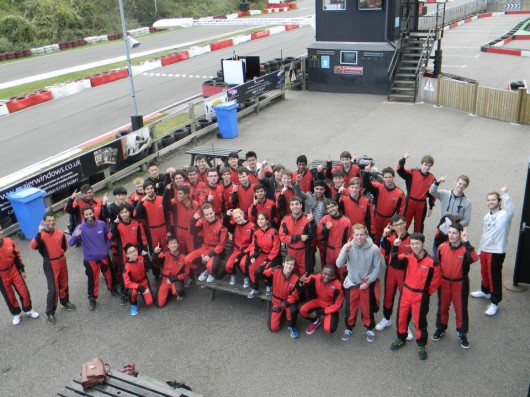 Going For A Spin With UCLU Karting Club
It's definitely not as easy as it looks.
London Tab Sport
ucl
UCLU Karting Club
Last Wednesday afternoon, I met UCLU Karting Club in the Quad not really sure what to expect. Well, I had a vague idea; having watched Formula 1 for as long as I can remember, I knew that current Lotus driver, Romain Grosjean, had less ability to control a Formula 1 car than a goldfish and that surely it couldn't be all that difficult to keep the wheels on the track for the two sessions of 15 minutes that all 62 keen karters of ranging abilities had signed up for.
Well, I was wrong. Following an hour's journey to Lakeside Karting and a short period of watching other racers have a go at the 900m track, the "ten challenging corners, three full blast straights and two daunting hairpins" (taken from their website but I couldn't come up with a more accurate description) seemed a whole lot more real. Still, how hard could it be?, I thought to myself, noting the lap times. Surely it can't be that difficult to cover the whole course in 40 seconds.
My opinions began to change when, following a short safety briefing with a roomful of buzzing UCL students, I first dropped into the floor-scraping driver's seat with a plastic fuel carton between my legs and a single rim of metal forming the bodywork. It suddenly hit me that I, alone, was going to have to control this 55mph top speed kart where a few minutes previously I could have laughed at its primitive brake, accelerator and steering wheel automatic function. Merely surviving 15 minutes on track with 12 other human powered machines of ranging abilities quickly became my one and only goal.
There were crashes (one big one which may or may not have been my fault); lots of 'fishtailing' and a wide range of lap times which we excitedly anticipated at the end of our sessions. Although not quite ready for any kind of competitiveness, I'm still proud to say that I didn't (quite) come last and I had possibly the best fun I'd had in a long time. I was also completely drained which heavily impacted on the mandatory time I spent in Phineas before leaving at 11 to go straight home to bed.
UCLU Karting Club Treasurer and Captain, Chris Woodger, and President, Kulvinder Dhanjal, remark: "the first session was a lot of fun and we were very pleased with the turnout, especially as it's the biggest karting event that UCLU Karting has ever organised. More events throughout the year will include a variety of indoor and outdoor karting as well as different race formats such as an awesome six hour team endurance race in November, not to mention club socials watching the F1 as the current season draws to a climax."
They are also keen to be taken more seriously as a sport. "With two teams (instead of one) in the British University Karting Championships, bigger and better events than ever, a plan for a volunteering session and even appearances at the Roxy, I'd say we are well on our way." Waking up the next morning unable to move the upper half of my body vouches for the sheer physical strength needed for this overwhelming test of guts and endurance. I will definitely never watch Formula 1 in the same way again.
If you haven't already, try karting. UCLU Karting Club provides the perfect opportunity. Visit their Facebook group for more details and events: http://www.facebook.com/groups/uclukarting