A students' guide to Liverpool's nightlife
From the Raz to Woody's, we've got you covered!
Liverpool is renowned for its nightlife among students and tourists alike, and if Shindie on a Thursday is anything to go by, it's understandable why!
Liverpool's nightlife scene may feel a little daunting at first, "What on earth is a Fat frog?" I hear you ask. Well worry no more! Here's a simple guide for all of your clubbing and pubbing needs, and soon you too will be a Liverpool nightlife expert!
For the freshers  
The first and most important place to start has to be where our roots lie, drum roll please… The Raz. Not only is it the club to go to on a Monday night, but it's also home to the student favourite fluorescent green cup of joy that is the Fat Frog. I will leave the rest to the imagination.
I can guarantee that whilst you may turn your nose up at the two luminous green cups staring you in the face at the bar, you will not be disappointed when the refreshing and sweet beverage goes down all too smoothly whilst you're bopping to Call me maybe at 2am.
Thursday is the new Saturday 
Next stop has to be Liverpool students' favourite night of the week. Whether you're an indie fanatic, or just simply want to enjoy a boogie with your mates, a night out on a Thursday is a must!
Sh*t Indie Disco at Electrik Warehouse has been classified as "Liverpool's biggest and cheapest Thursday night" and if you're a fan of Arctic Monkeys and Sam Fender, the music will be right up your street too! However, don't be put off with the big indie names! If it so happens that you can't hack any more Oasis or Florence and the Machine, there are four other floors of music to choose from, so don't look back in anger!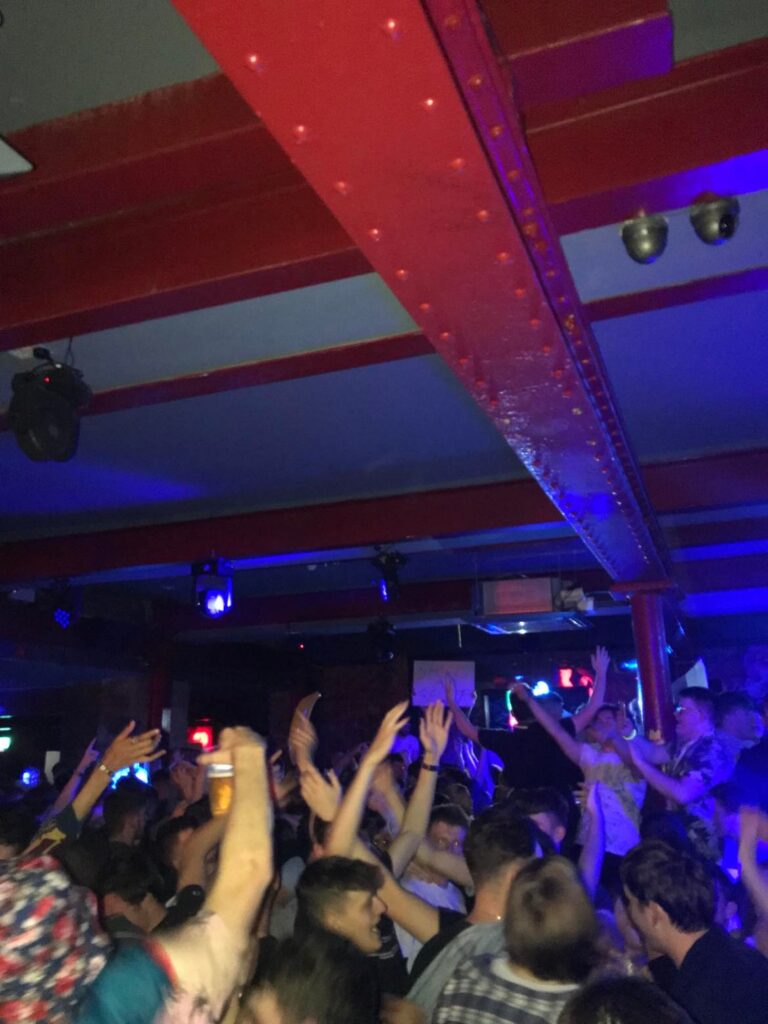 Alternatively, at the top of Seel Street lies Heebie Jeebies, "Liverpool's best nightclub" according to Lifestyle Magazine, so it must be worth a try! Cheap entry and cheap drinks on a Thursday means that like Shindie, it's a popular destination among students who don't have lectures on a Friday morning (or do, I promise I won't tell!) The three floors of Heebies ensures there is something for everyone, but we can all admit that the smoking area is the real reason why we love it so much.
Karaoke 
Who doesn't love a singsong from time to time? And what better place to let off some steam and live your childhood dream of becoming the next Hannah Montana than singing The Best of Both Worlds in Woody's on, well any day of the week? Free entry and free live music performances? I'm in. Although be warned that filming is allowed, so that video of you singing Hot Stuff by Donna Summer may make an appearance on your mate's Insta story.
Free entry and good vibes? Win win! 
The cost of drinking does add up, so bars and clubs that offer free entry is always welcome on a night out. LA'GO is the go-to in this department, and if you're a fan of smaller, and a more bar-like atmosphere, it might actually be your favourite spot. With a varied playlist, reasonably priced drinks and a pool table, LA'GO is quickly becoming a first choice for students. Not to mention it also gets bonus points for being the least likely place to lose your mates as there is only one floor.
Don't get me wrong, LA'GO is great, but it's not Liverpool's only free entry destination that deserves a mention. From Teddy's to Motel, Hatch to McCooleys, there are so many clubs and bars to choose from to save you the £5 club entry cost.
Live Music
Liverpool is the hotspot for culture, and tourists will flock to Mathew Street to experience our legendary music scene in all of its glory. Like most cities, Liverpool has a wide variety of music venues where you can gig to your heart's content (our very own Guild of Students being one of them!).
If you prefer something a little more low-key, The Jacaranda may be the place for you. Offering a more intimate and pub-like feel, you will be able to jam to your band of choice without your pint getting spilled down you (unless it gets really wild, for which I apologise).
If after the Jacaranda you head on up to the top of Bold Street, you'll find a very vibrant and colourful bar, Jimmy's, that's also home to some fantastic live music. There is something going on most nights of the week in Jimmy's, but if you're a lover of Bottomless Brunch and Live music (yes, at the same time) then head on down on a Saturday, because you might be in for a little treat!