The best and worst chefs of Smithdown: October edition
How can you even go wrong with pasta?
It's October! And that means there are freshers, and even some tragic third years, who've had to bite the bullet and actually cook some of their own meals. We all love eating and it is clear students singlehandedly fund the city's cheap and cheerful hotspots such as Nabzy's, Harpers and McDonald's. However, the habit of depending on already cooked food can't continue when our student loans mysteriously just start to disappear.
Students finally having to cook for themselves can lead to anything between disturbing plates of food to some surprisingly good creations. So, if you are one of those students who luxuriously eats their avo on toast on a Sunday morning, or if you are a sad and lost individual who is missing their mum's cooking, here, you can see how the other side lives.
Expect lots of pathetic concoctions of beige, beige, and beige.
The students who can actually cook:
It is reassuring to know there are some mothers who aren't currently sat at home wondering if their child will survive the year.
Fifth place: This fit carbonara by @lucyhowell82
Coming in at fifth place, shockingly, it's pasta. Of course, it's a student staple, but it doesn't usually look as elegant as this lemon and walnut spaghetti. Boujee af. This dish might not actually make any Italians cry in shame, well done Lucy!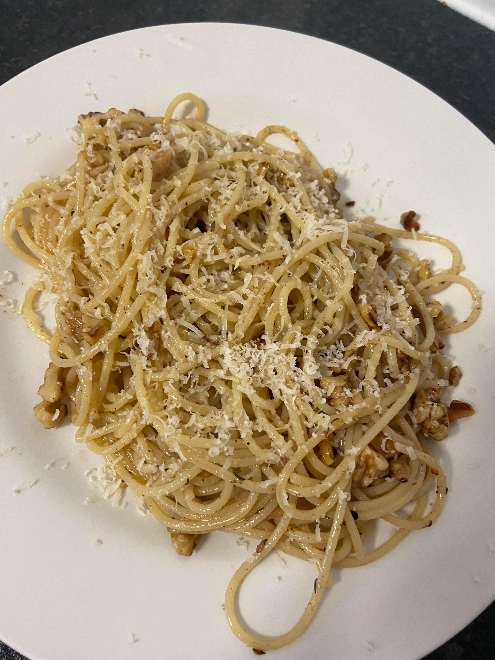 Fourth place: Some chickpea goodness by @finliannjones
In fourth, we have a chickpea tagine, at least I think, it looks Moroccan and healthy either way! And no, you aren't dreaming, you really are seeing fresh herbs, and we appreciate the effort @finliannjones
Third place: BTEC but fit Peri-Peri chicken by @hollysnelling_
For our bronze medallist, we have a respectable attempt at recreating some very famous peri-peri chicken. Spicy, colourful and looks like it took more than turning on the oven. Big respect to the perinaise too, congrats UoL's Holly. 
The runner-up: A beautiful, stunning, veggie roast by @Phoebeelees
Obviously, the classic roast dinner has got to be on the list, but this one is guilt-free and vegan! I can't see any meat eaters saying no to this… I'm sure David Attenborough would be proud of this meat-free dish created by Pho.
The winner: This insane looking Thai style beef rice bowl by @seasoningqueens
Gorgeous. Amazing. Stunning. The Seasoning Queens have outdone themselves and by the looks of it the majority of students in Liverpool, with this Thai style rice bowl. 10/10
Now for the adults who can't adult:
Will they get food poisoning or scurvy first? Who knows. And yes, we made you look at the nice ones first for a reason.
Fifth place: Peri-Peri noodles, apparently
This concoction isn't entirely offensive, but it's just a no. Where is the meat? Where is the veg? Where is the creativity? Sorry, but this is seriously lacking from LJMU's Tom, we will pray for you.
Fourth place: Being veggie isn't always the healthiest
Now, we respect the vegetarian options, we do. Sustainability is key. However, a bean burger and some ketchup just isn't showing off those cheffy skills. Edible, but let's leave it at that.
Third place: Steak? I think?
This at least looks like an attempt at real life cooking but fails miserably. Where is the gravy? All our northern nannas would be appalled.
Second place: How can you burn pasta omg 
This meal isn't even the worst at being the worst, and it disappoints in even more ways than this. Burnt pasta and a pork chop. This is almost the epitome of student cooking; sad, bland and most of all, beige.
First place: Pasta and chips is a grim combo, @wlaceycw
Dear Lord, what a sad little life William, I hope you're happy. Now, this is far worse than anything to be seen on Come Dine with Me and is an insult to the Canadian delicacy poutine. Pasta and chips? Hard pass. 1/10. FILTH is definitely accurate.
Now, we can't all be gifted in the kitchen department. However, a little bit of sauce can make everything taste better and a bit of veg would never go amiss.
And that is all for this edition of Smithdown's best and worst chefs. For a chance to be featured in the next round, DM your submissions to our Instagram!
PS. If your tray looks like this, its time for the foil to go in the bin. Not everything is reusable.
Want to write for The Tab Liverpool? DM us on our Instagram today!
Related stories recommended by this writer:
• Everything wrong with UoL Zoom lectures
• Georgian Quarter is the most underrated student area in Liverpool
• Top 10 drinking games to get you through UoL lockdown pres