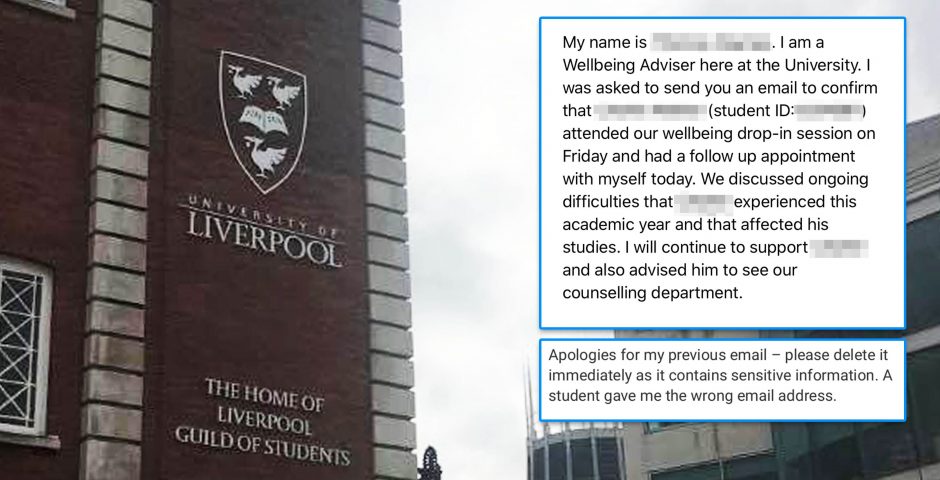 UoL Student Services accidentally emails confidential info to entire cohort
Staff blamed it on being given 'the wrong email'
A Wellbeing Adviser at the University of Liverpool accidentally sent a confidential email about a student to the entire undergraduate School of Environmental Sciences last month.
The student had been receiving support from UoL's Advice and Guidance service, and was also referred to the counselling department.
Included in the email were the student's name and student ID, as well as details of their counselling sessions so far.
The Wellbeing Adviser said the student "attended our wellbeing drop-in session" and "had a follow up appointment" that day.
They added: "We discussed ongoing difficulties […] experienced this academic year and that affected his studies. I will continue to support [them] and also advised him to see our counselling department."
In a follow-up email, the same Wellbeing Adviser said: "Apologies for my previous email – please delete it immediately as it contains sensitive information."
They added: "A student gave me the wrong email address", as an explanation for the accidental email.
A University of Liverpool spokesperson has since said: "We are absolutely committed to respecting student confidentiality.
"Unfortunately, as a result of an incorrect email address being provided, a communication from our Student Administration and Support Division was received by a small number of unintended recipients in error."
They added: "Action was taken to address the issue as soon as the error was discovered and the student concerned has been apologised to."
UoL Student Services claimed in a leaflet last year that they provide "confidential information, advice and support to students studying at the university."
It adds: "Students who share information with us should be secure in the knowledge that any information they disclose to us is handled in a respectful and appropriate manner."
One person who mistakenly received the confidential emails told The Liverpool Tab: "Obviously it's awful from the wellbeing service, especially blaming the student.
"How much harder are people going to find it actually going to get help when something so personal could wind up in the inbox of a few hundred people?"
They added: "I mostly just feel bad for the student, though. If this is something they wanted to keep private or within a small group, now everyone in every lecture they go to knows something's going on with them."
Related stories recommended by this author:
• Liverpool Uni accused of racism for only translating 'cheating' into Chinese in email to all international students

• UoL could've 'made a difference': What was said in the Ceara Thacker inquest

• UoL students visit Parliament to meet with Liverpool MPs to improve mental health services