The top eight vegetarian friendly restaurants in Liverpool
No animals were harmed in the production of this article
#veggie
food
liverpool
vegetarian
With so many amazing restaurants in Liverpool to choose from, narrowing it down to just eight was tricky. Whether you are looking for a hung-over brunch or a posh meal out we've got you covered. For tasty, budget friendly veggie food here are our favourite places to grab a bite to eat.
1. Kasbah Café Bazaar
If you are looking for a nice meal out Kasbah on Bold street is the place to go. The beautiful interior creates a warm, friendly atmosphere. There are plenty of mouth-watering veggie options to choose from, as well as gluten free and vegan options as well. Take your parents here when they visit; sample some Moroccan food and sip some ridiculously amazing mint tea.
2. Honest burgers
Fed up of dry flavourless burgers that claim they are veggie but taste like they're made of sawdust? No worries, Honest burgers will save your taste buds. The burgers are bursting with flavour and trip is wasted unless you order a large side of their rosemary salted fries. Admittedly the menu is limited (there is only one veggie choice and one Vegan) but for a no-nonsense burger with all the trimmings there is nowhere better.
3. The Little Furnace
If Pizza is more your thing The Little Furnace is great. There is a full range of tasty stone baked pizzas. The Little Furnace has gluten free options and a separate vegan menu so even if you are dairy free you can enjoy the cheesy goodness!
They even have a takeout option and are conveniently located on Smithdown Road. Our favourite is the simple but reliable classic Regina Margherita. Pair this with a movie in the comfort of your own student digs and your'e all set for a cosy night in.
4. Mowgli
For some super tasty (and a little spicy) Indian dishes look no further than Mowgli. The menu consists of small plates, so your best bet is to go with a load of friends, order everything off the menu and mix and match. The Paneer curry with elephant bread will change your life, trust us.
5. Leaf
Having just opened a new place on Smithdown, Leaf is now placed in direct competition with The Tavern for the best breakfast café and they've come to play. The Vegetarian full English is stunning and with so many teas to choose from, (although at this time of the year the obvious choice is one of their amazing hot chocolates) Leaf is a great place to start the day.
6. Cuthbert's
If brunch/lunch or tea and cake is more up your street you can't miss Cuthbert's. Just around the corner from the UoL campus it's a cute place to meet up with friends and grab a snack between lectures. There is no issue finding a great vegetarian or vegan (and even gf) option at a super reasonable price. They have great variety of home baked cakes to tempt you and the vegan chocolate cheesecake is to die for.
7. Turtle Bay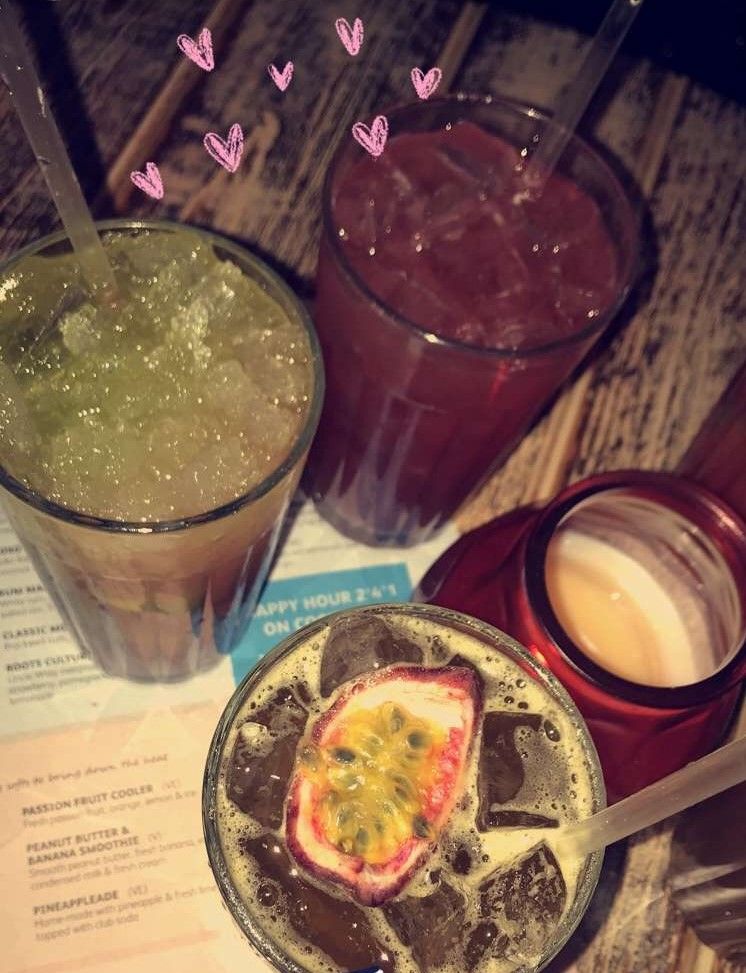 If we were to sum up Turtle Bay in three words it would be: cocktails, Caribbean food and fairy lights (Ok more like 5 words). Our favourite dishes include the Buddah Bowl, the Aubergine Curry and the Roti Rolls. If the food is not enough to convince you, the 2-4-1 happy hour cocktails, perfect lighting and colourful background will make for a great evening and stunning gram pic!
8. Down the Hatch
Do you just want a vegetarian and vegan restaurant? Well Down The Hatch it is. They serve the ultimate comfort food, burgers, mac and cheese and the renowned loaded fries which are the best in town. Down the Hatch without a doubt is a ten out of ten and a perfect place to bring your veggie/vegan mates.