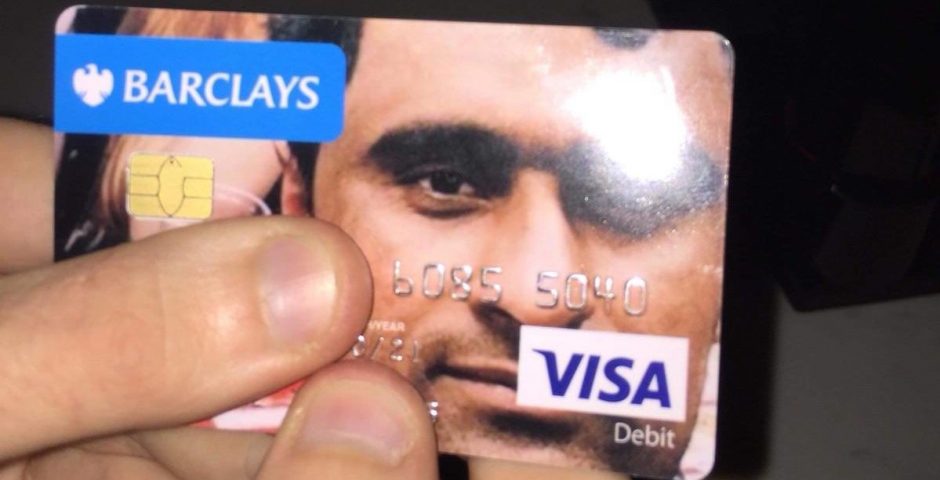 We spoke to the JMU student who has the bloke from Nabzy's on his debit card
Obviously they're on a first name basis
You may have seen on Twitter that a student in Liverpool has a picture of Tom, a member of staff at Nabzy's, on his Barclays debit card, because you know – why not?
Johnny Fuller is a third year at Liverpool John Moores University studying media production. He loves Nabzy's so much, we've never seen someone love a takeaway shop quite so much. We spoke to him, the absolute hero that he is, to find out why his love for Nabzy's is so strong.
Where did you first get the idea for your debit card?
"I've been with Barclays for a few years and I've used the personalisation service before. Nabzy's is always the final stop of our nights out in town and the guy on my card got to know us the more my friends and I went in. We decided to treat him as our mascot one day and joked about how much he and the team mean to us. I needed a new card and thought it'd be funny way to show him how much we love him!"
Are you on a first name basis then?
"When we have our nights out, I typically wear some kind of flower crown, so for the first month or so he just called me 'the flower guy' – but we all knew him as Tom after talking to him properly one day shortly after meeting him."
How often do you reckon you go to Nabzy's?
"It's my first year properly going out, so I'm treating my third year as most people do their first. Typically, we go Monday, Thursday and Saturday! Working hard but partying harder – we've actually invited Tom with us the next time we go. I know it won't happen, but he did say I could have a free Nabzy's hat for offering!"
"Oh and in the time we've been going into Nabzy's, I've been invited to go into the back and meet the staff once or twice. When that happens, I always try to subtly pick something up on the way out to remember the night by. Over the last month, I've slipped away with a hat and a spare Nabzy's polo shirt. Definitely going as a zombie Nabzy's guy for Halloween – can't wait to see their reaction!"
Do you ever betray Nabzy's and get food from anywhere else?
"I WOULD NEVER BETRAY NABZY'S"
What is your statement dish from Nabzy's?
"I'm so glad you asked! They have a hidden treasure called the baked bean pizza. It's a Margherita with a layer of beans under the cheese.
If you like beans and cheese on a baked potato, you'll love it. I've stood on a table in there before and shouted about it like it's the new gospel. And frankly, it should be. It's phenomenally nice!"
Why do you always choose Nabzy's over other takeaways like Hot N Tender or Harpers?
"Because the food is fast, hot, tasty and a good price. The team there are super friendly and you always come away laughing. You don't always get the personal touch in other places. Nabzy's is a place where dreams come true."
Any final comment on Nabzy's?
"Nabzy's is a core part of our night out and so many other people's. The team deserve to be national treasures! Liverpool wouldn't be the same without them."