Your ultimate guide to Liverpool Sound City 2018
Including interviews with the headliners
Liverpool Sound City is back to kick start your summer on the 5th and 6th May. The festival has described itself as "going back to its roots", and for the first time the festival is including the new wave of grime and urban music stars alongside its typical range of sounds which comprises electronica, indie, psychedelic , rock and pop.
Sound City is spread across the Baltic Triangle, including events in favourite student venues such as Constellations, Camp and Furnace and 24 Kitchen Street. As always in the Baltic Triangle, great food will be available from companies such as Free State Kitchen and Little Furnace.
Camp and Furnace is the main venue for the event, with headliners DMA'S and Peace both playing there. You can see the venue lists for all the acts below.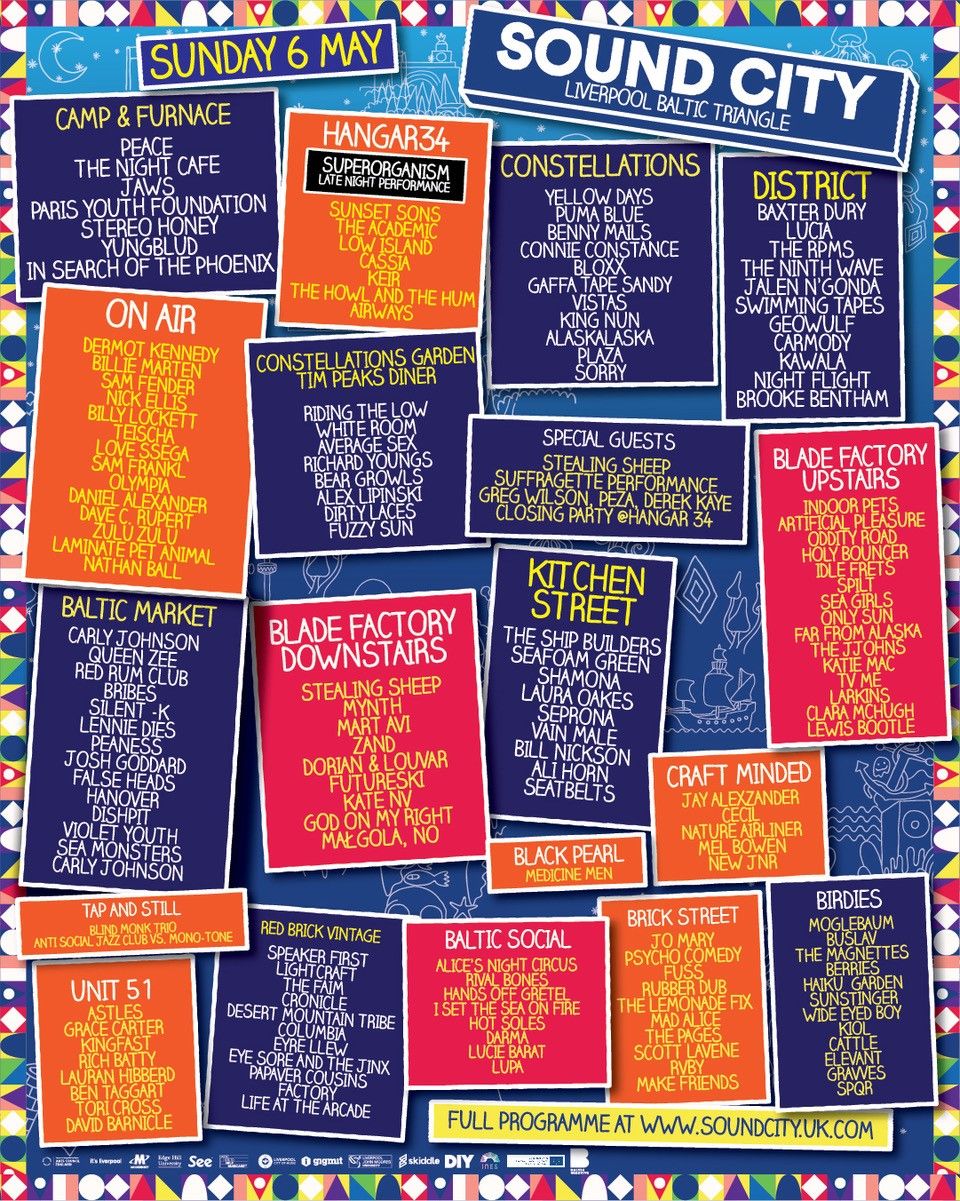 This year's Sound City promises to be one of the best yet, with yet another wave of up and coming acts. Previous acts to play Liverpool Sound City before they became huge include Florence and the Machine, Ed Sheeran and the 1975.
The Tab Liverpool were able to speak to members of the two headline acts, Peace and DMA'S, to get their thoughts on the festival and Liverpool as a city. One thing they both agreed on is they love a Liverpool crowd.
Johnny from DMA's told us that he was "fuckin stoked" to play Sound City, as well as saying that the band's song "Timeless" was his favourite to play live. Johnny told us how he felt that being kids of one of the first internet generations meant that despite living in Australia, the band were able to discover the likes of the Stone Roses and Oasis, bands which inspired DMA'S. He also described the gig at Liverpool's O2 Academy last year as one of the band's "favourite gigs they've played", before going on to say that UK crowds "bring a little bit of that football fever to the gigs".
Harry from Peace followed on the rhetoric about Liverpool crowds describing their gig at the O2 as "one of the hottest shows of my life, the crowd was going nuts, everyone was going 10/10". Harry also said he was extremely excited for DMA'S' set, and that he thought their song "Delete" was one of the songs of 2016. When we asked Harry if the band had been on a night out in Liverpool, he told us they definitely had. He said it was up there alongside Birmingham as one of the best nights out, and gave an anecdote about guitarist Doug climbing up a lamppost.
Sound City tickets are on sale now at https://liverpoolsoundcity.seetickets.com/event/liverpool-sound-city-2018/various-liverpool-venues-liverpool/1152912
Get breaking Liverpool news straight to your WhatsApp by clicking here. If you have any tips, message us on +44 7715 750931.