Every Halloween costume you saw in Liverpool this year
No, wearing lingerie and a tail doesn't make you a cat
By this stage in your life you've most likely made the standard British Halloween progression from trick or treating with parents, to underage house parties you'd rather not remember, and now to the classic Halloween night out. Whether you're drinking copious amounts of Jaegerbombs in Heebie's or at a classic Smithdown house party, here are all costumes you're bound to have seen this Tuesday night.
The classic skeleton and/or zombie
Nothing says Halloween like a good old skeleton. This year's Smithdown parties will have included everyone from the lazy skeleton who just wears all black with some face paint, to the committed skeleton who goes for the full body outfit. Alternatively, the zombie is a good option for most. It usually involves ripped up clothing and green/grey face paint. Most likely to be seen on: sports teams or societies. May include remnants of said team's jersey.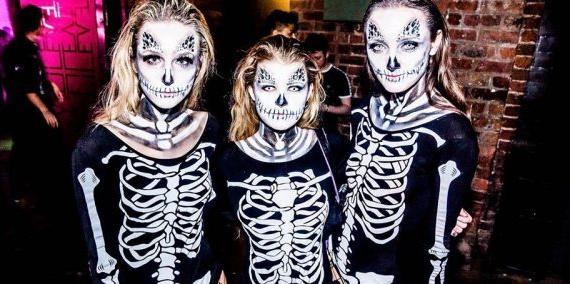 The sexy generic animal
Nothing says basic like a girl in lingerie sporting cat/dog/leopard/mouse ears and a tail. Yes, nothing says empowered like a woman clad in Ann Summers, and we all know that underwear as outerwear is making a comeback. However, if originality is what you were going for on your night out at Concert Square, look elsewhere. Variations include: men in said lingerie (we approve), zebras, spiders, or zombie animals.
The satirical political figure
Last year, it was all about the Trumps and the Hilarys – little did we know that the Karma gods would come back to bite us in the ass, and our friends across the pond were left with an election result that was anything but comical. This year, we saw Theresa May, Corbyn and Melania make appearances on Borrowdale and Langdale.
The semi-scary pop culture character
Each year has its defining blockbuster protagonist that is recreated at every Halloween party. Usually these characters are from horror or sci-fi films or series. Last year saw the reign of Eleven from Stranger Things, but this year you're sure to have seen boys, girls and everyone in between dressed as Pennywise, the shape-shifting clown from It. Variations are sure to include: sexy Pennywise, zombie Pennywise and Pennywise twins.
Some mildly culturally appropriated costume that is bound to offend someone
Not Mexican but dress as a Day of the Dead sugar skull? That''s cultural appropriation. Your favourite author/singer/actor who has a slightly different skin tone? That's appropriating too. To avoid offending you should have stuck with the classic sheet over head ghost. 10/10 for originality.