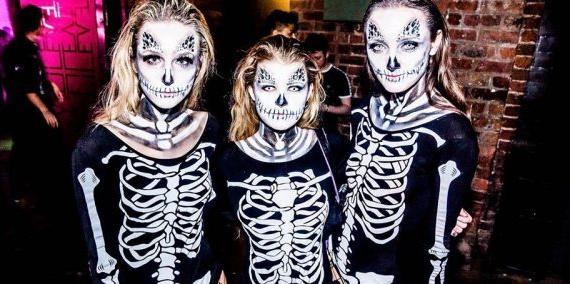 What's going on this Halloween in Liverpool?
It's that time of year again where you spend £20 and 3 hours putting in white contacts and gluing prosthetics to your face, forking out for overpriced taxis to town before finding out it's just as busy as it was last year, visiting Harpers and retreating home to stream a poor quality copy of Nightmare Before Christmas. YES! It's Halloween.
It's time to get seriously spooky, so whether you're looking for a daytime activity or an all night party, here's the rundown of some of the most bewitching events going on in Liverpool this year.
Camp and Furnace – Wonderland
We're kicking off with something a little different this year. Described as 'part walk-through terror experience, part game', Camp and Furnace will be hosting a horrifying Alice in Wonderland themed experience on 29th October. Tickets available here.
Halloween Lantern Festival
On 29th October, Liverpool's infamous Halloween Lantern Carnival will be making its way, from Pilgrim Street at 6pm, towards towards the Docks. The change of location, from Sefton Park to the streets of Liverpool town centre, promises for a better show than ever before. For more information click here.
EBGBs
Old reliable will of course be hosting a ghoulish get-together. On 31st, they will be hosting a Tech-No Tuesday halloween special. The well-established student hotspot will be 'transforming EBGBs into a tunnel of nothing but terror'. For advanced tickets from £4, follow this link.
Howl-oween Puppy Parade
How better to cure your hangover than by surrounding yourself with some of the cutest poochy pals in Merseyside? Brewdog has teamed up with Merseyside Dogs Home to host the annual fancy dress parade from the Bombed Out Church, down to Brewdog. For times, details, and some very cute promo pictures, click attending on the facebook event.
LEVEL – Day of the Dead
The infamous Level nightclub will of course be throwing their hat into the Halloween ring. The 'Day of the Dead' event, hosted by Cool it Liverpool, will be taking place on 31st October. For confetti cannons, dance troupes and much more besides, grab your tickets now before they sell out.
Popworld
And if top floor LEVEL just wasn't cheesy enough for you, head straight for Popworld, where there will be an entire 'Haunted Forest Halloweek' from Thursday 26th October – Tuesday 31st October! Monster Mash anyone?
Blair Witch Project @ Grand Central Hall
If however, you'd rather kick back and just have the pants scared off yourself, you can always get involved with the 'haunted cinema at the dome', where the Grand Central Hall on Renshaw Street will be showing the legendary horror film 'The Blair Witch Project' on Tuesday 31st from 7pm. Tickets available here.
Bongo Bingo
If you were lucky enough to pick up a ticket for this year's Bongo Bingo halloween special then well done to you. This increasingly popular wacky night out is sure to impress both newcomers and bingo-veterans alike.
Heaven
For the LGBT members amongst us, Heaven will of course be hosting a night of tricks and treats. Their freakshow themed event on 28th October won't disappoint. Themed rooms and drink offers all night – count me in!
Shit Indie Disco
Who could possibly forget? Art Club will be opening its doors once again to this legendary event. Two rooms will be available, one disco and one indie (duh) and tickets can be booked here. Let the chaos ensue and let the Libertines play!
So stay spooky Liverpool and enjoy the city this October. Happy Halloween…