An ode to Mathew Street: the Magaluf of Merseyside
The birthplace of the Beatles or the home of throwing up outside Rubber Soul at 3pm?
beatles
city centre
fab four
flares
grapes
liverpool
mathew street
night out
smokie mos
the beatles
the strip
town
There is nowhere quite like Mathew Street. The rich history, live music and the historical sites of the Rock 'n' Roll revolution make it an unrivalled tourist location, full of people from all over the world visiting "where it all began." It's also a haven for stag and hen dos, promo people and street fights. Every nightclub strip has the good, the bad and the ugly; Mathew Street being no exception. It's fun, loud and a lorra, lorra laughs – now with a six-foot Cilla statue.
Deciding where to go 
The bars on Mathew Street are all different, and there is definitely something for everyone. From Flares to Remeniss, Irish bars and sports bars: there's something for everyone.
The Grapes is where the Beatles used to drink after a performance at the Cavern Club. If you go there beware of the old men always up for a fight over who knew John Lennon first. Observe the historical location turn into a brawl pretty much every Saturday night. Remeniss is the Pop World of Mathew Street. You'll be promised a free shot of blackcurrant cordial and someone will more than likely buy all your drinks, because if you're in Remeniss then you're definitely drunk enough to be buying rounds you'll forget about. It's the bar that is the point of no return.
The tacky, but fun, end of Mathew Street would not be complete without the Liverpool speciality that is Smokie Mo's. Where there's young and old doing Sambuca shots until 3AM while trying to tip the barman a tenner because you're too drunk for financial limits anymore. Flares, situated next to the Cavern Club, is another goldie, probably better than Smokie Mo's itself. All the cheesiest music that your dad loves, alongside some Steps bangers, there is nothing better than a cheeky bacon vodka and some Mustang Sally moves on the light-up dancefloor.
Flanagan's; the authentically Irish bar opposite Remeniss. Amongst all the chaos, stag and hen parties and people falling into you uncontrollably drunk, Flanagan's is an oasis of fun Irish music, drinks and people. If you didn't pop into Flanagan's on St Patrick's day then did you even celebrate it properly?
The Promo Staff
The promo staff are another brilliant aspect of Mathew Street, because no matter where you're headed to, they're going to get you into their bar, even if it kills them. They'll be dancing like robots and screaming that you'll get a free shot if you go in. Even at the end of the night, when your feet are killing and your mascara is running down your face from drunk crying about all your deadlines, you'll see them in the 4AM mist, begging you to come into Sgt. Peppers for a free drink. Avoid at all costs, they need their commission and you won't be able to resist the beck and call of Remeniss. Even if you don't ever mention you went in there again.
The People
You know you're on Mathew Street when you see someone throwing up outside Sgt Peppers at three in the afternoon, or if you see someone falling over the Cilla statue while singing 'Twist and Shout'. Cheap ale all day makes this is breeding ground for people to day-drink until they actually think they're Paul McCartney. Endless stag and hen dos come to Mathew Street with their willy straws and school girl costumes. Usually you glimpse the same group in every Mathew Street club, and by the end of the night you will see their group has split up, with one stuck in Smokie Mo's and another getting lost on the way to find the Filling Station.
Mathew Street wouldn't be Mathew Street without the constant fights in the Grapes and endless people being thrown out of Flares. It's just a way of life there, especially when it hits the 1AM mark and people start getting cocky. The best part is when just turned 18-year-olds think they can stand up to a 6 foot, 15 stone doorman when their body type is small and gangly at best.
The Music
The music on Mathew Street is classic Beatles, all the bangers like 'She Loves You' that constantly have people holding their pints to the ceiling in some sort of Satanic worship of the fab four. Usually live and usually really good. With the likes of Flares and Smokie Mo's, there is a constant flow of Abba and Rick Astley and without it, these clubs would not be the same. All of us must admit that a night out in Flares isn't a bad one, no matter how much we would slag it off. If you've never been, sacrifice your dignity for one night out there. If you want the likes of One Direction's 'What Makes You Beautiful' and Ricky Martin's 'Livin La Vida Loca' then Remeniss is the perfect place for you music-wise. It may be lame but it is golden, and you do secretly love it.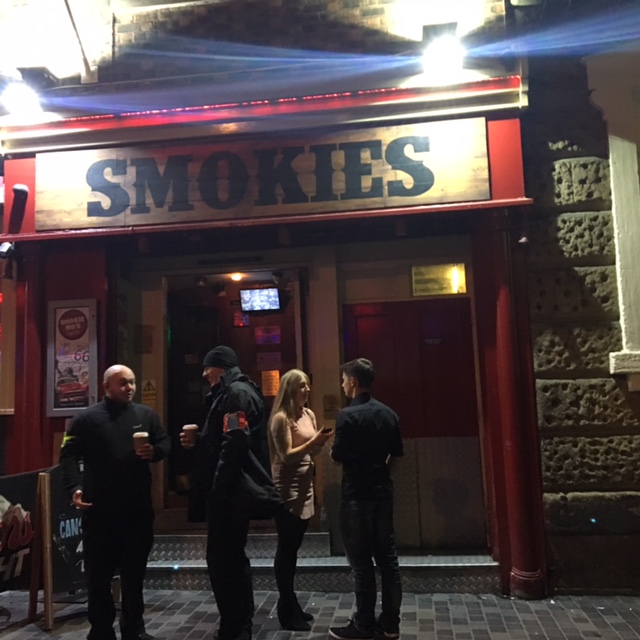 Stay classy, Mathew Street!