All the things you say you'll do when you move to Liverpool, but don't
No, you won't spend your Saturday afternoons in the Cavern Club
city
liverpool
moving
student
things to do
university
There is no question Liverpool is possibly the best place to live as a student. Once being named the City of Culture, Liverpool has everything you want, practically on your doorstep. Countless amounts of cuisines and trendy bars, and so many things to do to fill your three years here.
We all came to the city with the aim to see and do everything we possibly can, and make the most of being in this brand new, vibrant environment. But realistically, how many of us have actually done what we expected to do and how many of us spend every weeknight in Concert Square and every morning hungover?
Visit the Cavern Club
Liverpool is best known for its music scene, and for being home to one of the most famous bands in history – The Beatles. The birthplace for the world famous band is most definitely on a lot of people's bucket list, and being a student within spitting distance of it, why wouldn't you go and live your 1960's dream? You pictured you and your mates on a Saturday afternoon watching live music whilst sipping on a ice cold pint, becoming more culturally diverse and be able to rub it in your parents face you visited such an iconic place of their childhood. Well think again, it will most likely never happen. Let's be honest, you've walked past it once. Let alone, "pop in" from time to time.
Take a trip to Anfield
Football fan or not, you've come from the countryside where your local games are held at stadiums with only enough seats to sit the extended family. So coming to a city like Liverpool, you would hope you would have regular visits to the stadium like it was your second home. Unfortunately not. You realise that the stadium is a lot further than you thought, meaning you actually have to spend money on public transport to get there. Unless you're a super dedicated fan, that's enough to put any penniless student off.
Meet Jurgen Klopp
You may not make a football game but surely there's a chance you could meet the manager? Turns out Klopp isn't too much of a fan of The Raz, so keep dreaming.
Go to all the museums
Liverpool is riddled with free museums. Becoming an adult and moving to uni, you think you should start becoming more aware of the world around you. So you tell yourself you'll definitely go and soak up the history in the local museums. At least the thought was there – you're too hungover from Heebies on a Friday to do anything relatively cultural.
Make the most of the Docks
There is no denying how picturesque the Albert Docks really is. When the sun is shining, looking over the Docks, you feel like you're in a movie. Shame the nine months a year you're actually at Uni, the sun barely shines. You will most likely take a trip in the first couple of weeks at uni, take a few snaps and maybe Instagram it saying how lucky you are to live in such a beautiful city – you know you've done it. But as soon as you've been once or twice, the thought of going again soon slips your mind, and the picture in your head of you and your friends soaking up the view as if you were part of a High School Musical like film, slowly drifts away. IT'S JUST SO FAR AWAY.
Shop till you drop
With such a range of places to shop all over the city, you're prepared to update your wardrobe and create that new cosmopolitan look. Well good luck clearing that with your bank. You're probably better off walking through town with your eyes closed to avoid any temptation of shopping with the money you don't actually have.
Have a quad vod
You think you're going to come to Liverpool and become a student drinking machine. You can handle a quadruple shot of vodka can't you? No, no you can't. You've had one too many doubles already, and you're the only one brave enough to even think about having one. Everyone else has chickened out and there's no way you're doing one on your own. Maybe next time.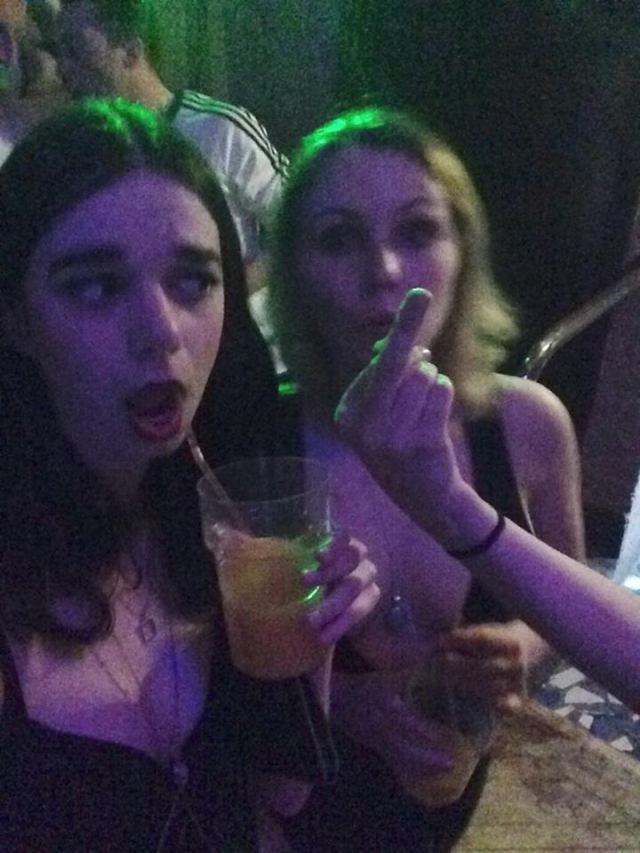 Become a foodie
Liverpool is home to what feels like thousands of restaurants and takeaways, with Bold Street being the Epcot of Liverpool, every next restaurant is a different country cuisine. Your choice is endless. But when your mates say "where do you wanna eat tonight?" you can guarantee you'll end up in Nandos or staying in with a Dominos. Maybe you'll try and be a bit more adventurous next year.

Go to Bongos Bingo
Booze, bingo and breaking out in dance on the tables, what's not to love about Bongos Bingo? Oh yeah, that fact you can NEVER get a ticket unless you book practically years in advance. Sad times.
All in all, Liverpool has so much to offer. You just have to literally grab it by the balls and make the most of it. Or you'll defo regret it.