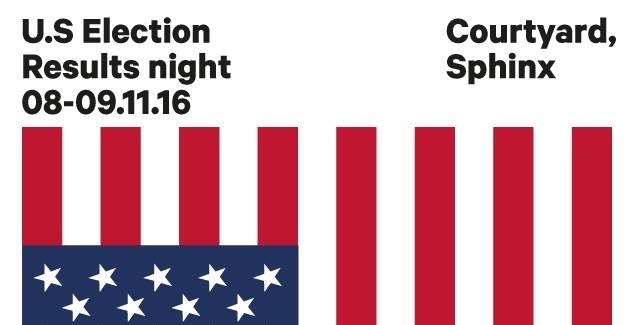 Politics Society are hosting an all-night screening of the US Election
See if you can survive until 5am
america
election
liv uni
liverpool
politics
society
uni of liv
US
After the success of the all night event for the 2015 General Election results at the Guild, the Politics Society is setting up an American themed night to celebrate the most important US Election for decades. It will be taking place from 10pm in the Courtyard and the Sphinx bar on the night of the 8th November.
The event will begin with a 'U.S. Election Quiz' starting at 10pm where teams will be pitted against each other to test their knowledge about everything from Trump's wall to Hillary's emails.
Election coverage will start from 11pm and staff will be on hand from the Politics department to give their input about the night's events. The head of Politics, Stuart Wilks-Heeg, will also be unloading his fountain of knowledge about the lead up to the election as well as analysing data as it comes through.
Throughout the night, appropriately American-styled food – including chicken wings, topped fries, topped nachos and pizza – will be served through the night. If you're capable of lasting all night, an American style breakfast will be available for the hardcore election fans.
The event is completely free and will be a guaranteed boss night. It'll be very busy, so pop down early to ensure you get a seat at a table with your friends to discuss 'Crooked Hillary', laugh about how useless Gary Johnson is ('What is Aleppo?') and how Jill Stein is still plodding along. We won't bring up *you know who* as we don't want to give him even more airtime for his absolutely disgusting, divisive and discriminatory views. Real talk.
Esme Moore, who is head of PR and Communications for the Politics Society told us:
"The society and the guild have worked together and put in a lot of effort to get the bar and the canteen into the American spirit. I'm just looking forward to seeing Trump not get in and gonna spend the evening getting druuuuuunk."
President of the Politics Society, Morgan Simpson, is looking forward to the event:
"We've worked very hard to ensure every coming has a memorable night, it's going to be an excellent evening. There are prizes for anyone who lasts until 5am – so good luck!"
Who knows what these prizes are, but if they can keep you going to see Trump getting annihilated, then it's worth it.