Vote Now: Liverpool's Best Dressed Fresher
The first campus style of the year has arrived. Vote for your favourites at the bottom of the article.
autumn fashion
campus street style
fashion
fashion campus style
liv uni
liverpool
trends
university
Rebecca, English
Rebecca's sandals and sunnies give off serious summer vibes and her floral trousers give the outfit just the right amount of colour.
Guy, International Business
Guy's look is effortless and so on-trend. His turn-up jeans and bomber are a perfect double denim combo, and caps are the perfect Autumn accessory to finish off a great look.
Shani, Physiology
This layered look is perfect for the cooler months ahead, pairing warm autumnal tones with black tights and fringed shoes.
Charmaine, Law
Charmaine's stripey summer dress is fun and sophisticated, making us wish Summer never ended. The floral choker is the perfect boho accessory, and of course you can never go wrong with a pair of classic Chucks.
Charles, Philosophy with  Communications and Media
Ripped skinny jeans are all the range on campus this semester, and we love the indie boat shoes. Bonus points for carrying a vos water bottle around campus- we applaud you Charles.
Alysha, Law and Philosophy
Alysha's Stan Smiths are a classic Liverpool uni staple, and we love the slouchy off the shoulder top she's paired her ripped jeans with.
Nizar, Medicine
Nizar's quirky sense of style is evident through his trendy printed shirt, and we love his confident attitude too! Mirrored sunnies will never not be awesome- nice one Nizar.
Louis, Law
Louis ensemble is so well put together, he looks like he's stepped straight off the MIC set. Shearling bombers are an autumn essential and we love the turn up jeans and boat shoes.
Nish, Geography and Planning
Nish's frayed mum jeans and trainers combo is the perfect back-to-uni look, and the vintage feel of her look is so on trend across campus.
Ella, Psychology
Ella's crop top and bright jeans are the perfect 90s revival combo. We love how well thought out and coordinated this look is- she even pairs the print on her shoes with the rest of her outfit.
Chris, Politics and Economics
We love Chris's oversized t-shirt and classic trainers. Dusky pink is a key colour this season (thanks Kanye) and Chris pulls it off really well.
Hannah, Maths
Hannah's polka dot midi skirt and converse trainers are the perfect preppy outfit. We love how fun and girly this look is.
Maddy, Psychology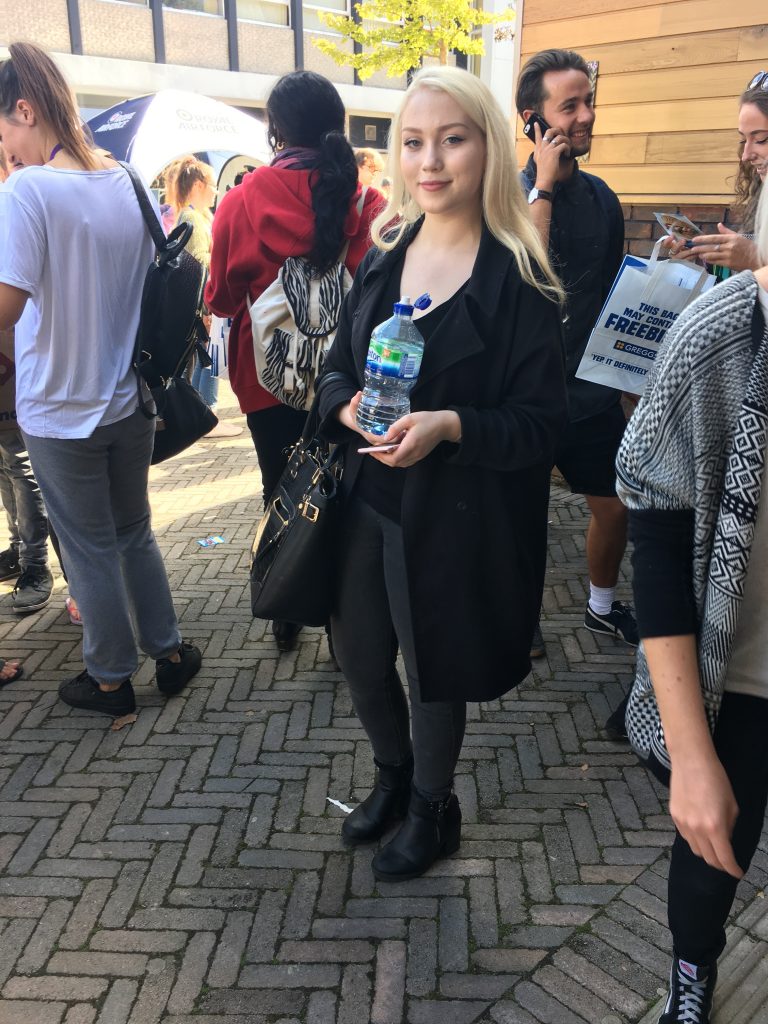 Maddy's stylish black ensemble is always a winner, and contrasts well against her blonde hair. Bonus points for staying hydrated during freshers!
Tilly, Biological Sciences
We. Love. Culottes! Tilly's understated look is perfect for this in between weather. This look just goes to show that you can never go wrong with a plain white t-shirt.
Vote for your favourite below: