Liverpool 'Black Lives Matter' organiser has police warrant card removed
He's organised another protest taking place in Liverpool on the 16th
black lives matter
BLM
liverpool
protest
Protesters under the name 'Black Lives Matter' marched peacefully through Liverpool last Saturday, in light of the recent shootings of two black men by US police in Louisiana and Minnesota. The protest followed similar demonstrations that have taken place worldwide. They carried placards with slogans and chanted  "Black Lives Matter", alongside other phrases.
The event began at the Bombed Out Church, proceeded down Bold Street, down Church Street and into Williamson Square. There is to be a larger protest next week on the 16th of July, at 2pm from St George's Hall. The Facebook event for the protest has over 1,000 people interested so far, and reads:
"Let's show England and the world that in Liverpool, we believe Black Lives Matter! Black Lives Matter is an ideological and political intervention in a world where Black lives are systematically and intentionally targeted for demise. It is an affirmation of Black peoples' contributions to this society, our humanity, and our resilience in the face of deadly oppression."
One of the co-organisers of the protest, Ayo Akinrele, 27, is the vice-president of Liverpool Hope University's student union and a law and social policy graduate from London. Following the protest on Saturday, he posted on the Facebook event that he was a voluntary police officer. He claimed in the Facebook post that his warrant card had been seized and that he was facing disciplinary action following his part in the protest, due to the political nature of the event.
He also commented on his role in organising the protest, saying:
"I've not done anything like this before, but I and Whittney Smith, who I saw had the same idea online thought 'let's make it happen'. It's in response to recent shootings in America, police brutality and about global solidarity. Liverpool has a strong history of standing up on things like this. But this is about wider in justice, not just people being shot.
"The police response to black men stems from the level of danger black men are perceived to be to security. There's an idea of certain people being dangerous. The rhetoric of 'watch out for those guys' links into the immigration debate. There has been more language of hate and generating of fear the past few years, and a race to the bottom between mainstream parties on immigration.
"Police brutality does affect people here too, particularly immigrants and refugees – and the rate of deaths in custody is not too far off America's. But for all the ill that goes on in the world, most people are on the right side and want to do the right thing. It's looking really good for tomorrow, I'm shocked how much it's snowballed.
"Race is something I have to think about more than I want to. There's always a question in the back of your mind about whether you're being treated differently."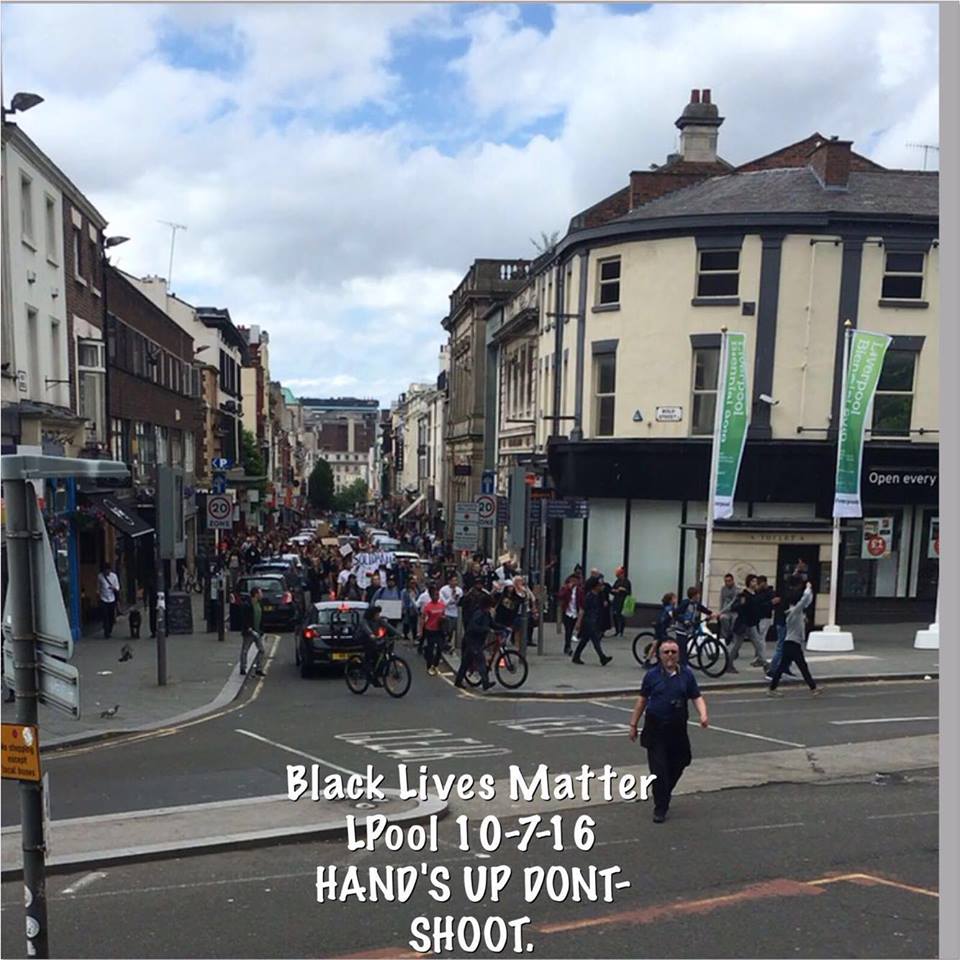 In an interview with BBC Radio Merseyside after the protest on the 10th, Ayo said the protest was "brilliant" and he was pleased to see such a large turnout from less than 24 hours notice. He was also pleased to see people of "white, black and every colour under the sun" turning out to support to the cause. Ayo said it was "amazing" and "reassuring" to see the "positive response" from the people of Liverpool who supported the march on passing it.
Ayo also has spoken out as a volunteer police officer after having his warrant card removed following the protest. He said:
"After today's demonstration, I was going home alone, and I was approached by four police oficers, who up until now were my colleagues, as I understand I have been temporaily suspended pending disciplinary. I was told to present my warrant card and it was seized. I was told this was on the grounds of my involvement with today's demonstration which was seen as somehow incompatible with my role as a volunteer police officer. I disputed that because it was said that, while I agree with the police code of conduct, police are encouraged to be neutral when it comes to politics.
"I dont see this as political, this is something that the police should be agreeing with and if we are not then I've got issues with my involvement with that to be frank. This is about jutice, equality and human rights.
Whittney Smith, co-organiser of the event also posted on the Facebook event about Ayo's warrant card being removed: