Why Liverpool should be your first choice
Did we mention we're the original red brick institution?
abandon silence
first choice
freshers
ket
liverpool
Lucas
smtihdown
students
uni
university of liverpool
UoL
waver tree
Admit it, most of us didn't put Liverpool as our first choice on the UCAS form. If it needed a nickname, this uni would be called clearing central.
But that's about to change. Competition might be strong, but whether you're looking for the degree or just the student experience, this is why Liverpool should be your number one choice.
Smithdown Road
The wonderful shitstorm of Wavertree. It's got everything from Adam and Eve Couple's Massages to a cheesecake factory. Who needs luxurious student accommodation when you've got a 14 bedroom house with a faulty boiler and one fridge? Who needs a freezer when you live in the North West anyway. It might not be as notorious as Manchester for its house parties but what's the point of a rave if it just gets shut down by the police? Smithdown gives you the best of both worlds – substance fuelled fun without the jail sentence afterwards.
Heebies, The Raz… Need I go on?
Liverpool nightlife ain't too shabby. Actually it's really fucking good. There's something for everyone. You aren't allowed to graduate if you haven't experienced the Raz at least once (Bring on the hot, sweaty, stick mess, complete with 'Raz Juice' on your shoes and Fat frogs all over your outfit) and for the classier clubber there's the megaclub of LEVEL. If you're into R'n'B, then Juicy is your calling  and for the hard-core student club lover, Medication calls at the end of the week. Put it this way, whatever night you want, Liverpool has it.
Abandon Silence 
We don't need to be called edgy to be edgy (looking at you Leeds and Manchester). Liverpool's scene is subtle. The baptism of all students into the underground music scene, Abandon Silence, is one of the best things to come out of Liverpool in the past 6 years. You'll probably take your first pill here, or try snorting on the koko for the first time. It'll be the first time you enjoy listening to 'this kind of music' for over 4 hours and still be game to party on past 6am. Yea Chibuku, Selective Hearing, Upstairs with – they're good in their own way, but no one can resist Abandon Silence. That's why it sells out so quickly.
Ket
We're one of the last cities in the country who still has ket circulating. If that isn't an incentive to come here, then you're probs not Liverpool material, love.
We're still pretty clever
Ok, we don't always rank that well. And yeah, we're heard the gibe – what's it like to be the bottom of the Russell Group. Well, pretty good actually. And by the way we aren't the bottom (Hello Queen Marys). But if you're still not convinced, then you should note that Liverpool students voted the uni as 41st in the country, beating Oxford and Warwick. So we think it's great, even if everyone else thinks differently.
Liverpool is the uniquest city you'll find
Don't judge a scouser on what you've heard in the South. They're the kindest, friendliest, funniest people and they live in the best city in the UK. It's not often that students leave a university with a real sense of pride in the city, but that happens at Liverpool.  Ask any student here – they'll tell you they love the place. And how could you not? Have you met the taxi drivers?
And the most beautiful…
Have we mentioned  that the Liverpool waterfront is a UNESCO world heritage site before? It's also been voted the greatest place in England. Have we mentioned that the Victoria Building in the centre of our campus is what coined the term 'red brick' universities? And that's not even talking about the Cavern Quarter. You could take a look at Castle street, for neo-classical elegance, or just acknowledge St George's Hall when you walk out of Lime Street Station. Liverpool is quite good at architecture, but nobody realises until they get here just how sexy it is.
The Sport
There ain't no varsity like a Liverpool varsity.  Rivalry with LJMU is fierce round here, and varsity fuels that fire. Plus, we have the annual Christie Cup against Manchester and Leeds, to prove we're the best of the North West bunch. From ultimate frisbee to water polo, you can wear the blue for whatever you want. And it's not all hard work: our AU nights are notoriously legendary, outfits included (Talking to you, hockey girls).
Abercromby Square
Ah, the prospectus photographer's dream – a green lawn smack bang in the centre of the prettiest square on campus. Oh, other students don't have seminars in  redeveloped Georgian houses? Shame. We do. Plus, it's the best place to 4/20 on campus.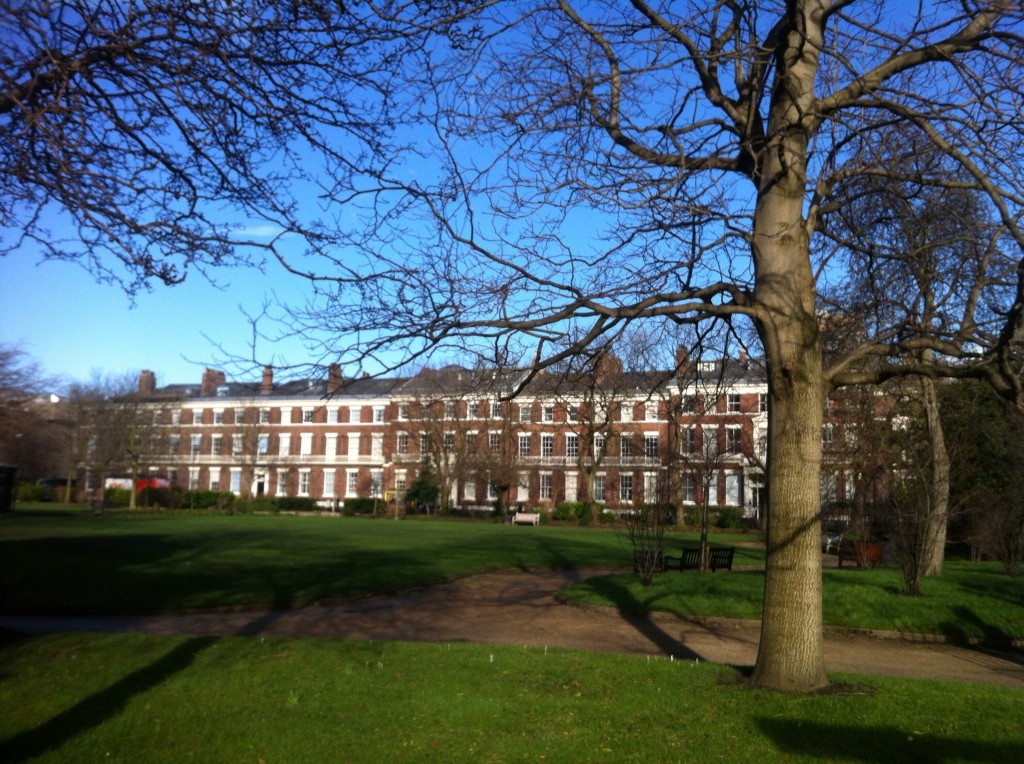 The Library Tweeter
Informative, sassy and secretive they've got all the answers to any problem – whether that's a sarky reply to a complaint or a contemplative thought on modern life. Just don't ask them about how to use the entrance grates – it's the bane of their life.
Krunchy Fried Chicken
Two words: Red Salt. Chips with this shit on are in another universe. Nobody knows what it is or what's in it but it's lush. It will change your world.  And no night is complete without a box from Crunchy Fried Chicken to chase away your post-Raz vomit.
Sefton Park
You don't expect Liverpool to be green but you're spoilt for choice with parks, the creme de la creme being Sefton itself, boating lake and palm house included. It's basically the countryside transported into the city and everyone visits at least once, either to go for a bike ride on Liverpool's version of Boris bikes or for an awkward first date stroll.  Does any other city hold free music festivals with acts such as Ms Dymanite and Sigma  in its local rec? Probably not.
Carnatic 
Don't let the university marketing tell you otherwise: Crown Place has nothing on Carnatic. First year isn't for working, and the best place to party is when you're stuck in 1970s halls with 2,000 other students. Privacy might not exist but real friendships are made listening to your neighbour mount that girl from Rankin. Nothing says best mates better than 10 people crammed in one room at 3am in the morning dancing to Prince. You don't get that in Vine Court.