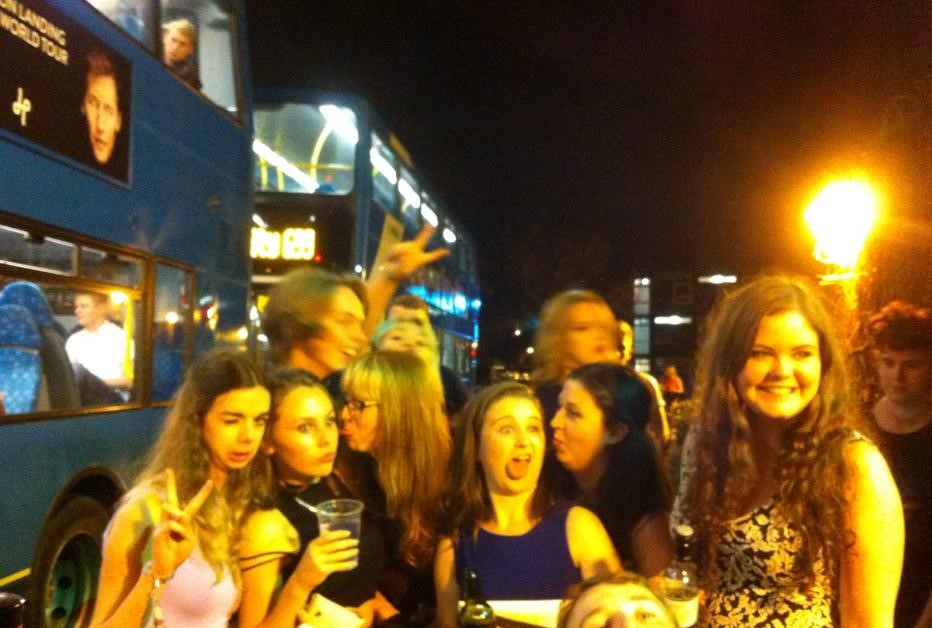 Everything to do in Liverpool before you graduate
If you didn't tick these boxes did you ever really go to #uni?
clubbing
clubs
concert square
drinking
drugs
finalist
freshers
Graduate
liverpool
night out
smithdown
student
students
university
university of liverpool
Contrary to popular belief, Liverpool is not just a crime-ridden Northern city, and there is more to us than hair-curlers, football and The Beatles.
We've had a cultural revival and recently been named the third best tourist destination in the UK. So, what exactly have you got left to do before you graduate?
Get wasted at The Raz
The Raz.  If you like it cheap, dirty and tacky  you MUST go to The Raz. It's a glorious shit hole. Covered in what is affectionately known as 'Raz juice,' don't fall over or drop anything because whatever touches the walls or floors will inevitably be stained for life. Never forget your Raz shoes.
You're guaranteed to pull: drinks are so cheap they're probably illegal (or at least non-profitable), so everyone is slaughtered. It's also very dark so you'll have to wait until the harsh light of the morning to work out if that guy who has started licking your mouth is a 10 or a 4.
You will experience the queue to beat all queues and you'll make both friends enemies in the process. This queue will make you appreciate how short all other queues are for the rest of your life.
Don't forget to finish your night indulging at Krunchy Fried Chicken across the road, the best takeaway in Liverpool.
Ride a Lambanana
The most commonly ridden Lambanana in Liverpool is probably the one in Concert Square, and it's also the one you'll probably find easiest access to while drunk. It's a god given right of any student to ride one during their three years here, and you damn sure better grind on your friends while you're on it.
Go back to Carnatic/Greenbank for tea
If you're a fresher – quit moaning about the quality and indulge while you can. Never criticise those poor second and third years for sneaking back in, you don't know what it's like to be without it, having to drag yourself out of bed early to cook your own shitty breakfast. Those hash browns at are simply a distant memory. Even if you lived in Crown or Vine, you have to experience the wonder that is Carnatic breakfast one more time.
Go to a party on Smithdown
I don't care if I lost my keys somewhere down Kenmare last time I went to one, Smithdown parties are superior to all others. The guest list is loose and you'll always regret your escapades the morning after – whether it be over-enthusiastically strangling your friend over a cigarette in the back garden at 1am or giving blowjobs in a stranger's bathroom.
Some party hosts of Smithdown go all out with screen projectors of trippy images and massive DJ decks playing your fave 'deep house' tracks. Not complete without the arrival of and angry middle aged neighbour or the police.
Have classy drinks in fancy bars
If you don't want all your memories of uni to be trashy and degenerate why not dress up real fancy for once, brave the heels and go for cocktails with 'the gals'? Make sure you take plenty of pics to remind everyone you ARE #classy.
The Albert Docks are a great place to start, or the secret bars on Seel Street. Someplace, an absinthe bar, is an ideal place to go for a classy beverage. However, you'll probably forget how strong these cocktails actually are and end up getting wasted anyway. I recommend doing this after your loan has come in and you feel rich enough for it.
Hand in an essay with a minute to spare
It's unfortunate that a degree and a workload are actually part of student life. But you must uphold student tradition and at least once be the person running madly from the SJ to Abercromby Square at 1:57pm trying to make the deadline with paper flying everywhere.
Go to Sefton Park
At some point during uni, probably in the latter years, you will experience some kind of epiphany. You will realise you actually need to get your life together and sort out your dissertation. While realising this you'll need somewhere to procrastinate thinking about it and Sefton is ideal for this. Wide open spaces, many trees and the spiritual feel of the Glass House shall uplift you briefly before going home and realising you have serious shit to do.
Go to a rave/house night
Liverpool is famous for its house nights and no matter how much you hate house (who actually enjoys it, seriously?) you must experience this. From Abandon Silence to Waxxx, Kitchen Street to Kazimier (RIP) it will be one to remember. Look out for edgy Adidas jackets, scrunchies, sunglasses, bindis, face glitter, and a quick drug swap in the toilets.
Take a bus tour on the 699
Forget the open top bus, if you want a real tour of Liverpool (after 6pm) this will take you past all the sites worth seeing. Carnatic and Greenbank, picturesque Smithdown Road, uni itself, and the two spectacular Cathedrals. If you're looking for the journey of your lifetime, catch the 11.30pm 699 from Carnatic (don't go to the Greenbank stop, you'll miss it for sure.) Here you'll witness manic freshers having the time of their lives, chatter and chanting shall soon convert to snogging, throwing up and peeing in bottles, until the driver gets fed up and throws everyone off at the Women's Hospital.
Take your parents out somewhere nice
You need to show to your parents that you do intellectual and sophisticated things. Take them for a classy brunch at The Tavern, named the UK's best breakfast spot for two years running.  That's breakfast on them, obviously, you aren't made of money.
Liverpool is the home to many spectacular museums: The Beatles Museum, The Cavern Club or the Transatlantic Slavery Gallery in the Maritime Museum are great places to start. Finish with a stroll along the Docks, and a visit to the Liver Buildings.
Never go out on a Tuesday, never go to The Cellar, never enter the Victoria building. Just don't.