Is this Liverpool medic the hottest Uni Challenge contestant ever?
The country has gone wild for a Liverpool uni University Challenge team member who's a right spice.
Viewers of University Challenge, men and women alike, were left flustered after Uni of Liverpool's Ed Bretherton graced their screens, making for some serious eye candy in the quarter-finals last week.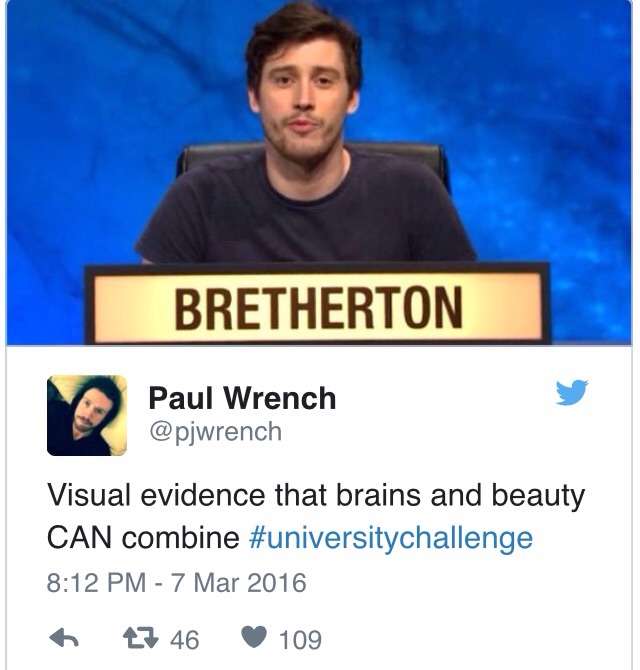 Originally from Bampton in Devon, Ed Bretherton is a medic graduate from the University of Liverpool, and as one twitter user put it, he proves that "brains and beauty CAN combine".
Last month, the medic student was spotted by Nick Grimshaw and his radio team who tweeted "We're officially fans."
Some Twitter uses were completely overwhelmed by the sultry and pouting Ed, tweeting suggestive things, such as "top or bottom", in an innuendo fuelled reference to the split screen positioning of the famous BBC 2 show.
And it's not just on Twitter. When The Tab asked the student body what they thought of Fit Ed, they were similarly excited.
Kyle, a Maths and Economics second year said, "He's exactly my type. Mother may I."
Lucy, a second year Historian, said, "Urgh he's a spice, but not as hot as the luscious Paxman…"
It's not all praise and adoration however. Jenn, an English second year was less enthusiastic about Bretherton, proving he isn't popular in everyone's books. She said "Eh, he's alright, personally I prefer a snappy dresser like Bennett."
Proving he isn't just a pretty face, Bretherton and his team beat Imperial  in the quarter-final with a strong 55 point lead. This means, to the excitement of flustered viewers, that Bretherton will be showing his face on TV again later in the series.