What to wear for every Christmas event in Liverpool this year
When it comes to what you're wearing, Christmas is one of the most important times of the year. 
Everything you wear from November, (because it's never too early for Christmas) to January has to have some kind of Christmas sparkle or shine on it or you're clearly just a plain old Scrooge. Sometimes this can be a struggle, so we've got you covered.
Your course's Christmas formal
It might be a ball, a fancy dinner or drinks out somewhere classy like on Liverpool Docks. When it comes to this type of event, you want to push the boat out a bit more than your average night in Level in a crop top and shorts. This is the kind of outfit you've been saving especially to impress your peers and show them you're not always covered in Raz juice. We went for a silky jumpsuit from Topshop, the colour and shine make for a great Christmas look. Plus something long like a maxi dress, jumpsuit or fancy blouse and trousers, or even a nice blazer, are sure to keep you warm.
Christmas AU night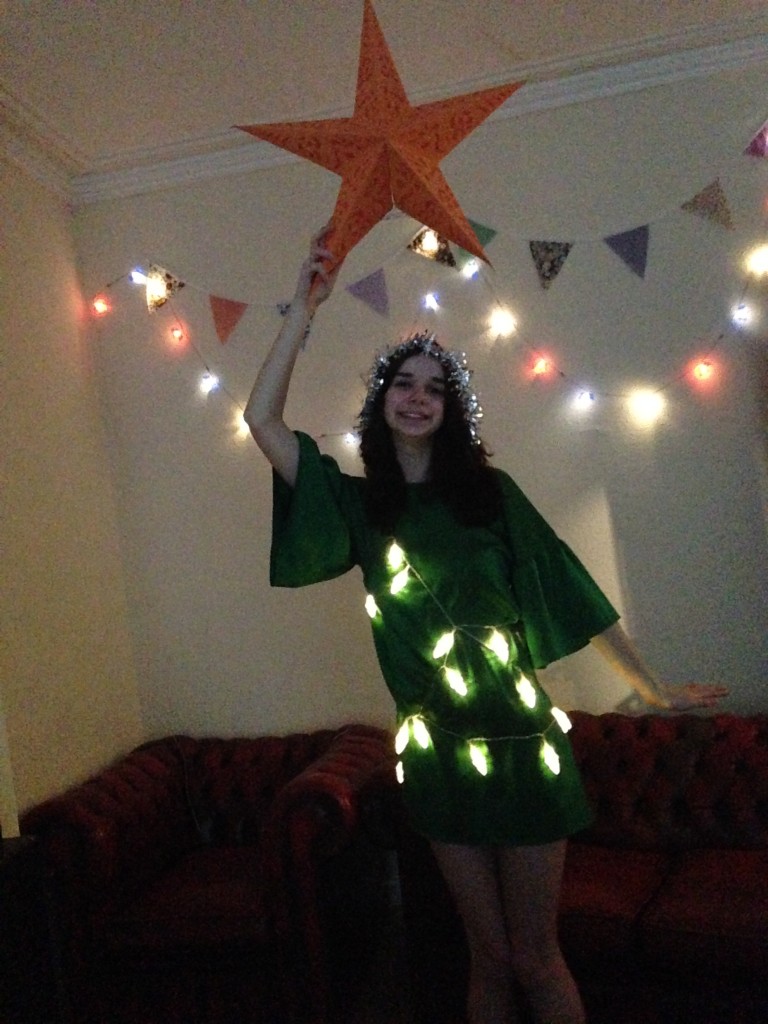 A Christmas social is not the same as any other social, so if its fancy dress then you must dress to the Christmas theme. This means no recycling of that same old pirate costume you bought in freshers. A Christmas tree is perfect. A green dress is easy to find in the shops, or scavenge from your wardrobe. This one is from Topshop and has enormous sleeves to make you look even more tree-like. Wrapping yourself in fairy lights is the key to not being mistaken for anything other than a festive tree, its also far easier than trying to sellotape baubles to yourself. If you don't have a star headband, just make a halo out of tinsel and you're the angel at the top of the tree. If you're not attending a Christmas themed social, this look would also fit in easily in Pop World.
Liverpool One Ice Rink
Liverpool One are opening their annual open air ice rink, so the correct outfit for this is essential. Ice-Skating is lethal it shouldn't be classed as a leisure activity, but a dangerous life threatening sport. You should make sure you're dressed correctly for this occasion. For once, it's not as essential to look awesome and sparkly but to be wrapped up warm and safely. Armour up in a woolley scarf, hat, gloves, and obviously shin pads. Maybe even a cushion strapped to your butt when you inevitably fall on it.
First night out in Concert Square after deadlines

It's not just a chilled night in one club, like Juicy or Heebies, but a serious club crawl, and there's nowhere better to do this than Concert Square. If you're going to Concert Square, you must fit in with the local Scousers and John Moores students that congregate there. Rock that sassy short skirt and sparkly crop top, this is one of the classiest of places so no one will judge you for overdressing. Maybe even add some enormous hoop earrings or chunky necklace for extra class. You'll find skirts like this one in Bold Street's Pop Boutique, and the sparkly top in Urban Outfitters.
Another bonus of going Concert Square at such a post-traumatic time means that you'll look pretty normal if you're found throwing up in the smoking area, or crying on a stranger in the toilet because you got 59 on that last essay. If you're going to end in a state, why not begin looking the most fabulous you've ever looked, just so you look that tiny bit less trashy when kicked out of Walkabout for starting a fight with that girl in your class.
Christmas Abandon Silence
This look is perfect for Abandon Silence's upcoming Christmas party at Buyer's club. To ensure you look extra wavey, wear as many colours, clashing patterns and materials as possible. At Christmas it's extra fun because you can add tinsel, sparkley things and Christmas coloured items.  Your usual bright 90s bomber will probably be suitable to match, this one is from Cow. Accesories are essential here, you can never pile on too much face paint and glitter. Tinsel on everything is a must – it shows that you're really ironic. Swap your usual house night scrunchie for a sparkly one or tie some tinsel in your hair. Put tinsel on your discrete sunglasses to make them more exciting. And then just wrap tinsel round any free body part. We also added a bubble back pack for an extra 90s vibe, it looks great and even more Christmassy in the dark with fairy lights in.
Your house's Christmas meal
You want to wear something that you can cook in, that has room for your post-dinner food coma and still looks festive. A Christmas jumper is perfect for this, as baggy and over-the-top as possible. Wear your comfiest jeans or trackies and definitely forget the bra today.
Christmas shopping 
It's St John's busiest time of year, so you need to be prepared. A combat jacket will keep you camouflaged from other shoppers, it's perfect for when you want to pounce on that last half price folder in Paperchase. Make sure you wear your Raz hat backwards so you look extra scary before tackling that other girl in Topshop over the last velvet dress. And don't forget tinsel sweatbands on your wrists, Christmas shopping is sweaty work, but you've got to keep the look festive.