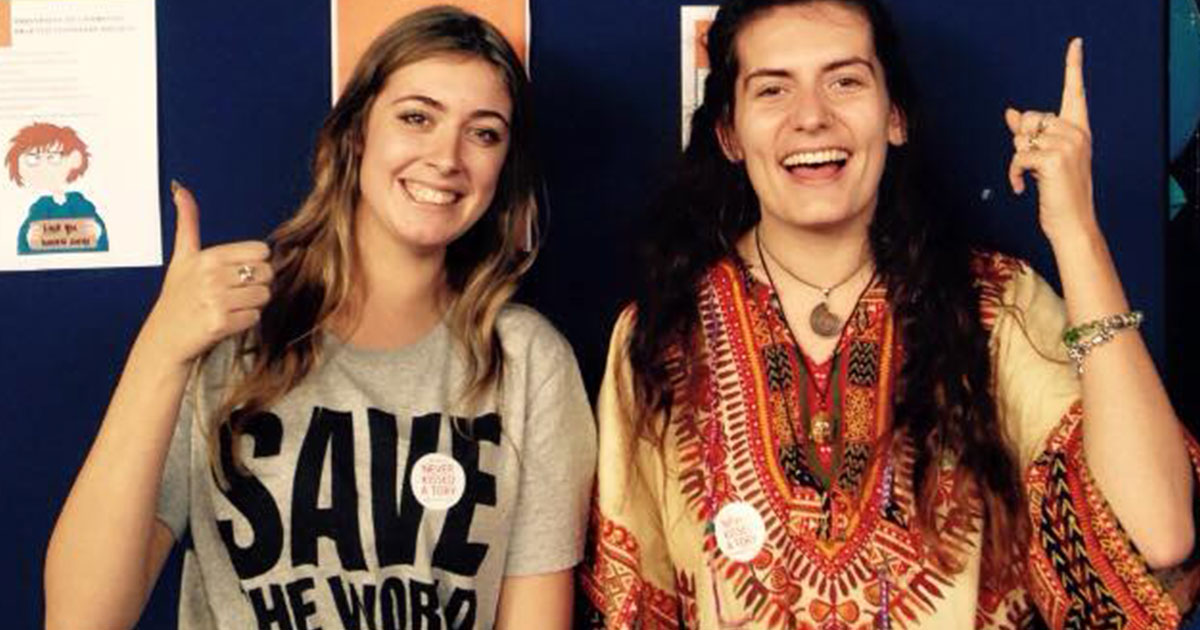 Meet the people trying to help the homeless in Liverpool
They're a pretty big deal
Help the Homeless is one of the fastest growing societies at uni.
It's becoming more notable for the positive impact it has on Liverpool's homeless and refugee population. They've even spent the night on the streets raising money for them.
With Winter approaching, we met up with Presidents Beth and Robi to chat about its work and how the society will be helping people over the next few months.
The Tab: How much has the society grown over the past year? 
Beth: Last year we had 30 paying members and this year we now have 86 members.
Robi: I'm really proud of the growth of the society and with more people involved, it means we have a larger capability to help with our projects. Like sandwich delivery services and refugee breakfasts.
Why do you think more people are getting involved with the society?
Beth: I think the plight of homelessness has been highlighted more in the media. Specifically with the Tory government coming in, and austerity, students have began to realise it is becoming more of an issue and want to get involved and help.
Robi: The society itself did some brilliant work last year to build the foundations for us and we've added a lot to that this year. It's a case of people telling their friends and it is something that everyone  can get on board with and devote a few minutes of their time to whenever they can.
What's the one project you are most proud of doing? 
Beth: For me personally, it's the refugee breakfast. It's the most rewarding part of my job.
How many people come to those? 
Beth: Recently it's increased massively with the influx of refugees due to the crisis. We serve as a society, on a Thursday morning, 100 refugees each session.
Robi: Maybe even up to 150 on certain occasions across three different locations.
Beth: The refugee breakfast goes to the three asylum centres with the nearest one to uni being at Greenbank. We serve them food, provide them with clothing and toiletries for example.
Robi: There tends to be a real mix of people going – small children, large families, single males.
Have you seen a specifically increased influx of Syrian refugees? 
Robi: Yes, but it's a more a large increase of Middle Eastern people in general. One of our main concerns is that with winter coming, a lot of the refugees arrive with sandles and no jumpers or socks. They simply aren't prepared for the cold weather and the conditions in Liverpool.
Beth: Adding to that, they still haven't adjusted to this climate yet. When it gets really cold, we are all very concerned for their well being. We have a "Befriending Service" where people are coming into this country and are unable to integrate into society – no matter how much they want to – simply because they don't speak the language. They don't know where anything is, how to go about tasks like shopping for food because they are scared. They often come from war torn countries, or arrive with their whole family, so they need someone from the society to help guide them.
You recently did a sponsored sleep-out to raise awareness of homelessness. How well did that go? 
Beth: Fantastic! We raised £670 and we were so pleased. It was down by the docks, it was freezing, windy, tough but there were around 100 people there and our society had 6 people so everyone experienced, although not on as huge a scale, what it is like to be homeless for a night.
Robi: Considering our target was £250 we smashed it. The atmosphere was just incredible down there. Next year we're going to be making it bigger and better.
Beth: The event itself raised £25k as there were businesses involved. All the funding goes to the Whitechapel centre which does incredible work looking after homeless people in Liverpool.
Have you got any plans for the future? How do you go about raising more awareness of the society in Winter?
Beth: For Christmas we're hoping to do a 'Boxes of Love' campaign. This involves creating shoe boxes, like what you used to do in Primary school for children in wartorn countries, and hand them out to the rough sleepers and refugees here in Liverpool. We're doing a Comedy night in December also. What I've literally just decided today, is that in two weeks time, I'm going to be climbing Snowdon for the Whitechapel Centre and the refugees.
Good luck with that! Are you prepared?
Beth: No. Help.
Any other plans for the society?
Beth: We're doing our own version of Humans of New York but Humans of Liverpool on social media. We will do it all round campus to try and break the stigma associated with rough sleepers and showcase their stories, and prove they didn't choose to be homeless.
Classic. Final question: Jeremy Corbyn is coming to Liverpool Guild this week, are you going to the event and are you hoping he raises similar sort of issues? 
[both of them start screaming like little girls]
Beth: I'm so excited! I've got like five tickets for all my friends. He'll definitely speak about austerity and it would be great to actually get to speak to him for a few minutes at the end as well.
Robi: I think he'll be really interested in the work we do and the things we do are totally in line with his ideology.
Beth: It would be a dream come to true to chat to him about our work.
Thank you very much for speaking to me today. How can people get involved with your society if they are passionate about helping rough sleepers in Liverpool?
Beth: Join our society on the guild website. It's only £3 for the year, after this, you will be on our mailing list for our meetings and what is going on each week. There's so many things you can help us with: there's the sandwich delivering project from Starbucks, refugee breakfasts, all of our fundraisers, raising awareness sessions in education, provide training for the Whitechapel. There's so much to get involved with.
Checkout their Facebook page for more info on how to get involved: UoL Help the Homeless Society.