Vote now: The best dressed on campus
This weeks top ten fashionistas
In a week that began with piss poor weather, these ten fashionistas stood out in the midst of doom and gloom. But which one of our stylish students pulled off a look hotter than a summers' day?
Ellie, Music and Popular Music, fresher
With her light blue ripped jeans, casual tee and leather biker jacket, Ellie's look simply screams off-duty model. We suppose the legs help too.

Lucky, Mechatronics and Robotic Systems, third year
Well it's lucky we bumped into this smarty-pants – keeping it dapper in black skinnies, black coat casually draped over his shoulders, and smart lace-up boots. We particularly loved the injection of colour with his pastel lilac shirt.
Coco, Marketing, third year
Coco dares the cold in this mustard knitted jumper dress and gorgeous suede over the knee boots with contrasting leather detail. And we got a sneak peak of what she was hiding underneath (ooh,eh) – we're in love with tha Coco's cute tweed shorts with fray detailing.
Hannah, Law, fresher
Hannah's style epitomizes "simple but effective"- keeping it cool in a black roll neck, boyfriend style jeans, Nike's and vintage-look camel coat. The perfect autumn wardrobe staple. Her laid-back plaits complete the look.
Eleanor, English, third year
Standing in the hideous cold we've totally got the hots for Eleanor's Forever 21 camel roll neck jumper dress – so cosy and chic. She layers with a stylish stone trench coat and teams with bargain primani ankle boots.
Jake, English, second year
Yet another student repping this seasons' favourite colour (insert camel emoji). Jake smartens up the laid-back jacket, tee and jeans combo with brogues, and his smile certainly brightened up our day.
Lizzie, English, fresher
The lovely Lizzie, AKA Rapunzel, looks super cool in her v-neck striped jumper, biker jacket and heeled leather ankle boots. And we're crushing on her quirky horn, rope necklace. The blonde beauty also happens to be Jake's girlfriend – HOT COUPLE ALERT.
Tom, English and Criminology, second year
It's all about the layering – Tom's sporty Adidas jacket provides a sweet contrast to his preppy checkered shirt.
Tianjiamei Jing, Maths with Finance
Tianjiamei's monochrome-patterned mini works beautifully with her beige textured jumper: her look borrowing elements from this season's grown up/tailored aesthetic. Her red lip also stops the look from being too washed out, providing a wonderful, subtle colour pop.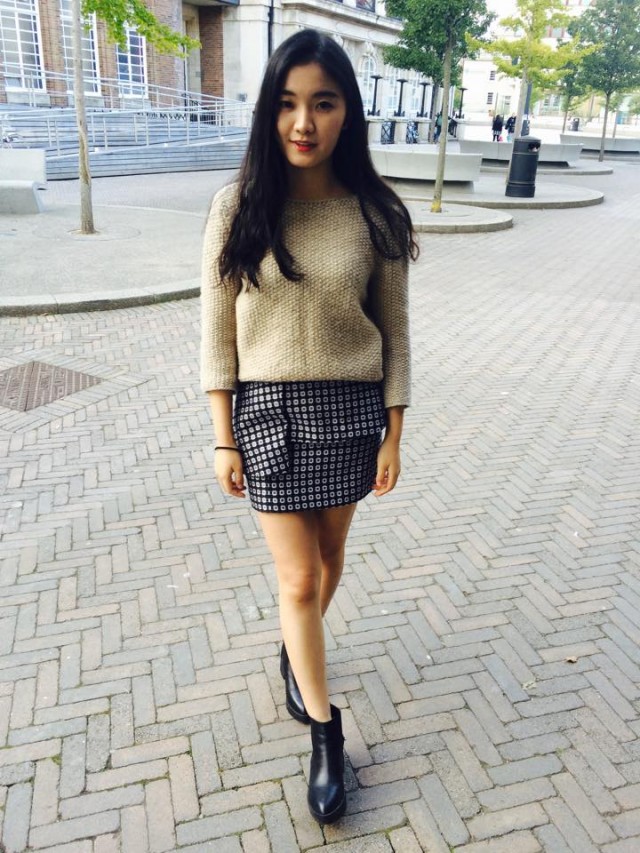 Henry, Computer Science, fourth year
Henry works the essentials in a  crisp white shirt, cropped jeans and white trainers, and sets it all off in his army green blazer. What particularly stood out was his stunning jewellery -his fingers adorned with rings and this incredible pin. And he smelt incred, FYI.
So who won this week? Vote and let us know!