All women should give rugby league a go
Why work out when you can play?
competitions
Female
friends
fun
Girls
guild
join
liverpool
rugby
socials
society
sport
students
university
women
While tour de France-winning cyclist Sir Bradley Wiggins called rugby league "the hardest sport in the world", there is absolutely no reason why women can't do it.
As the university's league team, we are making it our mission to increase interest in the sport. It is a great way to build up strength, stamina and fitness, as well as making life-long friends and socialising.
There are two major codes of rugby football: rugby league and rugby union. Despite having the same origin, rugby league, in general, is the faster, simpler game. And all women should get involved.
Great sport, great fitness
President Cross of the University of Liverpool Women's Rugby League team said: "I have grown up in a rugby league town, which has heavily influenced me. Rugby league is a quick, skilful game which has been improved to make the game flow better.
"The best comparison I can make is the sensational, fast-playing five minutes you see in union is the whole 80 minute game of league, but that's just my opinion."
Rugby league has an element of rugby union in terms of collisions and impact, as well as elements of football like running distances and speeds. Despite the stereotypes of female rugby players being "massive", rugby league girls are fit, as the game involves a lot of running up and down the pitch.
Fresher Amy, member of the team, destroyed common rugby girl myths.
She said: "We're not all massive, but a powerful tackle can be executed with minimal injuries with the correct techniques. After all, it is just a hug to the ground."
They're pretty hot, but most importantly, they have good hearts
The team have done a lot of charity work, as media secretary Olivia Davison explained: "Our charity fundraiser this year was massively successful, raising over £3000 in total."
£2,125 was donated to Joining Jack, who help find a cure for Duchenne Muscular Dystrophy (DMD). The rest of the money was used to help with the team's logistics, as well as promoting women's rugby league at university level.
Next on the team's agenda is to have as many girls participate in the England student rugby league trials on Saturday 21 March. They will be providing transport to Nottingham (where the trials take place) for girls in the local area who intend to participate and compete for the glory of representing England.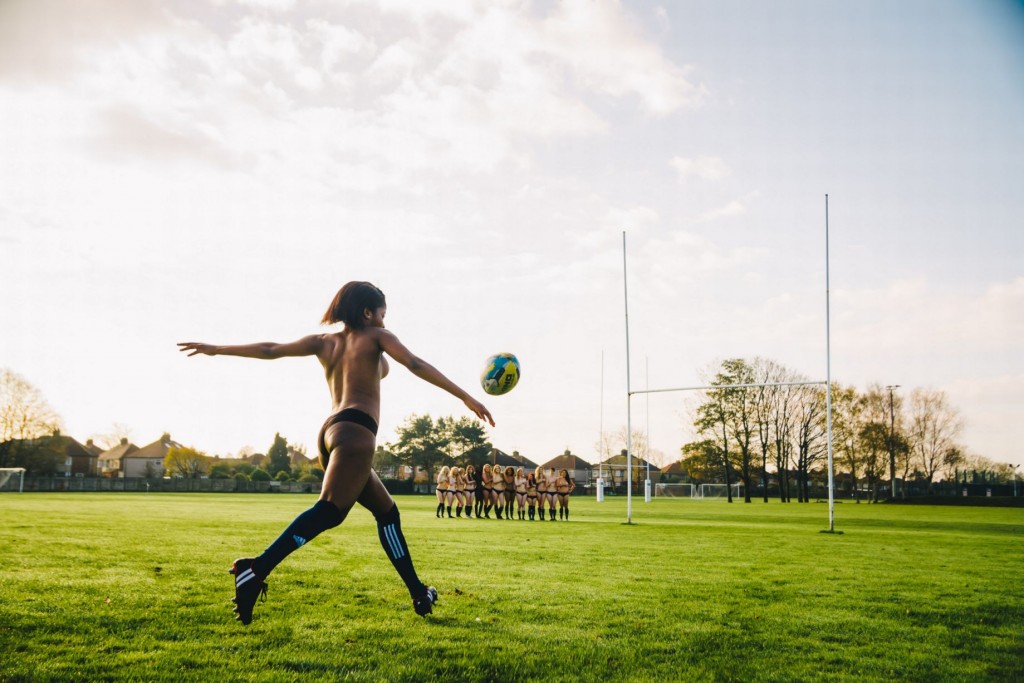 Great company, best friendships
"The girls are all really welcoming and happy to help you in understanding the game, as well as the meaning of life," says the team hooker, Harriet.
"There are always opportunities to go watch some major league matches, the Grand Final last October for example was quite an experience.
"Away matches mean we get to travel around quite a bit, and it's like a little get-away weekend full of rugby."
A dedicated member of the club said: "We often have team socials with a great turn-out. There is bound to be a crazy fancy-dress theme for the monthly AU night.
"We have had a couple of fun socials with the men's rugby league team, and the annual pub golf was one of them. The lads have been consistently playing at the top division (Premier North) in BUCS and are always happy to help in terms of promoting the sport."
Fresher Amy said the best thing she likes about the team is no one judges the expression of her true inner self, as the team is ever so accepting of diversities.
To round it off,  member Polly told The Tab: "All the girls on the team are like family, and I know we've all got each other's backs, on and off the pitch."
We train Tuesdays 6:30-8pm and Sunday 1-2pm. Follow UoLWRL by clicking here.