Tab tries: Pole dancing
champion
dance
fit
fun
guild
healthy
liverpool
pain
pole
sj
society
Sports
uni
I don't exercise – ever. I sometimes climb the stairs to the top floor of the Sydney Jones, but that's only because I hate noisy freshers and they all seem to aimlessly gather on the ground floor, but even then I just get the lift up.
Getting fit has always been at the back of my mind. A bit like travelling South America or Thailand, it's a box that has to be ticked. So, after seeing all the posters around campus advertising the new Pole Dance Society (they're everywhere) I forced myself to try it out.
After all, I had nothing to lose. Apart from fat.
Even though the whole sports thing was new to me, I definitely looked the part. Sweat-pants, hair tied – except I wasn't chilling, and I had a full face of make-up on.
Walking to the bus stop in my trainers, baggy shirt and water bottle, I felt ready to enter the world of fitness and look good while doing it. I'd never felt so sporty and healthy. I could already feel the pounds dropping off.
My first challenge faced me before the class had even started: finding the Guild dance studio. I still couldn't tell you where it is. Although, I do remember getting a lift.
I was unsure of what type of people to expect at a pole dance beginners class (probs really hot tanned models). But seriously, in a room of 18 students everyone was genuinely lovely and there for the same reason as me. We all just wanted to have a bit of a laugh and try something new.
It began TERRIBLY. We started trying out simple moves to build up our confidence on the pole. Our instructor Toni, a national champion, kept telling us half the battle was mental strength.
After my first few goes, I did gradually build up some confidence. I spent a lot of time nervously watching the other groups out of the corner of my eye. Surprisingly though, just 20 minutes into the lesson, I found myself swinging round a pole imagining I was Britney.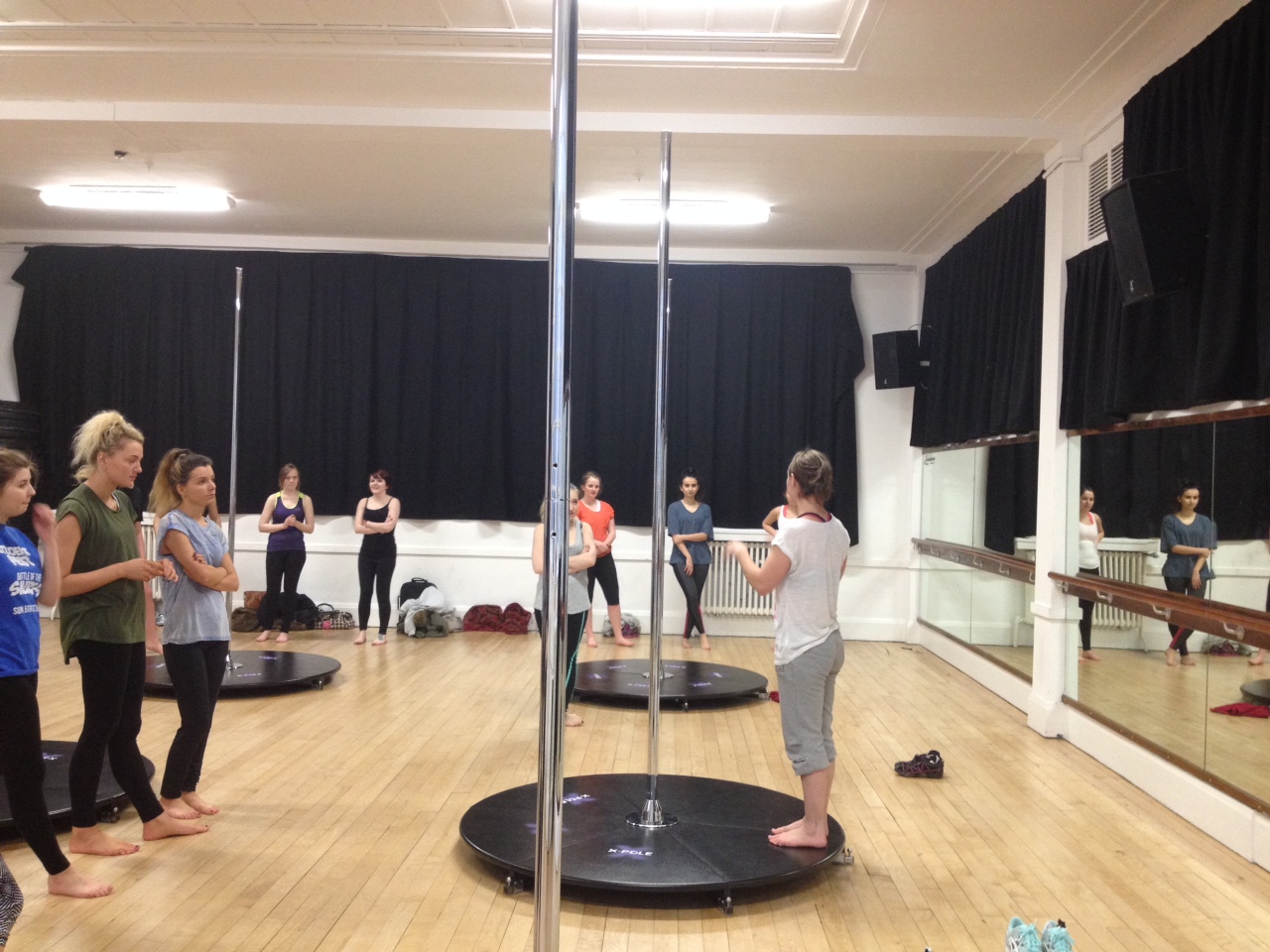 Every time Toni demonstrated the next spin we were required to mirror, the whole class would let out a weird high-pitched squeal. She made it look so easy.
I looked so awkward and messy next to my partner who graciously slid up and down the pole. But I wasn't going to give up. I was determined to sass it up and slither like a hot sexy queen snake.
It was encouraging to know Toni was circulating the room, spending time with each group, and giving individual feedback. Although that may sound patronising, she really does encourage everyone to push themselves and she won't take no for an answer: a bit like having a personal trainer that's your friend.
By the end of the lesson, I didn't want to leave. I felt like I had achieved my goal of finding a tolerable form of exercise that wasn't… well, shit.
Do not be mistaken though: pole dancing is really really hard. After the session my hands were burning and my shoulders aching. Toni told us all to expect aching for a few days.
We entered the room clueless students lusting after toned arms and sexy moves. We left as hot pole-dominating mamas.
I bought a membership to the society that evening.