What to wear on your first date
First impressions DO matter
date
dating
fashion
guide
liverpool
valentine's day
First dates are notoriously uncomfortable and a fashion disaster can only add to this awkwardness.
Fortunately for you, The Tab has compiled a fool-proof guide to dressing for all dating situations.
Whether we want to believe it or not, everybody likes to judge a book by its cover so be careful not to scare your date away by committing a major fashion sin.
So, you're dining at one of Liverpool's finer establishments, in situations like these, the Little Black Dress is your new best friend. An LBD is never to dressy nor too casual and common enough to acquire on a student budget.
Wearing a dress like the one above is a major test for your date. Are they there for your conversation or your body? If you have to remind him where your eyes are then he might not be the one for you.
This LBD screams 'class' and to quote Ludacris, men want 'a lady on the street but a freak in the bed'.
Sophistication is key to a successful dinner date, especially if it's date number one and you're not yet used to each others mannerisms or strange eating habits. You'll be sharing spaghetti in no time.
If you're bolder than black then a dress like this will keep your dates eyes on you.
Also, wearing your hair up on a date means that you've got nothing to fiddle with- you'll ooze confidence (or at least look like it). The trick is to make your date feel like they are lucky to be out with you, never the other way around.
Tailored trousers are the LBD of a man's closet. This outfit is perfect for a dinner date- more comfortable than a full suit but smart enough to not seem out of place in a fancy environment. A dickie bow is a quirky alternative to a tie and shows your date that you like to have fun. Remember that geek chic is in and girls love clever boys.
NEVER wear trainers if you are unsure of a restaurant or bar's dress code. Nothing says 'first date disaster' than being refused entry.
Obviously a cocktail dress and heels is unsuitable for a trip to play mini golf or go bowling. In situations like these stick to jeans and a comfortable shoe.
This ripped jeans and bomber jacket combo provides a stylish solution to a sporty date. The jacket adds a pop of colour to the outfit and  a more casual look lets your date know that you are up for a laugh and ready to try anything.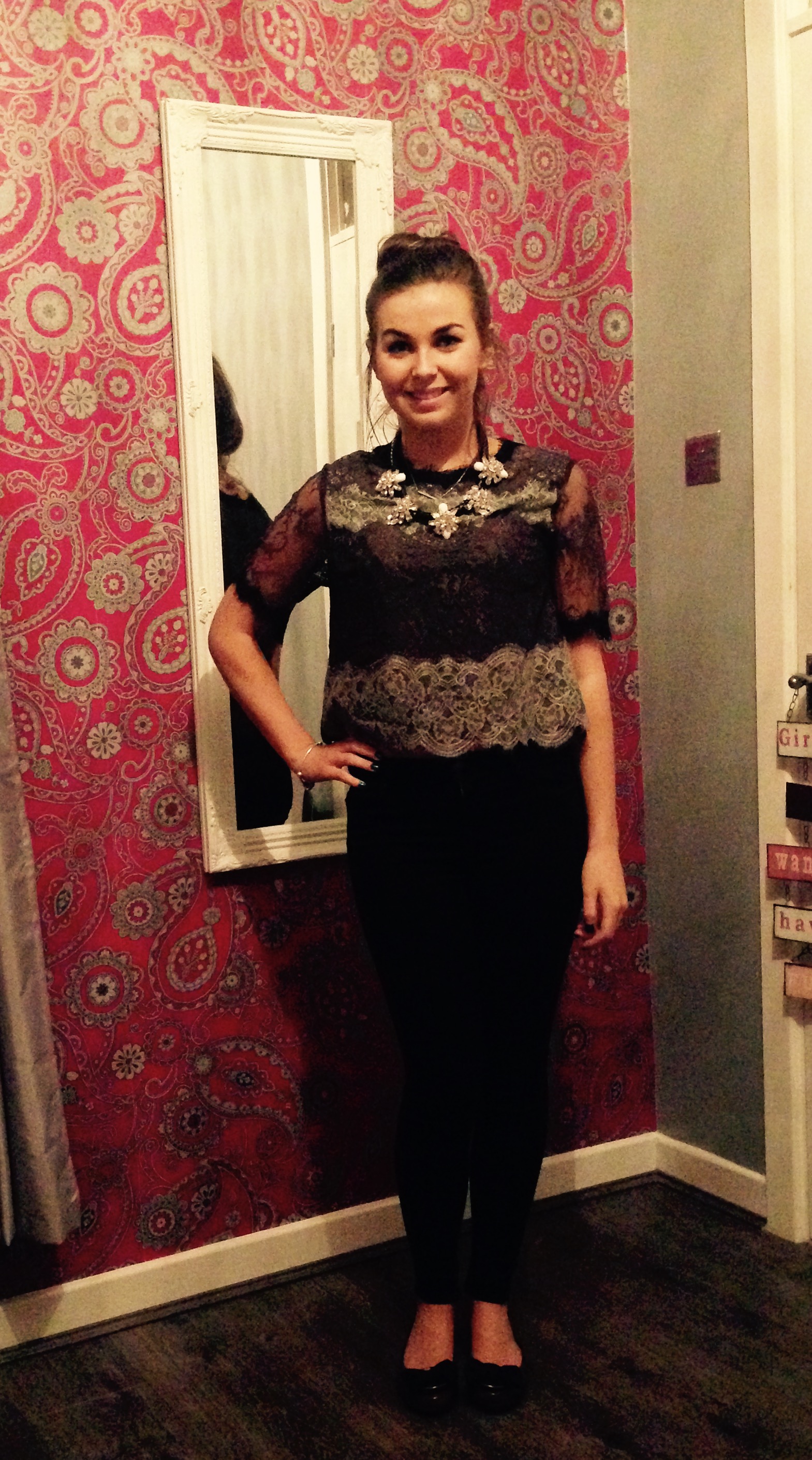 For a more glamorous alternative try dressing up a pair of black skinny jeans with a pretty blouse and a statement necklace. Black jeans are a wardrobe essential because they can be dressed up or down for any occasion. This outfit is perfect for a game of bowling or even a more casual coffee date.
Boy's can't go wrong with a crew neck jumper and a shirt. This look is super on trend and perfect for a trip to the cinema or some casual drinks.
Small details like co-ordinating your shoes with your jumper lets your date know that you've made as much as an effort as they have.
No girls jewellery box is complete without a statement necklace. They can dress up a t-shirt or add some extra glamour to an otherwise plain dress. And if you get past date number one and  you're all out of new outfits – give an old one a new look with some clever accessorising.
Happy Valentine's Day!