Meet the freshers… and their parents
'I think I can trust her to behave.'
freshers
halls
parents' advice
They've had a week to settle in, but what were the freshers like when their parents dropped them off?
Name: Christian Macavoy
Parent: Phil Macavoy
Halls: Home Sweet Home
Hometown: The Wirral
Subject: Business Management with a year in Industry
Phil: "We live quite close so all he's got to do is travel in each day really. We're not worried at all, and it was his choice to stay at home."
Christian: "I hope to get to know everyone as well as I can really, and try and settle in quickly and hopefully do as well as I can on my course.
"I've been quite shy this last few years so I'm hoping this will help me to gain a bit of confidence, and get involved with as much as I can.
"I wanted to stay at home because of money, but I also want to get comfortable first then if I want to, move in second year."
Name: Ellie
Parent: Jane
Halls: Roscoe and Gladstone
Hometown: Leeds
Subject: Law
Jane: "Have I got any worries? I suppose that she'll settle in and be happy.
"I have no idea what to expect from her Freshers' Week but she's quite sensible so I can trust her."
Ellie: "I hope to settle in and enjoy my first year I think.
"I don't know what to expect. I'm not sure whether to be nervous or excited."
Name: Matilda Hewitt
Parent: Dominic Hewitt
Halls: Roscoe and Gladstone
Hometown: London
Subject: Biological and Medical Sciences
Dominic: "I don't really have any worries, I should do shouldn't I? But no I don't.
"I will miss her, the cats will particularly too I think.
"A lot of the venues start at 10 in the evening and finish at four in the morning. Well I came here about 32 years ago and I don't remember those sorts of  things, so it'll be pretty hard on I expect."
Matilda: "I want to meet lots of new people get settled in, that sort of stuff, and erm good nights out I think."
Name: Molly
Parent: Sue
Halls: Roscoe and Gladstone
Hometown: Warrington
Subject: Psychology
Sue: "I worry about whether she'll cope without a mamma! Oh, expecting her to do well, aren't we Mol?
"She's pretty level headed, and of course we'll miss her."
Molly: "I don't think I'll get any work done in Freshers'. It'll be really hectic, I probably won't get up for Welcome Week."
Name: Kate
Parent: Steve
Halls: Vine Court
Hometown: Sheffield
Subject: History
Steve: "I don't particularly have any worries. I think she's well prepared for it, can cook meals so she's there.
"Can I trust her to behave? I think so, I'd like to think so, so I'm going to convince myself yes is the answer to that.
"We know from her sister who did Freshers' Week two years ago it's going to be a tough week.
"She won't get a lot of sleep but there'll be a lot of socialising which is an important part of coming to university."
Kate: "I hope it's going to be really fun, meeting lots of new people but it's going to be quite busy. I'm looking forward to joining Netball as well."
Name: Ben Gregory
Parent: Ken Gregory
Halls: Crown Place
Hometown: Nottingham
Subject: Medicine
Ken: "No I don't have any worries, it's fine, student looks organised and everything.
"I think I will miss him. I've been to university but I went as a mature student so I didn't really take part in Freshers' Week.
"I've got all my faith in him, don't let me down.
Ben: "Freshers' will be mad. But good mad. I'm looking forward to joining the societies. Hopefully I won't go too overboard but basketball definitely.
"Ultimate Frisbee I heard was quite good so I'd like to look at that. The wrestling looks good too.
"I'm hoping to just enjoy it really, make some friends, just have a good time at uni but do well at my studies too.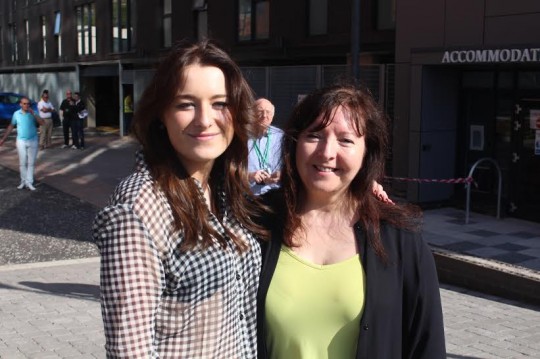 Name: Holly Bradley
Parent: Dee Bradley
Halls: Crown Place
Hometown: Manchester
Subject: Sociology and Politics
Dee: "My only worry is missing her more than I think. Obviously she's in a new city so knowing about the safety side of things is important. That's it really.
"I think the first week will be fun. Again sensible, safe, have a little bit of fun. I just think it's a great way to get to know each other better. Break the ice really. I think I can trust her to behave."
Holly: "I just want to be able to settle in well and make good friends here so that I can feel comfortable where I'm studying.
"I can't wait for Freshers'. I did it last year with friends who went last year so I'm really looking forward to it.
"There's one of the guild events which is the UV party with Hodor as the DJ, so I'm looking forward to that.
"There's another one as well at the Krazyhouse which I'm looking forward to."
Name: Tori Salwin
Parent: Mrs Salwin
Halls: Vine Court
Subject: Medical Science
Hometown: Shenley, Hertfordshire
Mrs Salwin: "I'm just not sure she'll cope with everything. She's a bit messy at home so I'm not quite sure how she'll manage but we'll see.
"Of course I'll miss her. I think Freshers' Week will be crazy and I think I'm a little but worried whether she's going to last through to the end."
Tori: "I look forward to making some new friends, getting to know the campus, getting to know my tutors. I think Freshers' Week will be enjoyable, tiring but hopefully not too draining."