In pictures: Lincoln Christmas Market 2022
It's the most wonderful time of the year
Ah December, the deadlines are rolling closer, enthusiasm for uni is depleting, but there is one silver lining – Christmas. What better way to get into the festive spirit than by visiting the Lincoln Christmas Market.
This weekend Lincoln celebrated its 40th year of the Christmas market, and with over 250 stalls it has something for everyone. The market ran from Thursday 1st December until Sunday 4th. If you didn't get a chance to go this year, make sure it's top of the list for 2023.
Walking up Steep Hill:
Walking and a show? Whilst walking up Steep Hill a projector screen played a cartoon, I would have stopped to watch but I was far too excited for the main event. The cathedral was lit up a beautiful purple colour too; I don't think I've ever walked up the hill so fast!
By the cathedral:
Despite the busyness, I had to have a close up look of the cathedral. Not only was it perfectly picturesque, making it a great shot for the socials, but the brass band orchestra serenaded you whilst you went. With the purple lights representing advent, and the tree lit up and decorated with messages to departed loved ones, you could truly feel the magic of Christmas.
The castle grounds:
It was packed as everyone filtered their way through to the castle grounds. Once inside there were dozens of lovely market stalls offering food and drink, handmade gifts, knitwear, amongst many other things. It was a shopaholics dream and the perfect place to buy friends and family members a thoughtful gift. There was a plethora of food and drink stalls to satisfy whatever craving you may of had – I simply couldn't decide (but I made sure to try everyone else's).
A piece of Germany was at Lincoln Christmas Market in the form of a traditional German sausage grill. With the addition of booming German music, the staff dressed in traditional German get-up, and the option of having a sprinkling of sauerkraut on your bratwurst it felt like a different country entirely. The massive charcoal grill was also a bonus, it was bloomin' freezing.
I can confirm, it was very yummy.
On Westgate:
As we made our way out the castle, the games, rides, and multiple sweet stands started to appear. After spending a little too much on pick'n'mix the hunt began to find the perfect fair game.
We settled on a darts game, where I won a little toy dog. I said the bigger toy would've been better, but apparently the freezing cold was affecting his throw. Although I saw a few people walking around with giant toys, so perhaps it was just him.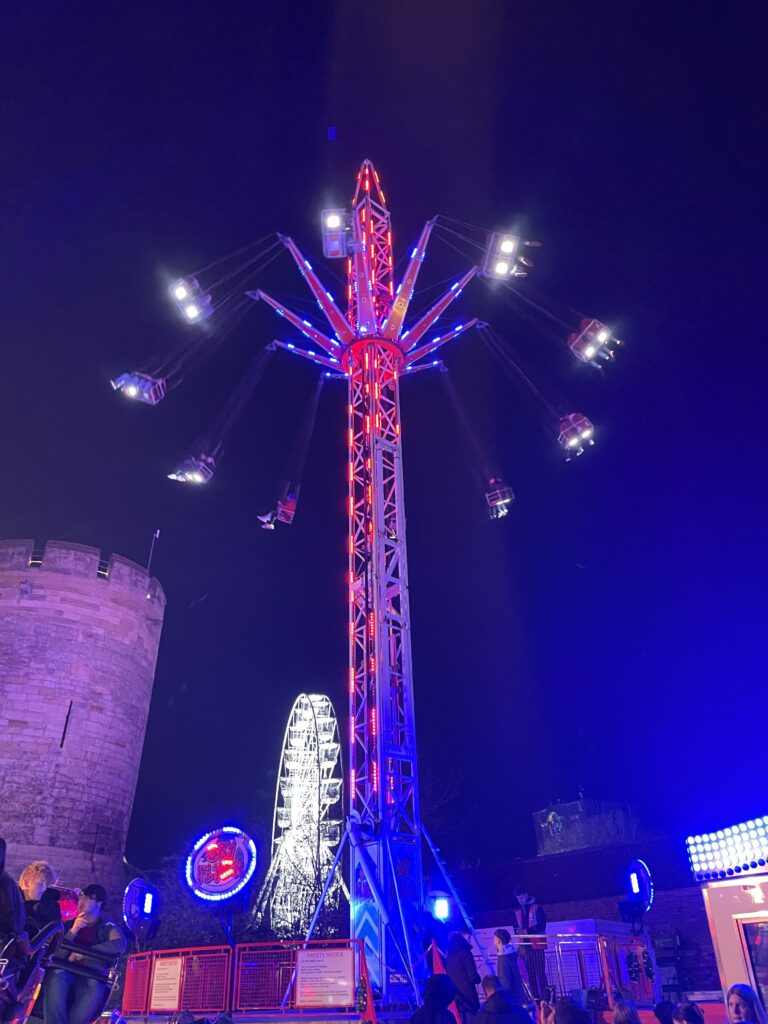 Squeals of delight could be heard all around as people enjoyed the fairground rides. This one looked particularly entertaining as people swung around from a mammoth height. I imagine it would've given great (but brief) views of the market, unfortunately my fear of heights made it impossible for me to confirm.
After a long walk around, far too much shopping (and eating) the Christmas Market came to an end. It was everything a Christmas market should be; filled with wonderful and wacky stalls, lots of food, and lots of festive cheer. The only downer was the copious amount of small children who made it impossible to try interview Santa (what a scoop that would've been). 'Til next year Lincoln Christmas Market, you were great.
Related articles recommended by this writer:
•  Clubbers of the week: Get your Santa hats then, it's week ten
• Third year nursing student at Lincoln Uni saves her dad's life after sudden heart attack
• 'Our mental health is suffering': What Lincoln lecturers want students to know about the strikes