Pancake Day in Lincoln: The good, the bad, and the very ugly
Lemon and sugar > spinach
Pancake Day comes around each year with everyone having their pans at the ready, pancake mix ready to be shaken and several poor attempts at what they hoped would be something Gordon Ramsay would be proud of.
If there is one thing Lincoln students know what to do, that is make some cracking pancakes, along with a few mishaps. Whether their pancake was drenched in Nutella or made from spinach, pancake makers across the country have some serious competition.
Here are the very best and worst pancakes from UoL's finest:
Annie – 3/10 for effort
There wasn't much effort made here from Annie on Pancake Day but I'll allow seeing as she is in self-isolation and her housemates aren't too harsh on her they gave her some dry pancakes. I'd be ringing a bell asking from some Nutella, but we can't always get our way.
Ellie's Vegan pancakes – 8/10
I have to say I didn't have much hope when I heard about these pancakes. Pancakes with no egg or milk seemed frivolous and tasteless, alas I was proven wrong. Cooked to perfection and amazingly round, the pancake angels wept. The only thing stopping them from reaching full marks is the unknown red sauce. Lemon and sugar or nothing.
Abbie – 5/10
Although this looks pretty edible, it just screams it wishes it were a bigger pancake with lemon and sugar. It sort of looks like if you had a crumpet and decided to squash it down with a rolling pin.
Amber – 10/10
This is the most delicious pancake I have ever laid my eyes on. The Nutella and bananas? What a combo. Truly divine.
Greta – 8/10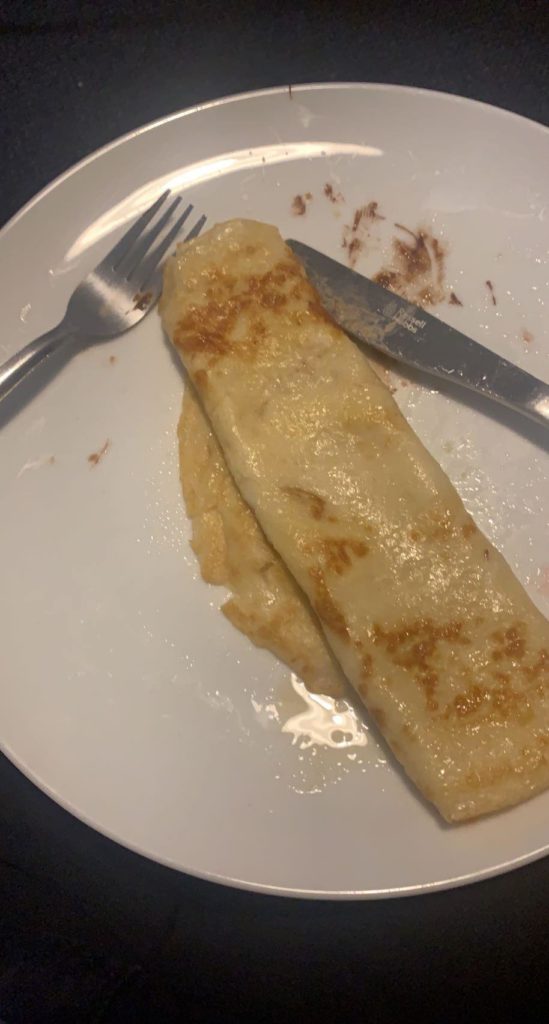 A solid pancake that you can do no wrong by. A cheeky bit of Nutella on the side suggests as you cut the pancake open you are in for a treat, and everybody wants that.
Jessica – 4/10
Personally, I was not keen on this spinach flavoured pancake simply because it's a pancake and the best vegetable in the world should not be mixed with it. Although it does look like it could be enjoyed, it just wasn't for me.
Related stories recommended by this writer:
• These 13 things are guaranteed to happen on your Lincoln night out
• Freshers: We told you what to try at UoL, now here are eight things you should avoid