Here's everything you will find on a Lincoln student's Instagram
They say the best years of your life will be spent whilst at university and in this day and age it is only right you prove that very phrase by making it known on your social media. We have all been stood in a row along the Brayford getting that perfect pink sunset and swan shot to post on our Instagram stories, even UoL's own Instagram account posts a few every now and again and who can blame them?
Whether you have featured in a group picture with the infamous turquoise Pavs doors or been the photographer behind the aesthetic that is hallway pictures in Cygnet Wharf, every Lincoln student has experienced it.
You may be sat thinking to yourself you have posted a picture of everything you could possibly imagine a Lincoln student would, there is no time like the present to find out.
The Lincoln bio
As soon as you firmed Lincoln on UCAS you immediately went to your Instagram and changed your bio, don't deny it because we all did it. But at first, it was UoL, but which 'L' exactly is it? Leeds? Liverpool? Lancaster? Shortly after one too many questions, you changed your bio to just Lincoln to tell your couple hundred followers you will soon be living part time in a small city in the Midlands everyone links to The Inbetweeners.
You can't forget to put your home city in the mix too, just to let people know how far or not your new university city is from your home. I have read more bios that say Lincs/Derby than people in my lectures. You've got to flex that for some reason though right?
The swans
Now the swans are a big part of Lincoln, whether you admire the way they can swim around all day and have people take photos of them because someone's flatmate said "oh look the swans!" I dare you to go through your camera roll right now and count how many photos you have of the swans in the Brayford or the Foss Bank. Don't be embarrassed, I know it's going to be over 20 and that's okay because we're all guilty of it.
The Brayford sunset or any Lincoln sunset
Sunsets in Lincoln are a daily occurrence if we're lucky and more often than less the sky is filled with the most beautiful shade of pink or orange and all you are going to see for the next hour is 15 different angles on 15 different Instagram stories from the windows of houses on the West End, and maybe a cheeky few Instagram posts for the people feeling especially boujee.
Cathy D in all her glory
Lincoln Cathedral is over 800 years old and still doesn't look a day over 600. Home to the Magna Carta, the cathedral is one of Lincoln's many beauties and no one ever misses the chance to take a snap.
No matter where you are in Lincoln even if you don't walk up Steep Hill you can always get a classic shot, and don't forget when you eventually get around to graduation the cathedral will become the backdrop to your fire cap and gown pics.
If you have a picture outside the cathedral on your Instagram feed, you were definitely freezing cold and catching your breath after walking up the infamous hill.
Halls corridor pics
Accommodation corridor pictures are the epitome of university students, and in Lincoln, it gives you the perfect chance to work out who lives in what halls.
These pictures always get posted during your first week at uni when you and your flatmates are unstoppable, but you daren't delete the post if your friendship group shortens in numbers because you just look too good.
Whether it's the dark blue doors of Courts or the large greyish doors of Cygnet Wharf, they are staple photos of a UoL student.
Trebles photobooth
There is no better part of the night trying to squeeze onto the bench with your three other friends when Trebles is about to close. You will spend five minutes getting the wildest black and white photos of your and your friends trying to fit all your heads into the shot and one of you will take it home before getting the perfect non-glare snap for your pals to have as keepsakes.
These photos always have someone's forehead just making the cut, one friend looking the wrong way, and somehow always one friend who looks effortlessly perfect in each photo. By the end of your university journey, there will be at least one that'll make it onto your feed.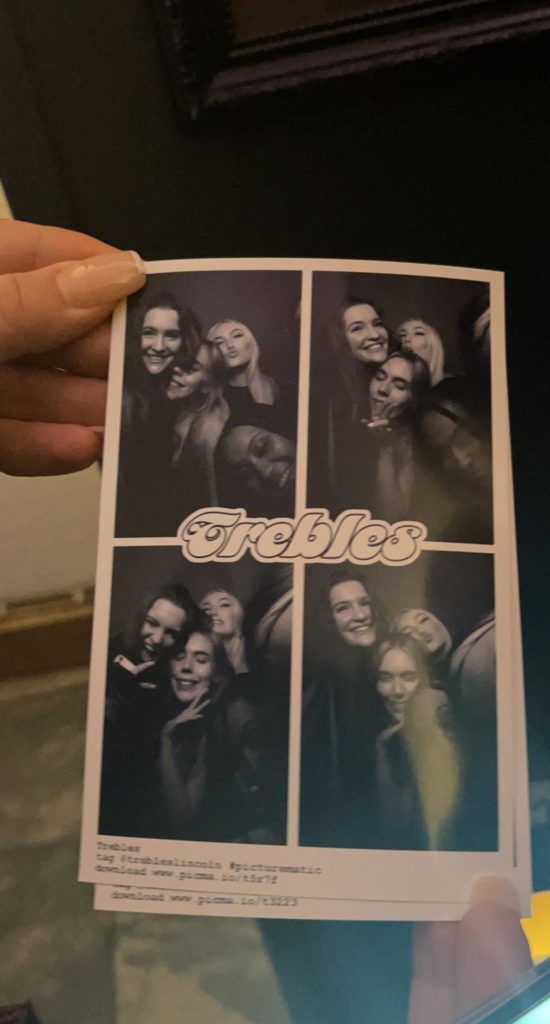 Lincoln Christmas Market
If you have been in Lincoln for the past few years you will have attended the Christmas markets at least once, and the walk up Steep Hill felt like nothing because you were that excited and in the festive spirit.
Whether it's a picture of you and your mates on the ferris wheel or a solo photo outside one of the many Christmas trees, your Instagram feed was absolutely on fire last December.
Lincoln Arboretum
Whenever Lincoln gets a tease of sun and weather over 14 degrees, everyone flocks to the arboretum and rightfully so. Picnic blankets in one hand and four ciders in the other and it's a recipe for a great afternoon after uni.
Your Instagram feed will likely include you and your pals sitting on the grass with some sunglasses on feeling ever so grateful for being treated with a hint of sun.
The dinosaur bridge
The level crossing is something all Lincoln students love to hate, as well as something many Lincoln students are grateful they don't need to worry about because their course purely exists in the Minerva Building of Alfred Tennyson.
One thing all Lincoln students can collectively agree on is the mutual agreement to wait for as long as needed rather than walking over the bridge even if it means being five minutes late to your seminar.
Despite not always making it to your feed, it is a classic 9am Instagram story captioned something cringe like "mornings like these" with a bunch of sleeping emojis, just so everyone knows you do actually go to university.
Related stories recommended by this writer:
• Clubbers of the week: feeling the scene in week thirteen
• Here are 10 reasons why you should write for The Lincoln Tab