Lincoln SU's Chief Exec statement on BLM was copied from Essex Uni's
Essex's statement was released on 12th June
Last night, the University of Lincoln's Students' Union Chief Executive, James Brooks, made a statement to speak to the Black students of Lincoln.
This statement covered the plans the SU has to increase diversity in staff, dealing with complaints of racism, gaining feedback and suggestions from Black students, having the BAME Officer to sit as a member of the Board, and training staff to give a better experience of Black students and staff.
A statement from our Chief Executive pic.twitter.com/Iry74hzobg

— Lincoln SU (@lincolnSU) June 16, 2020
However, it has since come to light that this statement was a very similar take on the one that Essex Uni's SU Chief Executive, Craig Stephens made.
An important message from our Chief Executive…

Thread 👇 pic.twitter.com/tOw74YX4mb

— Essex SU (@EssexSU) June 12, 2020
"As you Students' Union it is not enough for us to be 'not racist', we must be anti-racist." This powerful statement was originally made by Craig Stephens, people have since tweeted at Lincoln's SU for copying the statement.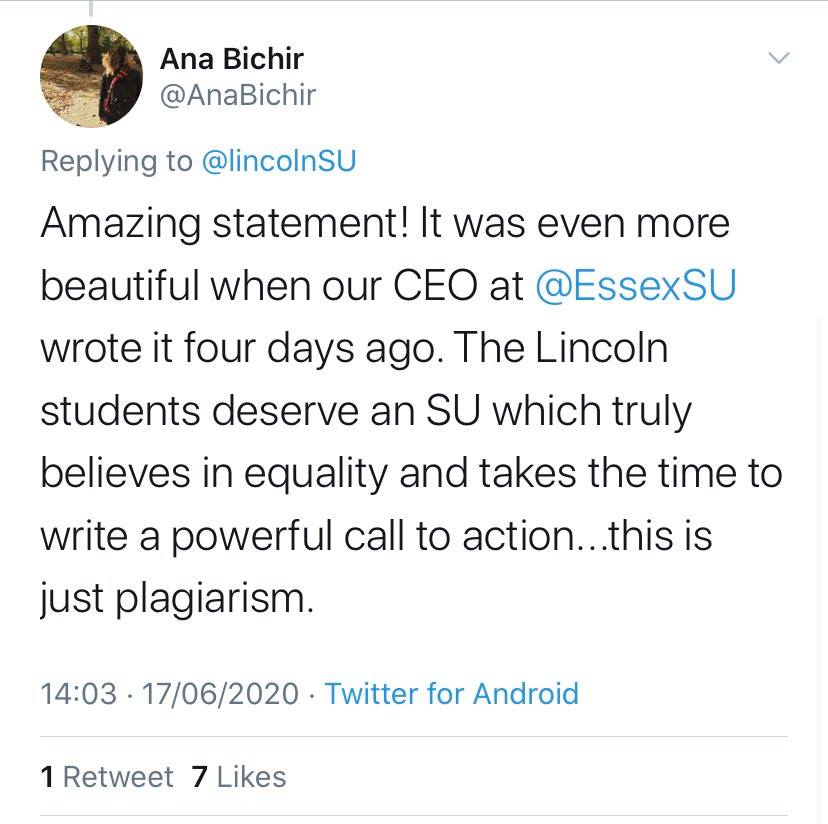 A spokesperson for the University of Lincoln's Students' Union has told The Lincoln Tab, "We are, of course, aware of the statement made by Essex SU. We strongly agreed with the sentiments of their statement and recognised that many of them needed to be applied to our union. Every pledges that our CEO made in the statement is specific and relevant to Lincoln and will push us to continue working for the interest of Black students and the wider BAME community. We want all of our students to see what we put out last night as a statement of intent and to use it to hold us to account."