Meet every single Lincoln SU election candidate and find out what they stand for
Get voting to have your say, but not until you've read this
elections
students union
The Students' Union election is underway, with voting set to close tomorrow at 2pm.
If you're unsure about how you want to vote, you've come to the right place. We spoke to various candidates, to find out why they think they deserve your vote.
Vice President of Education
You need the right support in place to scrape that 2:1, and the VP of Education is here to ensure you get it. The people running for this role include:
James Morrison
James was once a school rep, and from this he chose to run in the election. He told The Lincoln Tab: "I'm running as I loved making changes that really affected students and their courses.
"I realised that so many students had concerns that weren't being focused on, like students with learning difficulties needing extra support, and issues that students are really passionate about, such as environmental issues, society support, and SU democracy."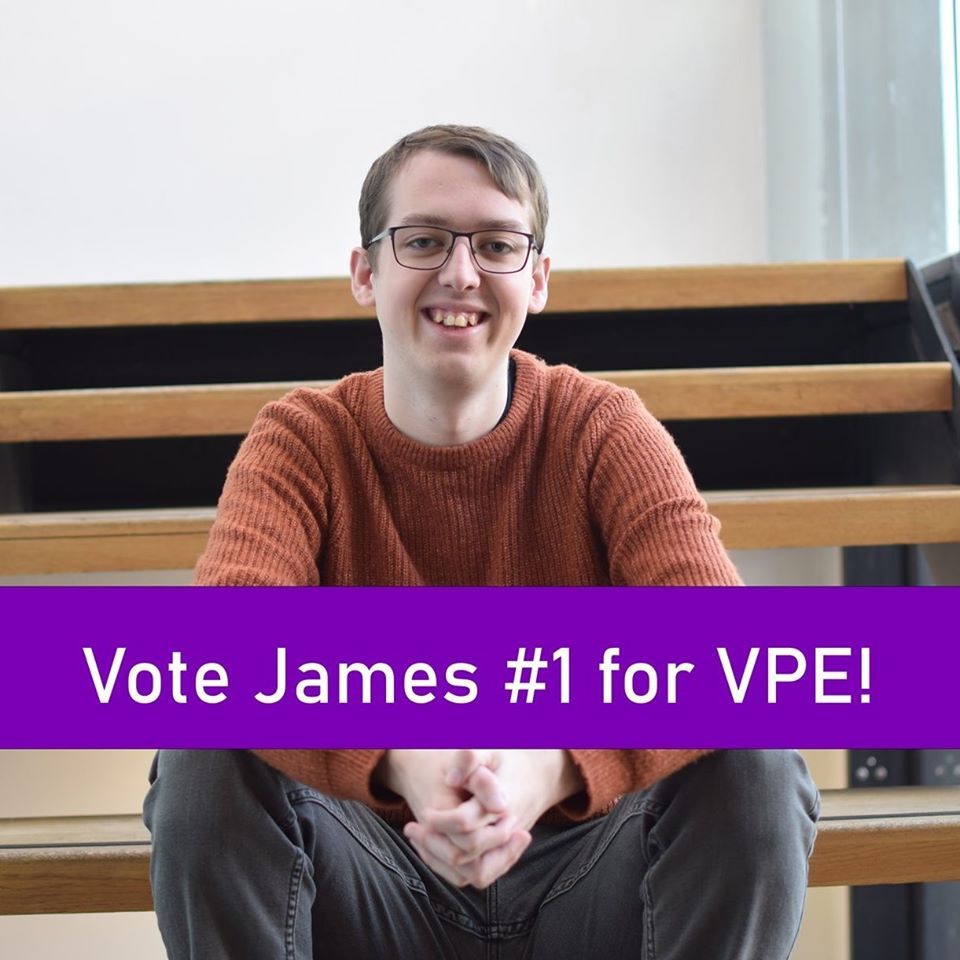 Georgia Petts
For the last year, Georgia has been the VPE at Lincoln and she told The Lincoln Tab why she wants to be re-elected: "I wanted to rerun because I have so much more I want to give back to the Lincoln students community and so much more to achieve by representing the students.
"It's been the best year, and I'd be honoured to be able to continue on for another year, reflecting on student feedback and representing everyone's academic interests!"
Vice President of Activities
Uni isn't all about lectures and nights out, sports and societies make up a great part of the fun, too. These are the people running to be your Vice President of Activities:
Jordan Mason
It's not just a campaign, it's Tic Tac's campaign. Here's what Jordan told The Lincoln Tab: "I really found an identity here at the University of Lincoln, and I want to make sure everyone else does, too.
"I really want to improve the SU/Sports Centre relationship, increase representation of societies, and enhance communication between the SU and the student body."
Callum Gibson
Callum has great knowledge on what it is like to be part of all areas of student life in the SU.
Callum's utmost priorities are student well-being & experience. He knows that sports and societies are already great, but he says that we can all make the student experience even better. Callum wants to introduce a private SU minibus, introducing more rewards and recognition. He is also offering pastoral support to committee members, and more!
Henry Badman
Henry, a hopeful candidate, told The Lincoln Tab: "I'm running to increase the amount of mental health education and accessibility for members of sports teams, as well as societies. I want to make sports teams and societies more accessible for everyone.
"I also want to increase the universities reach for accessible all-weather pitches for our sports teams."
Calvin Bissit
Calvin Bissit told The Lincoln Tab: "I will immediately begin to revamp the room and events booking system, simplifying it and allowing societies to use it with greater ease.
"I will also start making our decisions transparent, allowing societies to see why we make the decisions we do. I will massively push the SU to support the societies here at Lincoln, in terms of media and finance. Encouraging as many students as possible to get involved, as a result."
Abi Brown
Abi Brown is the current VPA and told The Lincoln Tab why she would like to be re-elected: "Being re-elected would be fantastic as I can continue with my current work, achieve my new manifesto points, build on the WeAreLincoln and One Community. It gives me nearly 18 months to make genuine, positive change."
Emily Dale
Societies and sports are incredibly important to Emily, and she told the Tab why she is running in this election.
"I want to streamline the process for students to enjoy these services, and get every single person involved in activities, for the good of their own mental health and the strength of the Lincoln community as a whole."
Vice President of Wellbeing & Community
Uni can be tough for many people, asides from the academic aspects. Everyone deserves to feel safe and happy, and these are the people hoping to ensure that this is possible:
Kathryn Louise Wilson
Kathryn is hoping to be elected for this role, and she told The Lincoln Tab:
"I'm running because I genuinely care about getting students help. I have struggled in regards to mental health and bad student housing, and the Students Union could and should be doing so much more."
Willow Woodmin
Willow wants to ensure there is an outcome in everyone's best interest, and she told The Lincoln Tab:
"I know Lincoln is a home from home for thousands of people and everyone deserves to feel safe, supported, and happy."
Lucy Elaine Krogdahl
Lucy Krogdahl is dressing up as a bee all week for her campaign. She told The Lincoln Tab: "I'm passionate about mental health and want to work to improve uni mental health services.
"I am already working with the university (and have been with September) to set up a 24/7 peer to peer mental health line. I want to improve sexual health education, the availability of contraception and STI testing, and combat student loneliness by introducing get to know each other afternoons which I hope to extend to the wider Lincoln community."
Sophie Yeaman
Sophie wants to make a positive change on campus, and she told The Lincoln Tab why she's chosen to run for this role:
"After being the President of the only mental health society on campus (Peace of Mind), I have listened to hundreds of students and their issues. I've experienced them myself, and I want to make changes based on what the students want from the SU."
Vice President Campaigns & Environment
The environment is a growing issue, one that concerns many students. Here are the people running to be the advocate of these interests:
Callum Roper
Callum wants to listen to students, and he told The Lincoln Tab: "I believe that the SU can be a real leader in using green technology and encouraging environmental awareness on campus, and in Lincoln as a whole."
Bailey Marchant
Bailey is the current environmental officer, and she wants the SU to be more green. She said this to The Lincoln Tab: "It's an incredible opportunity to make an impact in terms of how the Students Union combats climate change. I'm currently environmental officer at the SU, so I'm really passionate about the environment and the campaigns network, and can't wait to make a difference!"
Vice President International
Moving away from home for uni can be hard! Moving to a new country, although exciting, can bring even more challenges. These are the people looking to make the experience as positive as possible:
Jenna Emily Moon
Jenna wants to make the support for international students clearer and more readily available. In a statement to The Lincoln, she said: "I'm running so that we can bridge the gap between home and international students.
"I hope that my unique perspective, as a home student, will help me reach out and bring people together."
Amina Ndekudugu Akugri
Amina is running so she can provide and assist international students with a smooth transition into the university, ensuring that there is adequate information available for international students, and to be the voice of international students.
Volunteer Officers
There are a number of Volunteer Officer roles, that are also elected in the SU elections. These include: Campaign Network Officers, who represent students who identify within their communities, e.g., LGBT+, BAME, etc. There's also Sports, Societies, and Academic Societies Officers, who represent all of the different sports and societies.
LGBT+ Officer

Part of their role is to ensure that Equal Opportunities and Zero Tolerance policies are fair to members, and consistently applied. The people hoping to fill this role are as follows:
Riley Wade
Riley has been in the role of Gender Rep for the LGBT+ Campaigns Group for two years now. They told The Lincoln Tab: "I'm proposing radical change and massive reform to the way our uni approaches LGBT+ politics, with my main aim being about liberation, not assimilation.
"I want mandatory trans identity training for all students and staff, covering topics such as pronouns and what to do if someone's been misgendered."
Natasha Kirchin
Natasha wants everybody to be seen. As LGBT+ officer, Natasha wants to create a safe space for LGBTQ+ people on campus, that isn't just revolved around nightlife. She wants to make sure that everyone feels visible, regardless of gender or sexuality.
Oliver Moore
Oliver wants to make the campaigns group more open and accessible for discussion with all students, improve the current quality of meetings through better standardised structure. As well as the implementation of improved internal and external checks.
Samuel Neal
Sam wants to make sure all voices are heard among the LGBT+ students within the university, focusing on making sure the university campus will continue to be a safe space for LGBT+ students. Also, bringing awareness to mental health concerns of LGBT+ students.
RAG Officer
RAG stands for "Raise and Give". A key responsibility of the RAG Officer is to communicate with local charities that the committee is fundraising for. The candidates include:
Lauren Martin
Lauren is the current RAG secretary and wants to continue to make the system better. She told The Lincoln Tab: "I want to have everyone on campus engaged. As RAG Officer, I would love to work with BGSU's RAG team, and the wider community of Lincolnshire, to ensure we can raise as many funds as we can for charity."
Jacob Stinson
Jacob is running as he believes in the power of fundraising and the difference it can make. He told The Lincoln Tab: "I am currently the RAG Publicity Lead, so I know how RAG works and how to effectively communicate in through the Student Union.
"I know how to efficiently promote events and grab people's attention. I am very dedicated to this cause, and I want to bring everyone together.
"I want to ensure that the environment is at the forefront of any campaign or any event we run, therefore, I want to limit the use of single-use plastic materials in the events we hold."
International Students Association (ISA) Officer
This person should ensure that international students have the best experience possible. There is only one candidate standing in this election:
Shazeda Ahmed
Shazeda wants to push for the opportunity to learn about different cultures, which she feels can be overlooked while at university. She is the Buddies Lead for the International Buddy Scheme under ISA, and says that the role has allowed her to meet students from all over the world. Therefore, she says that she has good insight into the positive and negative experiences that they face whilst in the UK.
Sports Officer
This person will act as the Chair of the Union's Sports Hub, and support it's development. The candidates include:
Lucy Dunkerley
Lucy has had a huge amount of involvement in the sporting community. She told The Lincoln Tab:
"My main focuses are: funding and opportunity equity for clubs, committee well being, and utilising all the amazing members from across the university. I want to improve the community experience both in Lincoln and, hopefully, engaging with initiatives and awareness campaigns across the UK. "
Katrina Dawn Watson
Katrina wants to create flexible drop-ins, 'Give It A Go' sessions, and promote athlete health and wellbeing. She is willing to learn new things, and has been part of the 'WeAreLincoln' community for three years, going into her fourth year.
Societies Officer
This person will act as the Chair of the Union's Societies Hub, and ensure that decisions are communicated to students. There's one candidate standing for this role:
Rebecca Sharp
Rebecca is standing for Societies Officer to make an active change to the society system on campus.
Rebecca wants clearer resources for applying for grants, a split freshers fair, and clear communication channels between society committees. She also wants to move all expense claim forms online.
Women's Officer
One responsibility of this role, is to identify issues raised by members of the Campaigns Groups, and also to ensure safety. Millicent is standing for this role:
Millicent Kay Horne
Intersectional feminism is something Millicent has always been passionate about and she wants to spread that passion across campus and to the wider community.
Disabilities Officer
This person should also work to provide a safe and supportive community. This is the person hoping to fulfil this role:
Zoe Phoebe Hoy
Zoe wants to implement the sunflower lanyards university wide, continue to fight to make the university campus more accessible, and provide more support to students. She also wants to continue to challenge perceptions of what disabled students can achieve.
Environmental Officer
Part of this role is to organise and deliver campaigns to address relevant issues. The candidates standing for this role include:
James Morris
James would like the opportunity to bring the skills that he has acquired from being communications lead for the Environmental Campaigns Committee this year, as well as other voluntary and academic experiences, to this role. He was previously a course rep, and is a member of the Eco Society.
Jacob Ford
Jacob believes that he can continue to take the SU forward. He told The Lincoln Tab: "I have the enthusiasm, experience, and drive, to engage students and support them in being more sustainable and environmentally friendly.
"This election, for me, is about making sure that the right people are at the forefront of Lincoln SU, and not just the popular few."
Chandani Holliday
Chandani is passionate about the environment and wants to make a positive change at the university, by putting the environment at the forefront of everything we do. She believes the SU and University need to be leading the way in Lincoln as we are such a big part of the community.
We hope that this is article has helped you form your decisions, and you can cast your vote here.