The Brayford crossing footbridge is opening TOMORROW
Just in time for the end of the semester…
Network Rail's new bridge over the railway line on Brayford Wharf East is set to open from mid-morning tomorrow (Wednesday 15 May 2019).
The Eastern Approach between the Minerva building and Brayford Wharf East will also be re-opening.
The bridge will provide an alternative route to the level crossing which will also reopen to pedestrians and motorists.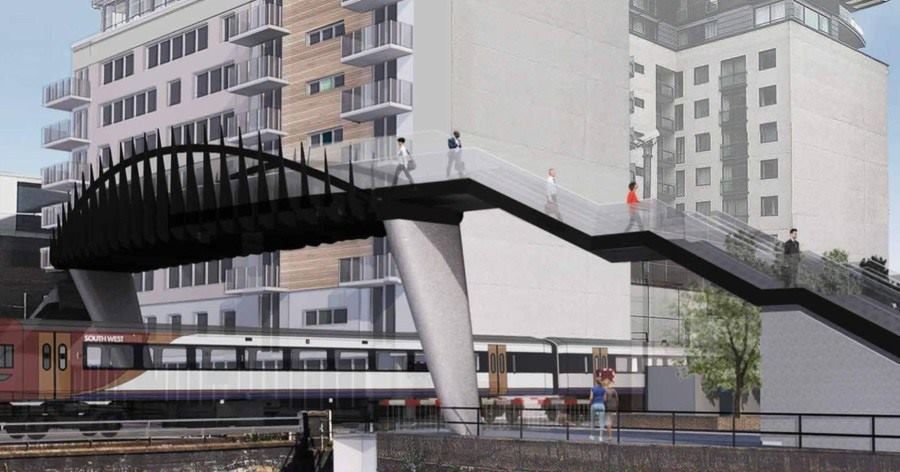 Over the past few months, the delay of the bridge has impacted Business and Psychology students heavily as their buildings are located next to the crossing.
Initially, the design plans were criticised as it did not include a lift which was said to disadvantage disabled people.
However, the bridge was later approved by the Planning Inspectorate who stated that disabled people have alternative routes that they can use.
Alongside the controversy, many others have taken humorous approaches to the bridge that is said to resemble a dinosaur.
I literally leave lincoln for a few months and so far a bridge that looks like a dinosaur has crash landed overnight, people are legit FLYING over the brayford, everyone seems to have ditched their degrees to make memes I mean honestly wtf is happenin

— Scarlett Clayton (@scarlettclayt0n) April 11, 2019
Stunning bridge at The Brayford but it's a big middle finger to those with mobility issues or buggies isn't it – no lift. I'm glad I don't have one of those apartments either; you've suddenly got people walking by your windows! pic.twitter.com/jIrFxovXDZ

— Susan Ritchie (@susanjritchie) April 10, 2019
Feel like crap, just want brayford level crossing back x

— Hetty ❤ (@hettysaffron) January 24, 2019
Network Rail contractors will remain on site in the coming weeks to finishing clearing the area, including the water around the pontoon.
Towards the end of this week, the removal of the pontoon that was set up due to delays will begin.