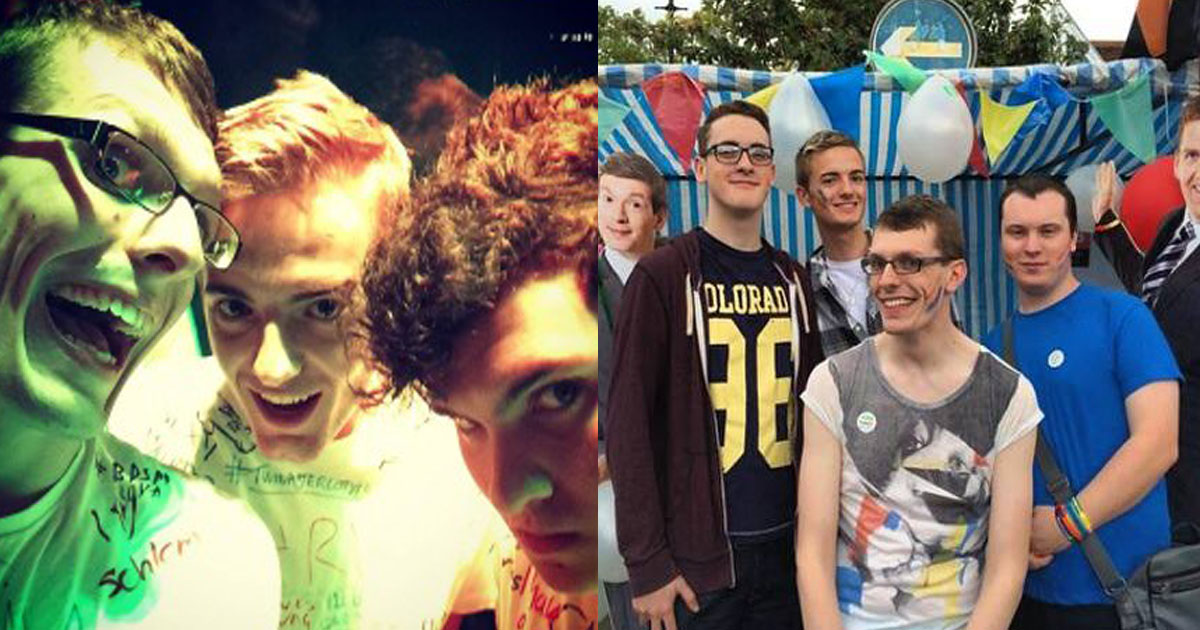 The definitive gay guy's guide to Lincoln university
Don't forget about Tuesgays
Daniel Sheppard
Freshers
Freshers Week
GAY
Gay Man
Guide
LGBT
LGBTQ
LGBTQI
lincoln
THE TAB
Tips
uni
University
university of lincoln
So you're moving to Lincoln for uni, a vast big ol' city past the confines of your market town life where life doesn't exist beyond 5pm.
There are hundreds of generic guides on student forums to prepare you for your life at Lincoln, but living here, they miss out on specifics. Specifically, they miss out on how to explain gay life in Lincoln.
It ends here. This is your definitive guide to LGBT life in Lincoln. Read it, learn it, live it.
Beware of The Plastics
You're going to meet a lot of people who want to sideline you as an accessory – their new Gay Best Friend.
"You're gay? Oh my God, you're my new best friend. We should totally go shopping together or watch Mean Girls or something…"
Pretty much every gay guy has had his ears deafened by the mantra of desperate girls who want you to be fabulous with them. If you're lucky enough to have escaped this already, it's coming during Freshers' Week.
For these wannabe plastics, the main problem comes in them not realising you're a human being and not a performing seal. Grit your teeth and smile, maybe throw a limp wrist to give them what they want, and then sashay away to a new group of people who hopefully have the brain capacity to realise homosexuality isn't an alien concept. From personal experience, remember that you'll only stay friends with 10 per cent of the people you befriend in the first week or so. Don't get disheartened, there are people out there who'll like you for you, not your novelty GBF value.
Do you have the pleasure of being gay and visually impaired? If you wear glasses, your uncanny resemblance to Gok Wan and Alan Carr will be brought up constantly. You know, kind of like how every Irish homosexual resembles Graham Norton. Honestly, laugh it off, take a big sip from your plastic cup, and put it to the back of your mind. I promise the memory will serve as a fabulous anecdote later in the academic year.
Another group of people you need to be wary of are the lads lads. Their hyper-heterosexual, alpha male personas mean that they can't stand within five feet of you in case they catch the gay germ. Alas, they'll also try to persuade you their straight friends are gay so you'll hit on them. Do yourself a favour and keep away from them, even if it means missing out on Monday night partying for the rest of the year when they're about.
Don't let your bad bedroom decisions hold you back
You have a lot more fun at uni, and unfortunately it means more shagging about. When you're straight, you run a risk of bumping into these people a lot and having awkward "remember me?" chats. When you're gay it's even worse. You'll see them in the high street, make awkward eye contact and then duck into the nearest shop and pretend it never happen.
Accept it – it's inevitable that you'll see them at some point. Ignore those rosy cheeks and that racing heart; you're young and you've got nothing to be sorry for. Hold your head up high and be happy because you've got a corker to tell your future husband. In fact, smile and greet your one night lover as they walk past you… Their facial expression will be priceless.
Tuesday? Tuesgay
It seems like Tuesday is the one night of the week every student at Lincoln forgets about.Tuesday night pre-drinks always seem like a great idea but by the time you get Pounded at The Scene with your double vodka and two Sambuca for under a fiver, you'll wonder why you even touched the gin before you left the flat. Suck it up, and make your way to Skint.
Skint is the place to be for the LGBT community at Lincoln – and as the saying goes "what happens at Skint stays at Skint". Embrace it, and accept you're not going to make those Wednesday morning lectures on your timetable.
Join the LGBT+ Society
No matter if the Society is referred to as LGBT, LGBT+, LGBTQ or LGBTQI, the purpose stands identical. In a world where we're dominated by heterosexuality, it can sometimes be overwhelming and your status as a minority can make you feel isolated. But at LGBT soc you can be more open, and talk have conversations you wouldn't necessarily have with your friends who don't identify. You'll probably end up at the local gay bar afterwards for copious amounts of booze so it's a win win situation.
And next year they'll be even bigger. Lincoln LGBT president Thomas Cheshire said: "We have a stand at Freshers' Fayre that I really enjoy because we advocate more than just the society, but sexual health and safe conduct as well. Signing up is very easy and it's free to join as either a social member, active member, or both. We run a few campaigns both nationally and locally to better improve the situation for the LGBT community.
"Every week we have a topical meeting hosted by the committee, external speakers or members themselves to educate and entertain anyone who wants to come along. We operate a no tolerance policy towards bullying and disrespect, and the committee are all passionate about upholding and improving the Liberation group in the new academic year."
75 per cent of the year should be spent drunk or eating pizza and watching movies
Midway through Freshers' Week, people you know will start to settle down and get serious with their studies. Yes, really. But don't panic – really all your first year teaches you is how to write in a new academic style and how to deliver half decent group presentations. It's very rare for your first year grades to be accounted for in your overall grade so you can stop worrying. Get drunk five nights a week, order greasy food and stream trashy movies online. If you want to camp it up a bit, mince around to Madonna in your undies and be sassy with your squirrel friends. Don't let your assignments slip but also remember that your main focus should be on maintaining a happy and healthy social life.
Would you believe a fresher who partied around 23 nights each month has managed to finish his first year with consistent 2:1s and Firsts? Yup.
Celebrate Pride
If your University City holds a Pride during the academic year in September, go to it. Lucky for Lincoln students, Pride has been confirmed to take place on Sunday 27th September at City Square from 12pm with The Scene holding the after party until 6 in the morning with special guests. Not only will you be celebrating with fellow students, you'll be surrounded by a huge variety of people who all have a mutual interest in equal rights. Wave your flag up high and squeal along to The Communards because nothing feels better than the freedom to express yourself.