Telford may be a bit grim, but we love it anyway
It's OK to be proud of having two Greggs within 400m of each other
cs
Like a phoenix rising from the ashes, Telford appears out of nowhere in the rural heartland of Shropshire.
In a county only really known for the Ironbridge, Blue Cheese and Charles Darwin, Telford is on its way to providing a controversial sense of urban malaise in an area otherwise known for farming and being the chosen destination to do your Bronze D of E.
As Paul Young once said: "Wherever I lay my hat, that's my home", and Telford fits this bill perfectly. No one ever end ups here with the sole intention of doing so: you just sort of end up here, not really knowing how. But one thing's for certain: once you let it in, Telford does things to you. Like an aphrodisiac, you just can't keep away.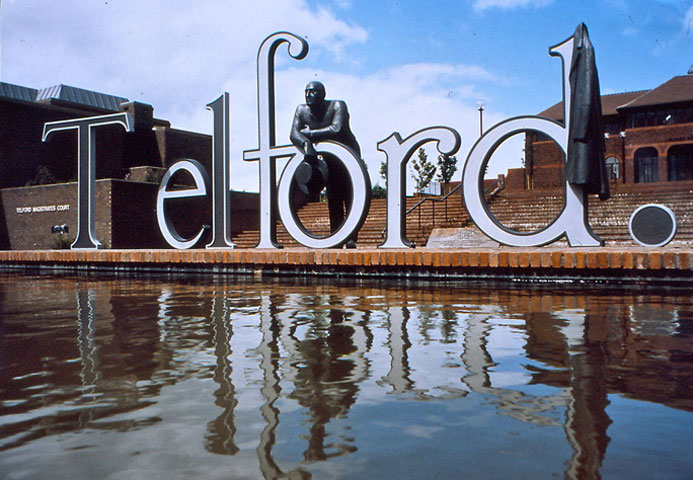 Born from the merging of many small towns in the 1970s, Telford has grown over the last 40 years to become the place to be if you're in the West Midlands. Just because it's known as the "birthplace of industry", this doesn't make Telford any less beautiful in its own unique, slightly shitty, "what am I doing here" kind of way.
In a town where  literally all we've had to be proud of in the recent past was a bridge made of iron and the Ketley Cod, the discovery that we were nationally recognised for our town park was like music to our ears. In December last year the park was voted the best park in the UK, beating 121 other entries. Take that, southerners.
In an attempt to make a name for ourselves, what better way is there than inviting some D-list celebrities to come and hold some concerts in the center of town? Telford recently played host to three "big" open-air concerts, hosted on three seperate occasions: The Vamps, McFly and Boyzone, supported by Alesha Dixon. OK, so they were hardly Glastonbury, but hey – they were probably the most famous people to come to Telford since the Queen visited in the 70's. And everyone loves a trier.
Telford even hosted the UK Snooker Championships for four years in a row from 2007-2011: and it makes a lot of sense. Like Telford, everyone always forgets about snooker too.
It's the nitty-gritty that makes this place an absolute gem. Telford probably hosts more pubs than people, with places like Shifnal, Wellington and Ironbridge not really knowing what else to do with their time other than get the locals drunk. Naturally we accept this with open arms because, well, there's not much else going on around town really.
And where else to carry on the party  than Telford's  very own "superclub", Cats: apparently Michelle Keegan once refused to appear there. Yes, even someone from Stockport turned their nose up at coming to Telford for one night.
Ask anyone around town if they enjoy Cats and they'll tell you categorically no. Ask them on a Thursday student night once they've had a few if they'd like to go to Cats and no-one can get their enthusiastic "yes" out fast enough. It's a blessing and a curse. As far as clubbing goes, Cats will provide you with an average at best experience – but living in Telford also provides you with an average-at-best experience, so they compliment each other pretty well.
If Telford's questionable nightlife isn't enough for you, why not stop by somewhere that we're all relatively proud of – Telford Shopping Centre, the only place in the centre of town where you can go on a "Greggs Crawl". Regularly found accommodating hoards of pre-pubescent teenagers hanging around drinking Blue Charge by the gallon, the Shopping Centre is fondly remembered in the hearts of us all.
And ever since Nandos and Bella Italia opened up next door, we've all been a bit beside ourselves as to what we've done to deserve this. It's the most exciting thing to happen since James May came to town to help build a model Spitfire (what a day). As if things weren't getting out of hand enough, now we're even getting a TGI Friday's.
Our locals are questionable too. For such a small place, we have so many different people from so many different walks of life it's quite hard to keep your linguistic skills up to scratch. Maybe a degree in Languages from the University of Wolverhampton's Telford Campus would help? Maybe not.
Despite this though, these people have actively chosen Telford to be their home. Maybe it's our smiling faces, or our optimism that things can only get better – after all if we weren't laughing, we'd cry. Either way, we'll welcome them with open arms because they all seem to get us, as in they all have an attitude that seems to say "What have I done coming here?"
So it's true: if you live here you know it's not perfect, but you've learnt to be okay with that. You're OK that there's not much to do. You're OK with the state of it. And even though you welcome the day the the opportunity may arise to leave, no matter where you go Telford will always be home – and there will always be something to draw you back, eventually.