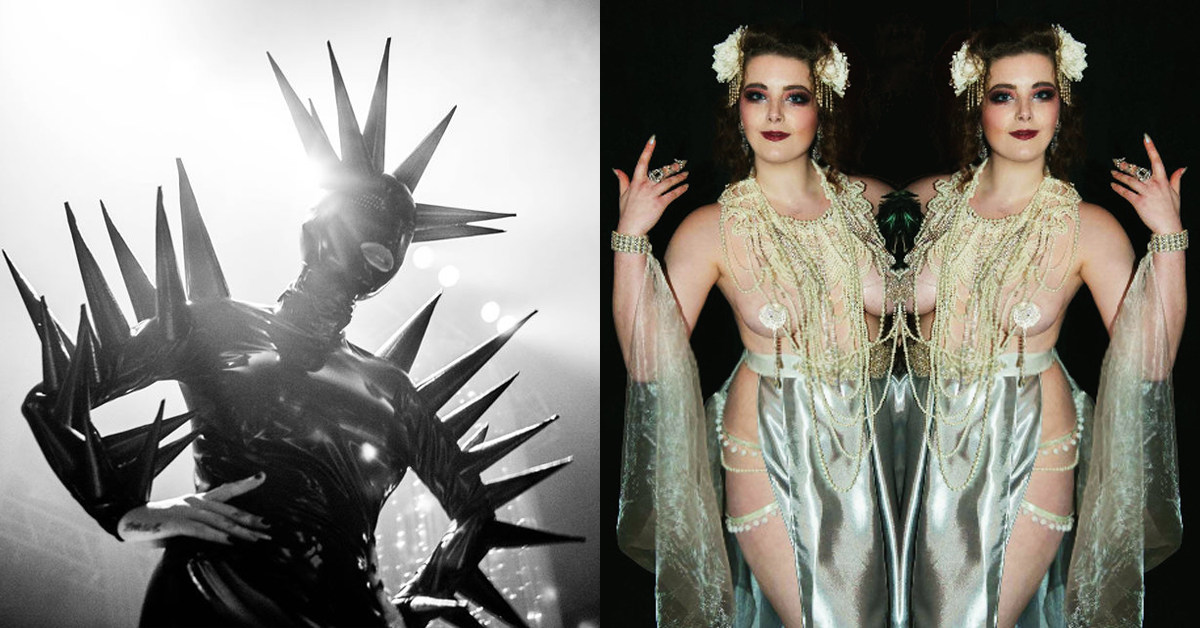 I prefer hardcore fetish clubs to Liquid
We won't bite unless you ask us to
noad
It's 4am and I've hit the wall. Covered in sweat, glitter, and whatever else you come across in a club, I lounge across a black leather settee and scan the room with one eyebrow cocked, bitch-face set in place, sharking for a submissive. I am at Torture Garden, the world's leading fetish club, and as a dominant there are some things I have come to expect when here.
My feet hurt, and I know there are plenty of guys dotted about who would just love to grab my dirty, sweaty feet and give them a good old rub. I spot a rather sweet chap in some tight leather shorts – sub gear – and wave him over. He crawls over and carefully takes off my heels: cradling my disgusting feet in his large hands, he proceeds to give me the most glorious foot-rub of my life. Ladies, you don't get this treatment at Vodka Revs.
I scan the room, scratching the head of my new pet, and lap up the sights: Drag Queens, Ponygirls (and boys), subs, doms – a whole array of beautiful people strapped, corseted and cinched within an inch of their lives – showing exactly what mama gave them. I love it here.
I first started clubbing when I was 17, and quickly realised the regular club scene wasn't for me. Men were often quite sexually aggressive, I felt my appearance was constantly under scrutiny and generally people didn't look like they were having fun unless they were slaughtered (in hindsight I probably went to some scummy clubs but as I've grown older the club scene to me seems to be rehearsed and tired).
So when I was first invited to Torture Garden, I jumped at the chance to try something different. I was 18 and fresh out of my emo/scenekid years, now a fledgling rockabilly and I thought I was the absolute dog's bollocks. The notion of going to a fetish club didn't make me feel nervous because I used to listen to Marilyn Manson, and that obviously meant that I was pretty hardcore. I rocked up clad in a £25 Ann Summers PVC number (the shame) and oozed vintage dom, or at least I thought I did at the time. I felt at home instantly.
The club was large: there were loads of themed rooms, which could easily fit around 50 people in them, each one lavishly decked out. Since each themed room had its own music, Torture Garden didn't discriminate when it comes to music taste. But for us it meant a lot of time was spent drifting from room to room trying to find a song to fit our mood. I'd like to add there was a disappointing lack of Beyoncé.
Expect to see art installations, fashion shows, cabaret acts, exotic dancers, pyrotechnics – the whole shebang. They really go all out with the décor, which adds to the air of fantasy. The Coronet Theatre in London is one of the regular venues and the main stage always looks sick – think naughty films projected onto walls, plenty of red velvet, and huge balloons filled with confetti hanging from the ceiling. Props and play equipment are scattered among the adjoining rooms, as are the all-important sofas, but there is no pressure to join in: voyeurs are more than welcome. The last time I visited, my friend and I were mesmerized by Kinbaku – a form of Japanese rope bondage. The woman suspended by tightly knotted ropes looked pretty zen and another woman was tying her seemed so caring and considerate that we became a little emotional.
One of the key aspects of fetish play is trust, since there is a certain element of pain you need to be able to trust your playmate completely. I feel that in popular culture there is too much focus on the notion of pain and submission that it is easy to disregard the tender aspects of fetish.
Although we thought it looked beautiful, we decided Kinbaku was not for us as our yoga skills weren't up to par, and I was getting flashbacks to a Bikram yoga incident I wasn't about to repeat in a hurry.
What is refreshing about Torture Garden and the fetish community in general is the mutual respect everybody shares. It is an environment that wholly welcomes and encourages individualism, creativity and free self-expression. I thought I would note people do not generally "express" themselves in front of you, there is a handy "Couple's Room" set aside for when it all gets a bit hot. Touching people without their consent is a big no-no, there is a no tolerance rule when it comes to sexual harassment and I have not once been touched inappropriately at Torture Garden, which sadly cannot be said for my experiences on a regular night out.
I appreciate fetish as it breaks down gender identities, everyone is comfortable with their sexuality and each other's sexualities. This means there is not the same sense of anxious self-awareness you see perpetuated in the regular club scene. As a woman I feel liberated because I can wear what I like and not fear judgement or harassment: people focused on my costume and how I wanted to express myself rather than the flesh I had on show.
I am aware to some this scene may seem inaccessible and daunting, but it isn't elitist and there is such diversity that anyone with an open-mind and some curiosity is welcome. When I first went to Torture Garden I thought everyone would be hardcore and alternative but you would be surprised at how many computer programmers you come across at these events, mostly on work outings.
As for me, I'm just a third year English student that loves dressmaking, writing stories, the theatre, and cat s- not exactly the most intimidating person you'll meet. So if, like me, you feel disillusioned with the student club scene and you want to try something a little more… exotic, then strap on your most sickening pair of heels and try the fetish world on for size. We promise we don't bite – unless you ask us to.
Thanks to Paul Soso Photography and Torture Garden for their pictures.
Follow Nathalie on Twitter: @NathalieGioia