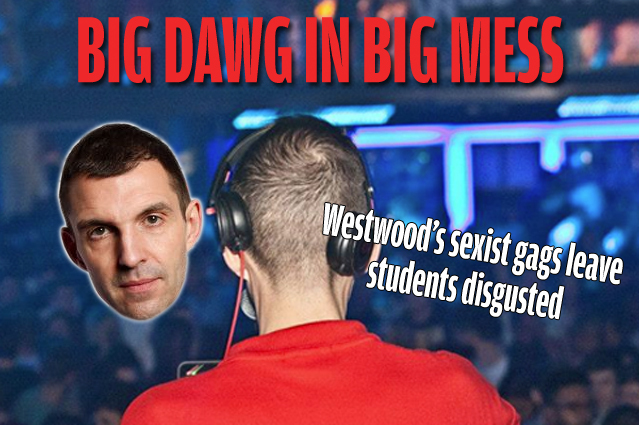 Big dawg in big mess
DJ Tim Westwood tells freshers young enough to be his grandchildren to "keep their pussies tight and clean"
exclusive
leicester
sexual harassment
tim westwood
tim westwood pervy
Hip hop clown Tim Westwood unleashed a torrent of grim sexist gags during his gig at Leicester's student union on Saturday.
In a performance to 2000 students, the 56-year-old made a series of explicit comments to the crowd, many of whom are 38 years younger than him – meaning he could legally be their grandfather.
Students attending Saturday's We <3 R&B event, part of the Freshers Week events programme, told how the former Pimp My Ride host yelled a series of bizarre jokes, including:
• "Girls keep your pussies tight and clean."
• "Girl in the front row with the black dress on, I will be fucking you later."
• "Security have told me you need to wear a sports bra."
The wally DJ, who left Radio 1 as part of "planned schedule changes", went on to inform those watching his performance that "this song goes out to all of those girls with clean wet pussies."
And Westwood borrowed the catchphrase of fellow ageing sexist Richard Keys, by posting an Instagram video of a couple grinding with the caption 'Smash that homie'.
Disgust
Unimpressed students told The Tab of their disgust at the DJ's behaviour.
Ross Copping told The Tab: "To paraphrase Tim, I did hear him ask girls how tight their pussy was, which was rather vulgar. The impression I gained from the girls I was clubbing with was that he was plain derogatory and although a commendable DJ, had no place in our O2 academy if he wished to conduct himself in such a manner."
Fresher Laurie Peters said: "Through the whole night he was being very vulgar towards the women in the audience. It was uncomfortable and inappropriate in my opinion to ask which 18 year olds in the audience want to get their "pussy" out and to tell someone that he would be "fucking" her later on in the night. I felt it was practically confrontational."
Fourth year Rarione Maniece said: "Throughout his set he said some very inappropriate things to say given how old he was and how young the majority of the crowd was. I am pretty sure most of the kids there were young enough to be his children. He dropped lines such as "Girl in the front row with the black dress I will be fucking her tonight!" and other racy things of that nature."
Kitty Rodwell said: "It was just one of those 'wow too far for someone of your age' disgust kind of things where everyone looked at each other and said 'I can't believe those words just left his mouth.'"
Denial
When we contacted Westwood, his representatives threatened The Tab with legal action, claiming witnesses had mistaken his words for lyrics from reggae songs.
His spokesman said: "It seems that you are referencing lyrics of certain reggae records. Records such as 'Pon di Cocky' by Aidonia, 'Stop Sign' by Konshens and 'Tightest' by Busy Signal contain sexually explicit lyrics similar to your quotes.
"These are the biggest records in reggae dancehall, which are played in all venues that play reggae music. It is well known that Tim Westwood is a DJ who plays reggae, hip hop, soca and afro beats at all of his performances.
"Finally Tim played a record by R Kelly called "Bump 'n Grind" during his set, which as a joke he dedicated to a non-specific girl in the front row, and no individual person was singled out. This was non-offensive banter with the crowd. At no point was offence meant, and none was taken by the people in the front row.
"It is very apparent that popular song lyrics, especially in reggae, and individual comments made on the mic are being taken out of context and being used as an attack on Tim Westwood. To suggest in an article that Tim Westwood made targeted sexist/offensive remarks to female students will be libellous and will also result in court proceedings being issued by Tim."
The news comes after Leicester Union announced a new Zero Tolerance policy on sexual harassment. The union definition of sexual harassment includes "unwanted sexual comments, including comments about your body or private life" and "unwelcome sexual invitations and innuendos".
Did you see anything at Westwood's gig? Contact [email protected] with any information you have. We will always protect your identity.