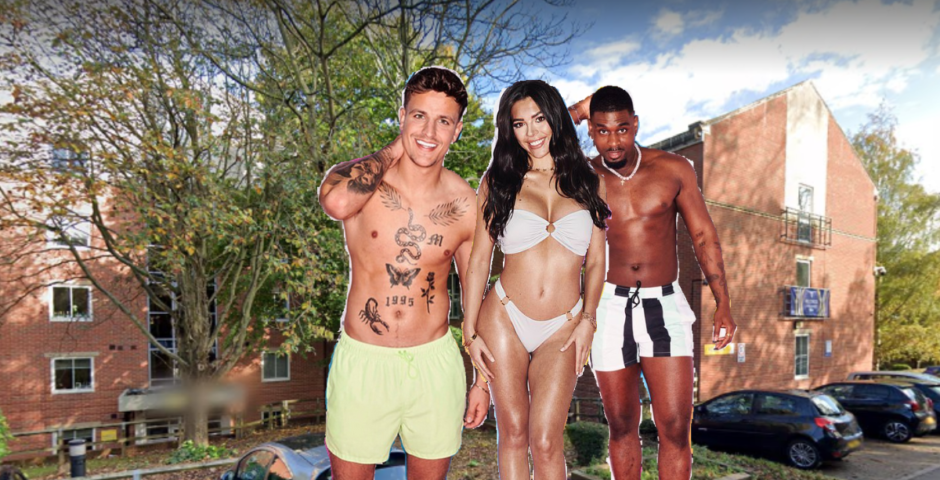 Which Leeds Uni hall we think each Love Islander would be in
Obviously Davide is White Rose
| UPDATED
With most of the islanders being around our age (and Gemma reminding me of half the girls I met in Freshers' Week) it got us wondering about which Leeds Uni hall the islanders would choose to live in based on their stereotypes. So, here's the definitive list:
Gemma- Charles Morris
I hate to say it but this was probably the easiest match-up. Horse rider, famous daddy, favourite holiday destination is Dubai? I mean, come on. It's too easy. Miss Owen has a lavish year ahead of her in this accom.
P.S. Do not tell her you don't know what an international dressage rider is… if you don't know you're about to see some real passive aggression.
Luca- James Baillee
JB is where the sesh is at so, of course, this was Luca's number one accom. Five night benders are what the man lives for- until he meets a certain princess at Charles Morris and then his life's goal becomes to pursue that…
Tasha- Leodis
Tasha did seem generally sweet and so do most of the people at Leodis. It's not the swankiest of accoms but the people are friendly and down to earth and that felt like Tasha's vibe (but after recent events I'm not too sure on this one.)
Andrew- CitySide/ Central Village
Not snobby enough to be in Charles Morris but still looking for a comfortable stay, Andrew would live close to campus at CitySide/ Central Village. He's a little reserved but seemingly sweet- a pretty likeable one on the whole.
Ekin-Su- James Bailee
Busy pursuing her acting career while getting a degree in media, Ekin-Su chose James Bailee because she felt that the wild party life was where she belonged. Best friends with a bunch of posh sounding girls who will shag your boyfriend, Ekin-Su's got an eventful year ahead of her. Although she's sometimes a wannabe Maura or Megan, she undoubtedly provides the entertainment.
Indiyah- IQ
Minding her own business most of the time and seemingly the underdog of the season, Indiyah gives off no bad energy and frankly I think IQ is an underrated accom. While Indiyah's screen time should be increased, much like the people's appreciation for IQ, we know she'll have her time to shine.
Amber- Devonshire
A gorgeous but forgettable girl, Amber stays in Devonshire. It's aesthetic but location isn't the best and frankly I don't know what else to say about her.
Jacques- James Baillee
Like Luca, it had to be JB. You already know Jacques and Luca would be best mates, joining the rugby team together and drunkenly bellowing football chants at 3 a.m.
By the end of the year, Jacques will have proven his sensitive side to his new uni mates after a bit of opening up but, until then, the flatmates are gonna have to tolerate their Budweiser bottles smashed all over the kitchen floor.
Davide- White Rose
Choosing to live in a literal hotel, Davide only wants the best. A cinema room, pool table and, of course, an on-site gym is exactly what will suffice for this man- nothing less.
Ikenna- Oxley
Ikenna was inevitably so chilled out that he forgot to apply for accommodation, applying late, leaving him with the accom which seems to be light-years away. Thankfully, he doesn't care, he's so chilled that he just figures he'll make it to uni somehow. His accom, and his mind, is somewhere very far away but you gotta love him for it.
Dami- Henry Price
Bro saw the place was on campus and thought "Perfect" but didn't check what was around it so is now stuck overlooking a graveyard for the next year. His positive energy won't be tainted by that though. His humour lights up the flat, so much to the point that the others forget that there's a whole cemetery outside their window.
Paige- The Tannery
Paige doesn't mind being a bit further from campus as she'd rather be in a less popular accom than pick a popular one and take the risk of ending up somewhere random. Pleasantly surprised by it, Paige has a a decent year ahead of her in The Tannery. She deserves it.
Related stories recommended by this author:
• Every type of Leeds student you'll meet on Hinge
• We know everything about you based on what bag you bring on a night out
• Leeds grad TikToker got £2k of drinks sent to him at Spoons and now he's banned from TikTok