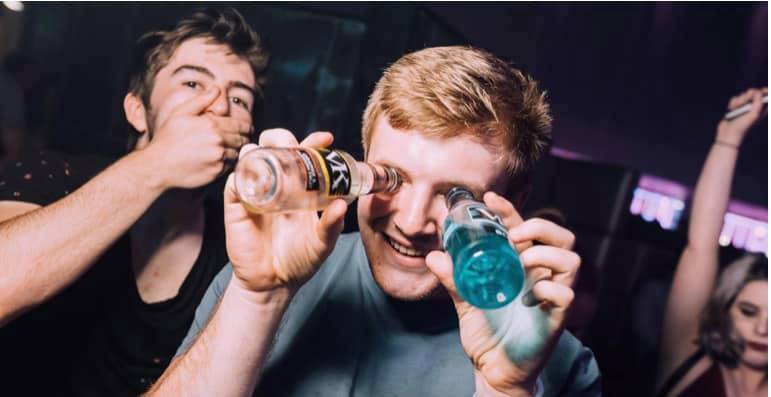 We asked Leeds students what they miss most about normal uni
..and they told us they miss yeeting VKs at Fruity
A typical uni day in Leeds would have seen a flock of students trekking through the park in their North Face and flares, before struggling to find their lecture in Roger Stevens or pretending to work in the over-populated Eddy B library.
Instead, the pandemic makes uni as simple as reaching for your laptop and logging into Minerva without even having to get dressed.
While I personally am very happy to stay in bed for the majority of the day, it seems that for many this is not the case.
The Leeds Tab caught up with some students to find out what they miss most about the normal uni experience
Not having coronavirus
Sophia Ramaer is currently isolating and cannot taste her pesto pasta. What she misses most is not having coronavirus.
Cases of coronavirus are rife at the uni, although thankfully, they do seem to be going down. Nonetheless, it feels like every student knows someone who's isolating on campus right now.
Talking to my course mates who I don't really know and would never meet up with
Saskia Wyld misses her surface-level friendships.
That's right, she misses those course mates that you practice your small talk with and text before any assignment or exam but you know you will never see again after uni. You could not care less.
A lot of these friendships end prematurely when you take up new modules and realise they aren't in any of your classes. With some of these "friends" it can get awkward when you bump into each other. Then comes that wonderful day when you mutually decide to ignore one other.
I miss getting my money's worth
Jack Ashwell just wants to get his money's worth.
And he isn't alone in his frustrations about paying £9,250 for what is essentially online university. There are numerous petitions demanding refunds or partial refunds for this year and as many have over 100,000 signatures it will be considered for debate in parliament.
"Studying in the UK" say that getting a degree from an online uni can be as cheap as £2,500! If your extortionate debt is disheartening, take comfort in the fact that you don't need to pay it back if you absolutely fail in life.
Lunch time pints
Emily Hewitt loves a pint.
She misses popping into Old Bar for a quick pint with friends in-between her lectures. There's  nothing to stop her continuing this tradition but as she's living at home this year, her parents may judge her as she tries to down a Carlsberg at 11am.
 Wet paragraph about opportunities 

Yeeting a VK at Fruity
Salim Kalache told The Leeds Tab: "I miss new experiences the most. I fell in love with Leeds because of how I could do a different thing every day and never run out of entertainment. From a spoken word poetry night to watching my friend perform in a play. Uni was always about saying yes."
However he quickly retracted this statement, saying:"Wait. Is this for The Tab? Just say I miss yeeting VKs at Fruity, or something."
Not having anxiety in seminars
Martha Nicolson has noticed new nerves from speaking through her laptop and she's not sure why.
Martha told The Leeds Tab: "If it was in person I would be fine to talk but there is something about the lag and the difference to natural communication."
The Conversation suggests some anxieties could be because the "little boxes on a screen in a video hook up…limit broader non-verbal cues" and the medium "restricts general banter between participants".
Whatever the reason, the "my camera and mic don't work" excuse is as believable as "my dog ate my homework".
Playing guess the fresher
Cameron Brown misses people-watching on campus.
Now that the only people he sees are his two housemates, a better time was when he could observe the bustling student hub and play "guess the fresher" with his friends.
What do you miss most about normal uni life? Let us know by sending us a DM on Instagram.
Related stories recommended by this writer:
• Everyone you would've met at Fruity, if we weren't in a global pandemic
• LUU are giving out free houseplants, and here's how you can get one