What Valentine's Day rom-com is your Uni of Leeds halls?
Charles Morris is so inbred though
Valentine's Day is tomorrow and for Leeds students that means one of two things – drinks at Belgrave and then a morning-after-brunch at LS6 with bae, or cuddling up to a bottle of Sainsbury's own bottle of white to watch a rom-com alone.
But whether you're an unlucky-in-love Bridget Jones, or you've already found your Mr (or Mrs) Darcy, we've all got one thing in common – we have all stayed in halls. So the question is, which Valentines Day rom-com is your uni of Leeds first year accom?
Central Village – Legally Blonde
Flashy, expensive, and full of Law students, those at Central Village are so try hard they would leave their Sorority house just to go to Harvard and study a subject they've never actually shown any genuine interest in, all to stalk their ex who is already engaged to somebody else. Yikes.
Liberty Dock – John Tucker Must Die
When you start watching John Tucker Must Die, it seems like it's going to be a shitty and stereotypical rom-com with an over-used plotline, however, if you keep on watching you realise that you in fact LOVE it. Just like how Liberty Dock seemed a bit shit at first because it's so far away, in reality it's actually closer to all the fun stuff in town and is usually full of great people. These halls are the dark horse of the bunch – just like John Tucker Must Die.
Devonshire Hall – Pride and Prejudice
The oldest and most elite halls, Dev has housed former Made in Chelsea stars and is usually the home to posh rugby boys. But in all honesty, people from Devonshire are just kind of… dull? Similar to how many would describe Pride and Prejudice compared to other major rom-coms. Also, the fancy old nature of the building mixed with its typical residents is just major Jane Austen vibes, tbh.
Henry Price – 40 Year Old Virgin
We hate to be rude, but Henry Price is just pretty depressing. Not only does it resemble some sort of prison but it also overlooks a graveyard. It also has a curfew which means if anyone is going to end up being a virgin at 40 years old, they will have definitely stayed in Henry Price.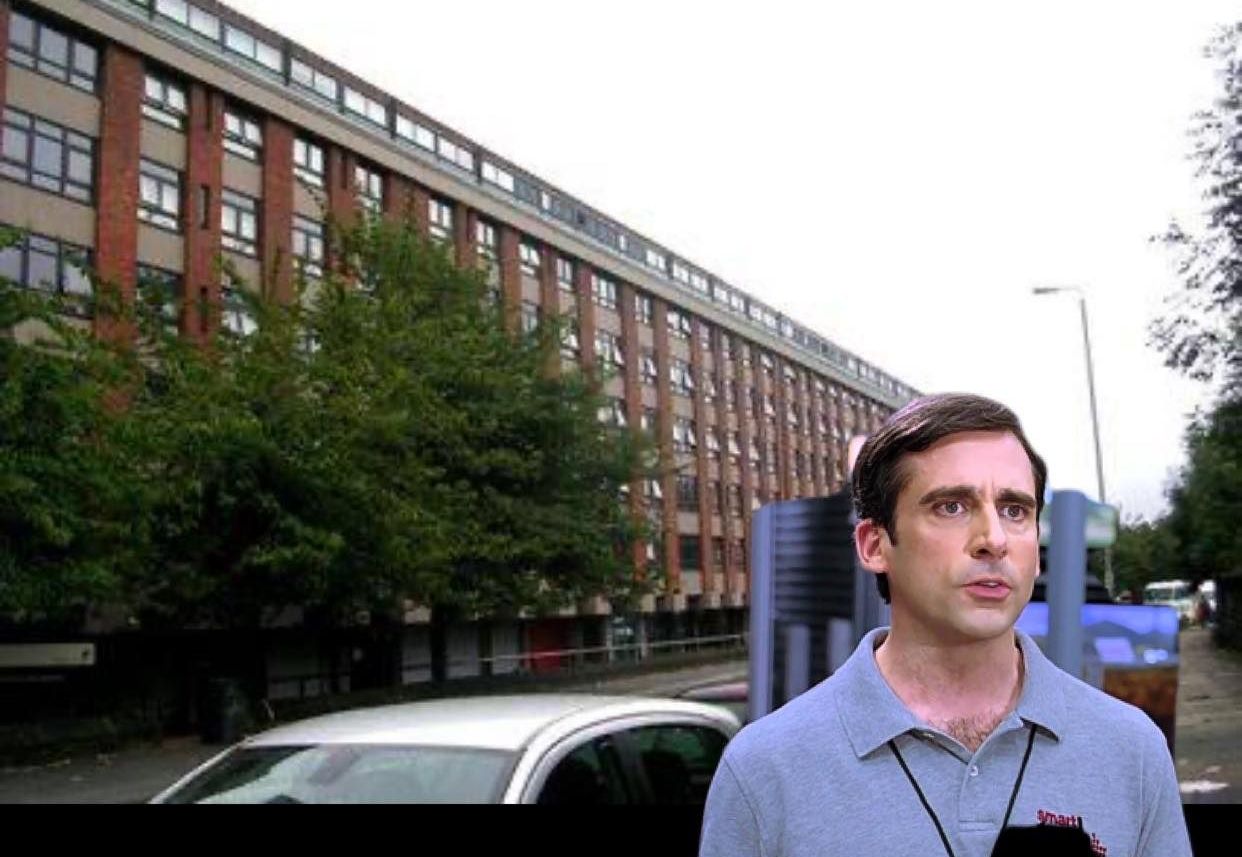 Charles Morris – Clueless
With mummy and daddy paying for their accommodation, car, and weekly Waitrose food shop, students at Charles Morris might as well just change their name to Cher Horowitz. Also, it's a very Charles Morris-esque move to fall in love with an actual relative, even if it's their second cousin twice removed, Benji.
Oxley – How To Lose A Guy In 10 Days
There are no particular common characteristics between Oxley and this fantastic Matthew McConaughey-Kate Hudson rom-com. Apart from the fact that those living in Oxley will most definitely lose the guy in less than 10 days simply because he can't be arsed to come and visit.
Leodis – Valentine's Day
With double beds and ensuite bathrooms, Leodis initially seems appealing, much like Valentine's Day with its stellar cast of Julia Roberts, Ashton Kutcher, Bradley Cooper, and Jennifer Garner. But Valentine's Day promises more than it delivers, much like Leodis. Although it has the foundations to be promising, pres are always a bit shit, it's super quiet, and even though it's not far from uni, the entire walk is uphill. It's a no from us.
The Tannery – Bridget Jones' Diary
Those at The Tannery are nice enough people but they can never seem to get over the fact that they really wanted James Baillie/Charles Morris but instead were shunted over to The Tannery. They just aren't having the best time of it, exactly like our much-loved Bridget – but bless them, they are trying.
James Baillie – 10 Things I Hate About You
Edgy and angry Patrick and Kat seem scary and kind of crazy at first, but as we get to know them, we realise just how great they actually are. The drama that surrounds them throughout the entire film is very James Baillie, from the ket-fuelled pres to the screaming car park as everyone finds their Uber on their way out. Even the drunken staggering into Crispy's and then hearing your two flatmates – who are definitely "just friends" – shagging as you stumble back into your flat. Also, Kat's blue camo vest top and cropped beige wide leg trousers? Extremely JB.
Montague Burton – anything with Paul Rudd
Paul Rudd always delivers a good performance, but all his rom-coms are pretty interchangeable. Montague Burton may be really close to uni, but the people tend to be pretty forgettable – nice to speak to while you're speaking to them, but easy to forget the conversation ever happened five minutes later.
Lyddon Hall – Clueless, the TV series
Those at Lyddon just want to be at Charles Morris – just like this terrible, incomparable TV series which aimed to be a spinoff of the ultimate rom-com movie.