The PROPER freshers guide to a good night out in Leeds this semester
On Fridays there's this place called Fruity…
With Leeds being renowned for its nightlife and social scene, the huge range of nights out can be overwhelming- especially when everyone is telling you that THEY know the best places to go.
Forget everything that halls rep told you, or how Fatsoma made you spend £40 on a wristband you barely even used.
This semester, here's where you really want to be wasting your student loan.
Beaver Works
Tucked away in the outskirts of Leeds, don't let the rough appearance of this club deter you. Expect weird, wacky and wonderful as Beaver Works is the host of events like Cirque, Flux, and High Rise. Be warned, this isn't for the classy clubber – it's a sweaty one.
Biggest night: Friday
Music: DnB, techno, liquid
Fruity
Fruity is everybody's guilty pleasure. You said you were just "coming for pres", but a few drinks down and you're desperately pleading on Leeds Uni Tickets, and then suddenly you're at the Union. With the cheapest drinks around and all the cheese guaranteed to be played, what's not to love?
Biggest night: Fruity Fridays
Music: Pop, indie, hip hop, R&B, throwbacks
Warehouse
Rugby boys, cheerleaders, and a pretty high chance you're not going to bed alone. With sports societies hitting Mischief every Wednesday, this event always sells out quickly. When you go, you'll see why.
Biggest night: Wednesday: Mischief, Monday: Bobby's Disco
Music: Pop, R&B, hip hop, disco, funk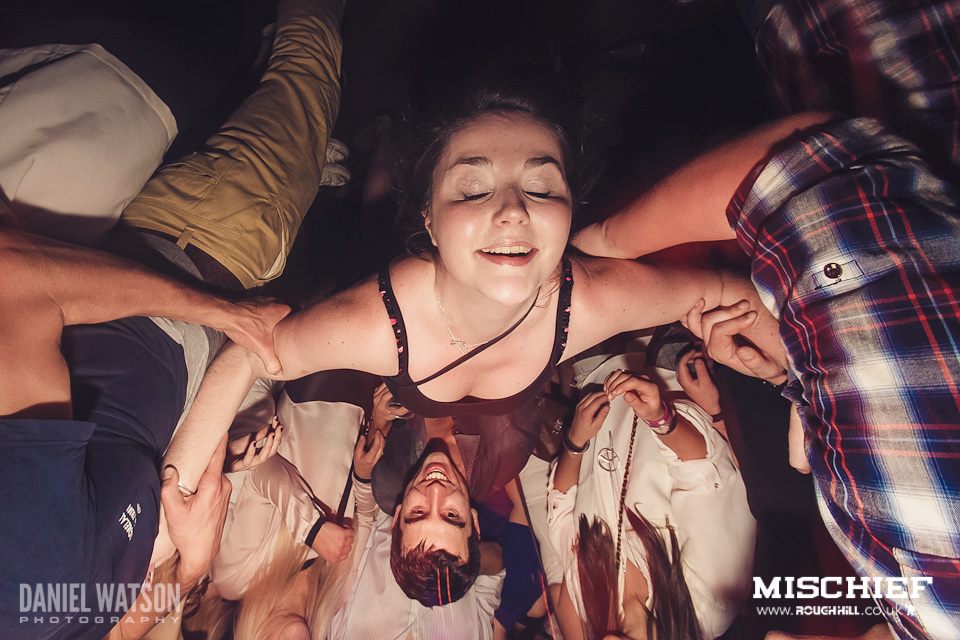 HiFi
This underground club in the heart of the city centre is a three time winner of the "best nightclub" at the Leeds Annual Bar and Club awards. It's one of the smallest clubs in the city which means there's never really a queue to get in, but with only one room inside, you just have to wait it out when they put on a shit song- which is rarely, let's be real.
Biggest night: Tuesday: Mixtape
Music: Throwbacks, pop, R&B, hip hop
The Wardrobe
With free donuts on arrival on Thursdays, nothing guarantees a jam packed night filled with guilty pleasures and banging tunes like Donuts at The Wardrobe.
Biggest Nights: Thursday: Donuts
Music: House, disco, pop, mashup
O2 Academy
As well as putting on some of the best names this year including Loyle Carner, Mabel, and Kodaline, the O2 is now home to everyone's favourite event, Bongo's Bingo. Think bingo, but you're absolutely off your face, the callers are dressed in drag, and prizes include anything from a Henry Hoover, to a giant cut out of Ainsley Harriott.
Biggest night: Wednesday: Bongo's Bingo
Music: all
Sky Rack
If you like dressing up, sports, and cheap pints, this one's for you. Guaranteed to be filled with Otley runners, Sky Rack is always lively, and its location in the middle of Headingley means you can carry on to the pub next door straight after.
Deals: Two for one on cocktails everyday from 5pm, the £5 round, buy a burger and get a drink for £1
Dry Dock
Hard to miss, Dry Dock is the land-washed boat opposite Beckett campus. It's a great place to go for a cheap cocktail in the winter sun, and you can even sit on the top deck.
Deals: Wing Wednesday (25p per wing), Pancake Thursdays (25p per pancake)
The Library
Your parents will be pleased when you tell them you've been doing "weekday library sessions," little do they know you've actually been necking pints with your housemates at 4pm on a Tuesday afternoon. The Library pub is based on the corner of Woodhouse Moor, and will soon become your second home.
Deals: "Gin-dividual" £6.50 a gin on Friday and Saturday 5pm, £4 "build your own burger" on Tuesday at 5pm
Old Bar @ The LUU
With low prices and an unmissable location under the Union, begin boozing the moment you leave your lecture. The Pub Quiz on Thursdays is great for a more low key and cheap night with your friends, meaning you can be tucked up in bed by 12, without feeling like you've missed out.
Deals: Free breakfasts between 8am-9am during exam periods, Thursdays Post Grad happy hour.