Here are the absolute best vegan hot spots in Leeds
There is a lot more to vegan food than a falafel wrap
There is a lot more to the Leeds vegan scene than your trustworthy carrot stick and hummus dip. So, if you are a full-time vegan, a fresher vegan, preparing for Veganuary or just fancy a little something different, then here is a quick List of unmissable Vegan hot spots in Leeds.
El Marchador/ Chida Cantina
A modest Mexican vegan food hideaway just two doors down from the Belgrave Music Hall and Canteen. It's so modest in fact that you might not even know that it was actually a vegan food place from the outside unless you ventured inside and looked at the menu. A menu that certainly does not disappoint, with an intimate but quality choice of tacos, burgers and more. Their colourful nachos with sour cream and their wonderful vegan chilli is AMAZING, and is best complimented with their citrus and sweet Tommy's Margherita, probably the nicest Margherita I have had to date.
Wanderer Junk Food
Originally, Wanderer Junk Food began as a food vendor at Trinity Kitchen back in August. They started off doing Vegan Fried Chicken at Trinity Kitchen but then on their second stint in Trinity kitchen they switched it up to doing mainly burgers. They are now permanently located at The Church on Woodhouse Lane. On my recent visit to their new location. We recommend their Blackened Tofish Sandwich which is like a Fillet O' Fish except its 50 times better with the bonus being its guilt free because its fish free.
MOD Pizza
https://www.instagram.com/p/BofRXcfDoYY
A very modern Pizza joint, which is basically like Subway but for Pizza. Feel free to have as many of their 19 Vegan Friendly toppings as you want especially the creamy dairy free cheese, it will all still be the same price for a standard 11-inch pizza. Located on Bond Street opposite the corner entrance of the Trinity Leeds, MOD greets and serves you with a very friendly and bubbly team of staff. It is recommended that you try the Mega dough pizza base, it provides a fantastic spongy soft crust
Temple Coffee & Donuts
Another hidden gem tucked away in Burley, Temple of Coffee is located on the Burley Court Trade Park on Kirkstall Road opposite the Shell garage. When you get inside and see their signature donuts coupled with colourful coffees and hot drinks in almost Willy Wonka fashion, you will be fighting the urge to immediately Instagram everything.
Do not leave without trying the Black Forest Donut and the Purple Haze which has lavender infused steamed milk. All the flavours were strong and exciting, especially the floral lavender and rose flavours. All their speciality coffees and steamed milk beverages can be iced if you so wish. They host an interesting selection of vegan ice cream floats. The Pumpkin Spice Donut is also worth a mention with Halloween coming up. All their donuts and ice cream are vegan, and all the drinks can be easily made vegan with a simple change to oat milk.
Humpit
https://www.instagram.com/p/_E91-Jtrx2/
This wonderful vendor of falafel, hummus and pitta bread is found in a cosy location in the Corn Exchange in the City Centre, near the bottom of Briggate and Boar Lane. After sampling their signature hummus all supermarket hummus will pale in comparison. While it is a certainly not a large menu, you are bestowed with generous portions of pitta, lovely fresh falafel and of course their hummus. If you don't quite fancy their filling pitta bread, then their hummus bowl is a definite recommendation. The best part is that they are all at reasonable prices too, so a visit to Humpit doesn't do too much damage to the student loan.
Little Tokyo
A great hotspot for Japanese food lovers found on Central Road in the City Centre. Little Tokyo has a very authentic Japanese aesthetic that even has a little bridge over a small fish pond inside the restaurant, adding an ambient feeling of almost zen garden like relaxation. With a mouth-watering array of noodle soups, Japanese style curries, and the Bento Boxes, which are a wonderful four course meal presented in a sleek tray box. For you vegans you need to try the Vegetarian Duck with Mango, Tofu Steak and Spicy Eggplant Bento Boxes, they are a house party of flavours in your mouth.
Roots and Fruits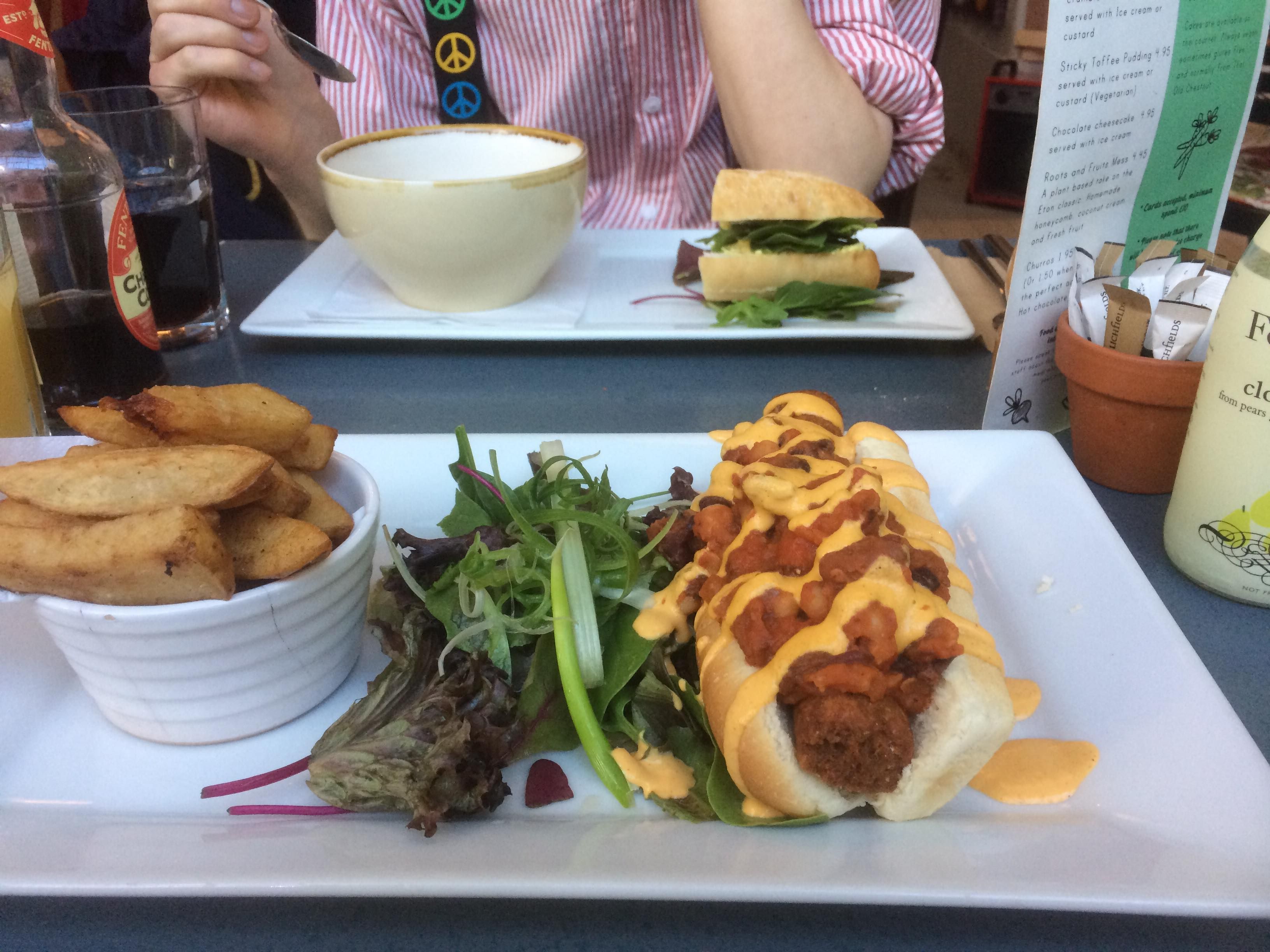 If you are looking for a nice and quaint café experience then Roots and Fruits is definitely worth a visit. You can find it in the Grand Arcade, between New Briggate and Vicar Lane near Merrion Street. It has a cosy and relaxing atmosphere complimented by food that has a loving home cooked feel. A place that, in my opinion, does some of the best chips I have ever tried. The Chilli Cheese Dog and the Eggless Egg Mayo sandwich were brilliant dishes to sample. They also have a great selection of vegan cakes and desserts available.
There are a few other honourable mentions that you definitely need to take a wander to. Banh and Mee is a great little Vietnamese street food vendor, and The Crepe Hut which is a sweet place. Bahn and Mee, and The Crepe Hut are both found in Kirkgate Market.
https://www.instagram.com/p/BnZALRBAXJQ
Mog's on Kirkstall Lane is a must visit, a great selection of vegan chicken, burgers and wraps that is also ideal for a vegan takeaway. Bundobust on Mill Hill is perfect for those with a taste of intrigue for Indian street style cuisine, boasting plenty of flavour. Cantina in the Old Red Bus Station, the first fully vegan establishment in Leeds on Vicar Lane, as well as Pho in Trinity Kitchen are all great vegan hangouts.