This Leeds student wrote her entire dissertation on tween queen Lizzie McGuire
Diss is what dreaaaaaams are made of
It started with the Sociology Third Year who wrote her entire diss on Queen Beyoncé, then we had the teen girls' obsession with Ed Miliband,  an analysis of Quidditch and even a dissertation on Yeezy himself.
But the best has arrived, and the build up has been worth it: Claudia Salador, a fourth year Media and Communications student at Leeds, did her entire 12,000-word dissertation on our favourite, fabulously dressed, 2000's tween queen – the one and only Lizzie McGuire.
'Structuring Tween Television, Gender, and Identity: A Case Study of Lizzie McGuire' aimed to uncover the tween themes of identity and gender within the narrative of Lizzie McGuire. Claudia looked at the structural elements, such as: the opening credits, bloopers, animation, and music from the episodes. She compared it with the film, whilst also proving that Lizzie McGuire was the predecessor for the more popular Disney franchise Hannah Montana.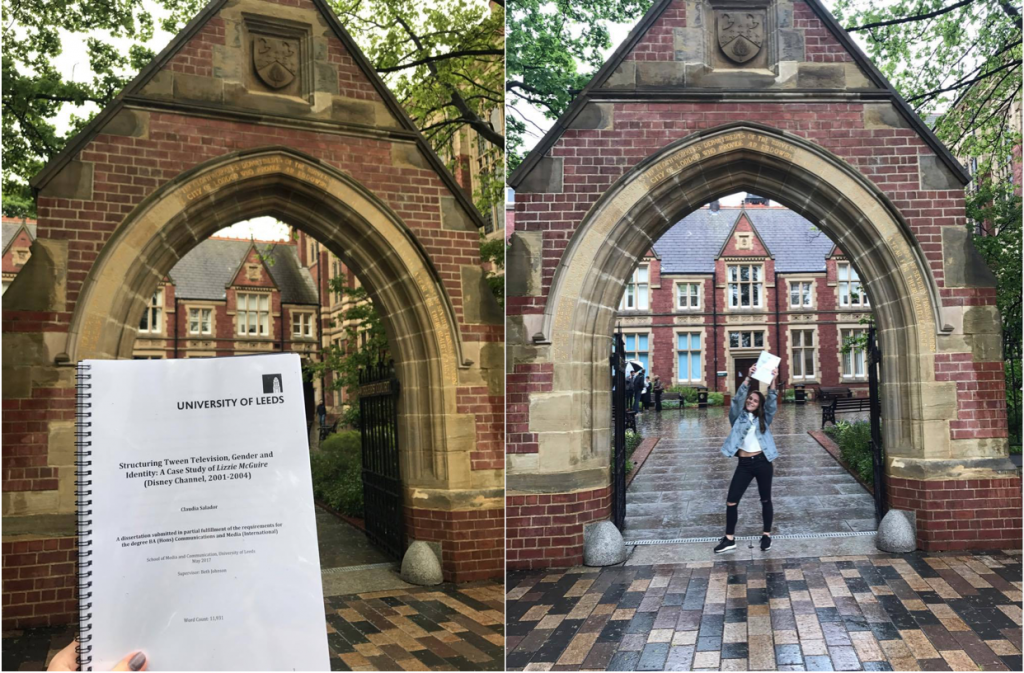 When asked why she decided to pick such an unconventional topic, Claudia said: "I knew that a dissertation takes up a lot of your time and wanted it to be a topic that I knew I wouldn't get bored of. I have previously done essays on Gossip Girl and Hannah Montana: The Movie which I really enjoyed.
"I'm not into conventional topics within my course, like media policy or social media representations, but I love Disney so thought why not continue. I already had quite a lot of reading on the topic (which I thought would decrease my workload), so that swayed me."
In total Claudia watched over 30 hours of Lizzie McGuire – every single one of the 65 episodes and, of course, the iconic Lizzie McGuire Movie, in which our fave 2000s gal jets off to Rome, finds her Italian twin, falls for a fuckboy but then realises girl power is amazing and sings to thousands of people at the Colosseum wearing some fabulous clothes.
Claudia's fave part about writing her whole dissertation was getting to rewatch all of the episodes and the FAB film – her favourite scene is the iconic ending of the Lizzie McGuire Movie in which Lizzie sings on stage with her Italian twin, she stated: "what girl doesn't love that scene, it's such an anthem!"
She also said: "I have no regrets picking this topic. I know it doesn't seem academic, but with the impact that this program has on tweens and young girls, it is important to explore as it is having a subliminal effect on this demographic."
Claudia's dissertation is an inspiration to every uni gal out there who loved Lizzie McGuire – make sure that your dissertation doesn't make your life even duller, write about your dream topic and make everything technicolor.