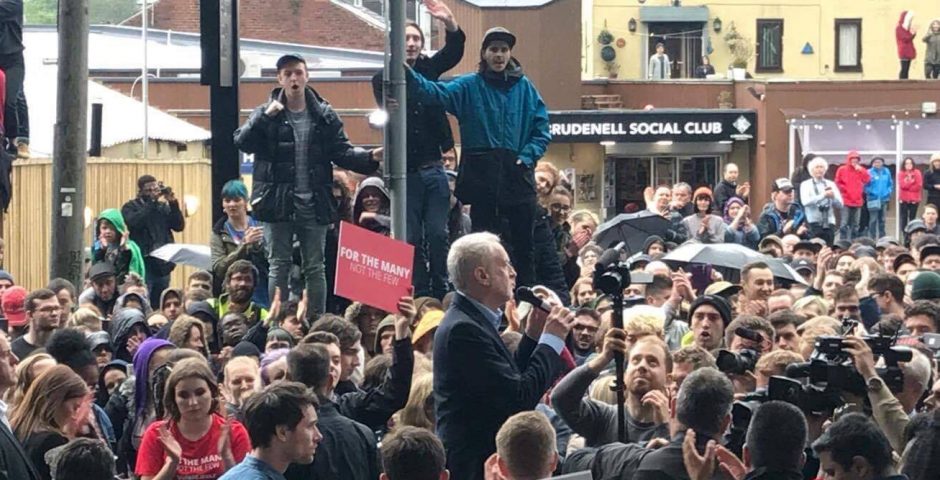 Here's what happened when Jeremy Corbyn took over Hyde Park
He said: 'Universities shouldn't be a debt for the rest of your life'
Jeremy Corbyn addressed a huge crowd of around 3,000 students outside Brudenell Social Club this afternoon. The event was originally supposed to take place inside of Brudenell, but after The Tab broke the story that he was visiting, thousands of students flocked to get a glimpse of the Labour leader, and true to the spirit of Labour's campaign slogan – 'For the many, not the few' – the event was held in the street.
Despite arriving nearly an hour late, the crowd stayed put, climbing fences, trees and walls to hear him address the crowd. A sign that there is an undoubtedly huge level of support for Labour and Corbyn amongst the student population of Leeds.
When the Labour campaign bus eventually arrived, the crowd erupted into loud cheers and chants of 'Corbyn, Corbyn!'
The spectacle of thousands of young people assembling excitedly to watch a grey haired socialist give a rousing speech was strongly reminiscent of the large campaign rallies held by presidential nominee Bernie Sanders in the United States last year. The tone of Corbyn's speech will surely invite further comparisons with the US senator, with the Labour leader railing against the rich and powerful.
Corbyn spoke passionately on issues that overwhelmingly affect students in Britain, including rising tuition fees, zero-hours contracts, mental health, climate change, and the cost of housing.
The Labour leader also urged the students gathered to register to vote by next Monday in order to have their say in this crucial election. Turnout rates a critically low amongst young people with some saying that they are disengaged with the political process, however the sheer size of the crowd today is a sign that young people are becoming engaged.
He also joked about last week's leak of Labour's draft manifesto, saying he was "sure" the crowd knew nothing about what would be in the final version on Tuesday, before urging them to ignore the leak.
When Theresa May visited Leeds she spoke to a much smaller crowd of people, Corbyn is riding a wave of support amongst young people that the Conservatives are missing out on. As one Leeds student on Facebook commented: 'Whatever your politics, I can't see anyone climbing up a lamp post for Theresa May".
Annie Peterman, a Leeds student and Labour activist, told The Tab, "It was really impressive to see so many people turn out to hear Jeremy speak. I've honestly never seen a crowd like it -people had even climbed trees to get a better view."
She added, "hopefully this afternoon has encouraged more people to not just vote Labour themselves, but get involved with campaigning. Every vote will count at this election so I would definitely encourage anybody who enjoyed today's event to get out on the doorstep to support their local candidate".
Don't forget to register to vote, the deadline is Monday the 22nd of May.
Photo credits to Sarah Coomb and Charli Poster.