Everything you'll miss about Leeds once you graduate
Three long beautiful years, but it has to come to an end. Leeds will transform you from a fresh faced kid in a leavers hoodie to veteran with a beard or a bindi who takes their techno very seriously.
I never realised how much I would miss Leeds until I graduated and moved away. It really is unlike anywhere else in the world.
The fact that you can do whatever you want, whenever you want in Hyde Park
It's 4am and Sainsbury's is still packed. There might even be someone playing a tuba (see above). You could be hearing drum and bass spill out onto the streets on a Tuesday night. You could be hearing peppy tropical house on a lazy Sunday spent avoiding revision.
Seeing someone walk down the street in a Native American headdress is totally normal. People matching paisley with stripes in every colour they can find. You can't get away with that as an adult.
Fruity is a very particular type of paradise
I say this with an extremely bittersweet taste in my mouth. I went from time to time in first year, shunned it entirely in my second and rediscovered Fruity when it was almost too late.
Beaverworks was good. Acetate at Wire was better. Fruity is just something else entirely.
YikYak
If you're not at uni, it's not worth using. If you've ever been on the London Yik Yak then you'll know what I'm talking about.
The maze of Roger Stevens
You used to hate getting lost in there. But when you're lost in the adult world, its nonsense corridors will seem strangely inviting.
Bakery 164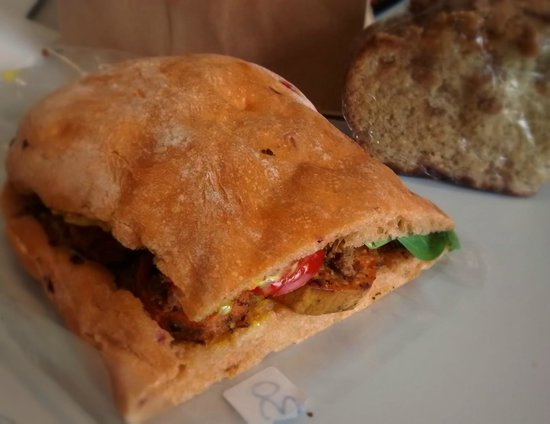 Put focaccia with anything and it's guaranteed to be a hit. Smokey butternut squash, chicken and chorizo. Mad cheap considering it's the same price as an Essential meal deal.
Otley Runs > Every other pub crawl in the country
Before I came to Leeds I genuinely thought this involved some sort of physical exercise. There's the walking from pub to pub, but that's about it.
The theme can be as specific as "Wes Anderson characters" or as broad as "Irish". Other cities just go with "pub golf" and keep it simple.
It's disgustingly cheap
Yeah, in a lot of ways Leeds is turning into the new London. But the prices have remained intact.
Average weekly rent in Hyde Park or Headingley is around £70, but in London it's pretty much double that. With a student loan, grant and a part time job I've never had so much spare money. Probably because I ate a lot of Simpson's Pizza (and lived to tell the tale). They're only £3.50. They used to be £3.
Where else can you find a decent night where drinks are £1? Quids In is so popular that for a whole term it was being held at both Pryzm AND Control because of some kind of promoter conflict.
Getting handed these in the street
Why are they always called Freddy, Jesus or Chub?
Sainsbury's Local
You'll even miss the queue at midnight on a Saturday when they close for half an hour to restock. The only time it ever shuts. There's a rumour that Hyde Park Sainsbury's makes more money than any other local in the country. I tried to chase it up, but unfortunately it will always remain a mystery.
My old housemate did his entire weekly shop here. Everybody knows somebody who does it. By the end of the year he had enough Nectar Points to feed the whole rugby team. He actually used them all on a few bottles of vodka at the end of term.
I guess if you lived near Burley Park station then you have the same kind of fondness for Co-op, but it's not as fun.
LUU Elections
At time you think this glorified popularity contest with a well paid and pretty easy job at the end is a waste of time.  8,000 people vote a year, so somebody must care.
Have you seen Zac Goldsmith and Sadiq Khan? At least in Leeds politics was fun.
Pints
Big up Hyde Park Pub, Old Bar, Terrace and Dry Dock.
Hyde Park (sorry Woodhouse Moor) in the summer
The beats, the vibes, the never-ending smell of weed.