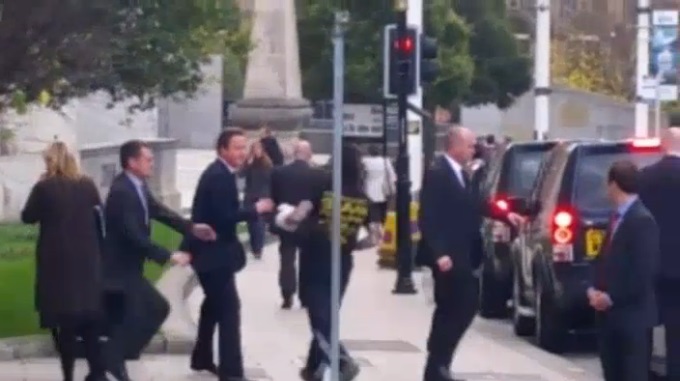 CIVIC BRAWL: David Cameron attacked in Leeds
Man claims he was just out for a jog
David Cameron was given a rude welcome to Leeds when he was violently shoved by an opportunistic local earlier today at civic hall.
The hapless Prime Minister, who was in Leeds to discuss plans for the new HS3 train line, was left dazed after the passer-by pushed him.
West Yorkshire Police tweeted: "A 28-year-old local man was briefly arrested after he came close to the PM's group, who had just left the Civic Hall."
"No threats were made, and after the man's details were checked, he was de-arrested and allowed on his way."
The man, who outed himself on Facebook as Leeds local Dean Balboa Farley, played down the incident.
He said on Facebook: "So I'm all over the news as 'the protester that attacked David Cameron in Leeds'"
"Yeah if you call brushing into someone while running then getting assaulted by half a dozen coppers."
History student Adam Baranowski diagreed, saying: "He definitely bashed into him, there's no way he was just jogging.
"Oh well, it didn't look very painful."
But third-year English student Nick Anderson said: "I think it's ridiculous. Can't a man jog in peace?"
An inquiry is set to be launched into what is being treated by police as a major security breach.
The man was "de-arrested" and released fifteen minutes after the incident.