Leeds RAG Fashion Show WRAP Party
GEORGIA BENJAMIN takes The Tab to the RAG fashion show wrap party
fashion
Harvey Nichols
instagram
leeds
Leeds Rag Fashion Show
lifestyle
party
Rag
shopping
VIP
Last night the Leeds RAG Fashion Show put on a WRAP party at Harvey Nichols to celebrate their success following last weeks fashion show. Harvey Nichols were kind enough to host the little soiree, opening their doors just for us lucky students offering 10% discount in store and free drinks at their pop-up bars placed on every floor.
It is not often that us students get treated like VIPs but with the HN staff on hand offering free makeovers and styling tips it sure made it a fun night.
Sadly official press photography was not allowed in store, but of course the iPhone came out for a bit of instagram action.
So here it is. A sort of "insta-post" showing you all a sneak peek into last nights LRFS Wrap party.
As soon as the clocks hit 6pm out came the specially designed merchansiding for the exclusive event.
Flashing your student card on entry entitled you to free drink vouchers *oh hello* so of course they were fully taken advantage of on the conveniently located bars on each of the 4 floors.
With the drinks flowing nicely Hayley & I wondered around the store looking at all the gorgeous pieces that were on display in the show last week. Despite the rather enticing 10% off, the Burberry Trench and Moncler Bomber were still rather out of our limited student budget.
The gorgeous Lavinia at the Trish McEvoy counter gave us both makeovers after deciding that neither of us had done our make up to any form of acceptable standard. She used a lip product called 'instant pick me up' which is a clear gloss that intensifies your natural lip colour, I spent the whole night walking around with luscious red lips without worrying if there was lipstick on my teeth. Strongly recommended product!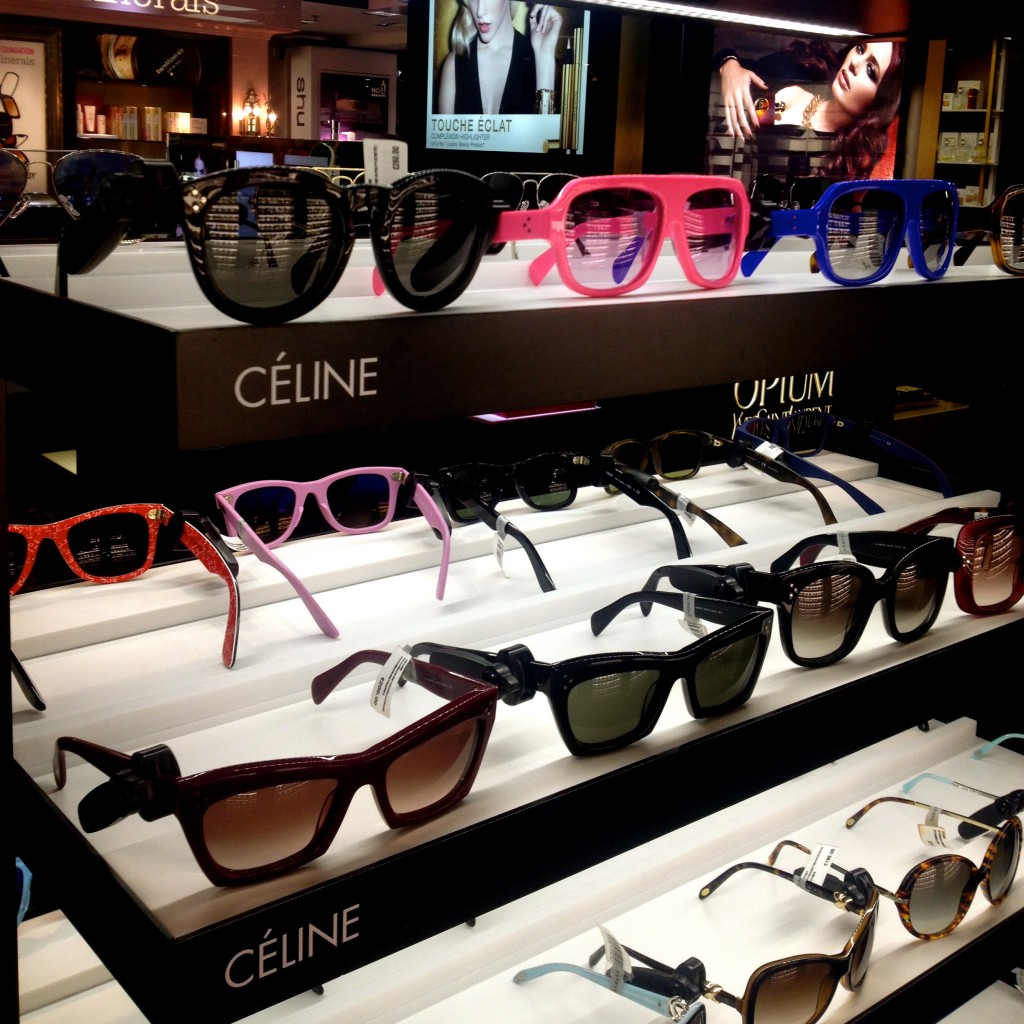 Glittery blue Miu Miu, oh how I love you.
These vintage style watches by Olivia Burton were positively divine. A new emerging label from London selling some of the most gorgeous watch designs. Think Patek Philippe meets vintage Cartier at extremely affordable prices. Adding one of those to my 'must have' list.
The store was looking as beautiful as ever with wonderful visual merchandising featuring some of the best designs. A fun night for all and if were lucky enough to pop down, I'm sure you'd agree.
Well, of course I couldn't leave without a little something.
Stay stylish people.
Love G x
PS. Check out my blog for more coverage from the night (click here).