All the proof you need that the learning zone is better than the library
Wouldn't you rather procrastinate while watching the ducks?
| UPDATED
I know this may be a slightly controversial statement, but the learning zone is better than the library. You can't convince me otherwise.
I understand people have loyalties to Norma – but she just isn't as iconic as Norman – and the library tree is one of the only positives I'll give to the library.
People are reluctant to admit it, but the learning zone is just so much better and I have six reasons to prove my point. By the end of this article, you'll be crossing Alex Square next time you have an essay deadline.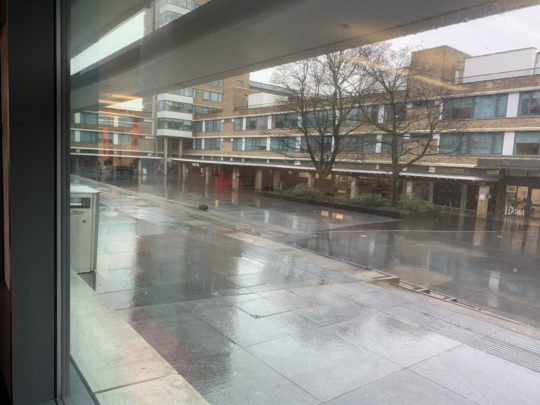 The windows
The huge windows mean that it's always so light in there, even on a classic rainy Lancaster day. They also provide excellent entertainment. Watching people walk across Alexandra Square is a lot more exciting than writing your essay, especially when the ducks come right up to the windows to say hello!
I will admit that it is a little bit awkward when people come to sit on the steps and lean against the window, you do feel a bit judged. And I know that the library does have big windows but some desks are right in the midst of those bookshelves and I'm not about that vibe.
Food
This is another thing that stresses me out about the library, whilst I agree there should be restrictions (because no one wants to smell your chilli from the night before while writing an essay on British Romanticism) I just get a bit stressed.
What if my sausage roll was unusually just out of the oven from Greggs and is actually hot for once, but you're not allowed hot food in the library? Do I stand outside awkwardly to wait for it to cool down before it becomes classed as cold and I'm allowed to eat in there?
It requires too much thought process, I'd rather just go to the learning zone where I know no one will question my steak bake.

Seating
How do you all pick where you want to sit in the library? The library is a maze, each section with different rules, and while some might say that the different types of desks help give choices, I just get confused again.
Plus the library is always so busy, and I just feel like everyone is watching me walk around to find a seat that I didn't want because the seat is too low down but I can't change it because I've already made enough noise taking my coat off.
Whereas the learning zone is never as busy and the limited seat options mean you know the seat you're sitting on and all you have to focus on is the work you came to do.
The noise
I think this is a point that many people will argue with. Now I understand that sometimes you have to do work in silence, there's serious work that requires the C floor in the library. But sometimes silence is too quiet.
In the library, it's always so awkward getting your things out of your bag, or if you haven't managed to stop at Greggs yet and your stomach is growling loud enough to upset the guy next to you who left his essay to the last minute. This doesn't happen in the learning zone, everyone is having their own conversations not paying attention to you.
I accept that sometimes you get a loud group who are laughing and shouting and that is annoying but most of the time everyone is working in the learning zone so the noise volume isn't that loud. Plus an added bonus is the entertainment, if you go on a Monday morning or Thursday morning, you'll get people discussing their drunken antics from the weekend or the night before.
The panic
The deeper you get into the depths of the library, where the bookshelves all look the same and you've forgotten which way the exit is, you find yourself surrounded by the simmering stress of students panicking while watching lectures from three weeks ago.
The learning zone is much more relaxed and anxiety-free, you can't feel the looming essays and upcoming deadlines and I don't want to be surrounded by stress when I'm already stressed.
Proximity to Greggs
I know a lot of you will argue that the library is also right next to Greggs, and while I agree, the learning zone is in a much better position.
From your desk next to the window you can see the Greggs queue. This means that you're able to time your break for the best time to walk right into Greggs to order your sausage roll rather than wait in the rain in the middle of Alex Square for ten minutes. Then you can spend more of your scheduled break on TikTok. You're welcome.
I'll see you all in the Learning Zone soon!
Related articles recommended by this writer: