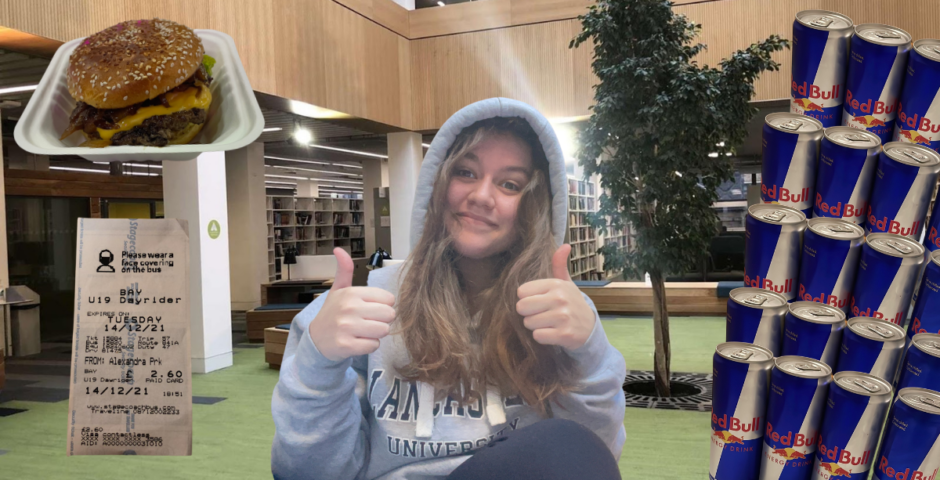 21 things you could buy with the average lecturer salary they miss out on through strikes
It's no secret that lecturers don't get paid if they're striking. Many Lancaster University staff are striking due to pensions, working conditions and zero contracted hours, in order to make a difference and allow for positive change. But by taking part in the strike action, the lecturers are voluntarily not getting paid. What's more? University management are pocketing this money.
So, we thought, what could we buy with the amount of money Lancaster University is profiting on while lecturers take a stand for their own working conditions and quality of living.
The average salary for a lecturer is £40, 511 per year before tax. We calculated that after tax, that leaves £31,890 per year, equating to £613.27 a week. What would Lancaster students do with that amount of money in their pocket for the week?
584 Greggs sausage rolls
That's right, if you were to spend all the dosh at Greggs on campus, you could get 584 sausage rolls! Take them to your lecture and seminars for the week and everyone would love you forever. You'd make friends for life.
15 college fees
Ah, the widely controversial college fees. With all this money, you'd be able to pay 15 freshers' college fees! Don't do this. Let the freshers pay it themselves. It's a rite of passage.
306 VK's
We all know the three for six pound deal on VK's in Sugar. Everyone there is practically juggling three VK's with only two hands. But how would you hold 306? If you go out three times a week, that's over 100 each night. You'd end up in the infirmary if you drank that many. Although, do VK's actually contain that much alcohol? Must be a myth.
235 under 19 day riders
Obviously for a week you'd only need seven day rider tickets, but save them up and you're travel needs are sorted for years.
Three weeks of superior ensuite rent
You read that right, you could live in the imposing heights of Bowland Tower or the plush comfort of Cartmel for three whole weeks with £613.27. Of course, there's the question of whether you'd actually want to live in Bowland or Cartmel…
Five weeks of standard rent
Lancaster University is making back five weeks of standard rent for every member of staff that is on strike this week. That's almost half a term!
61 Sultans smash burgers
We just made our own smash burgers at Sultans and can 100 per cent confirm that we would buy 61 in one go.
681 ducks (from Tesco) (rip)
We couldn't find an average price for live ducks, so we had to go for the next best thing. With this many ducks, you could host a pancake banquet for your whole course. They'd have no problem doing your work in the group project afterwards.
204 Tesco meal deals
With this many meal deals, you could finally settle the age-old debate of which meal deal combo is the best meal deal. You could also buy 204 days worth of crisps to noisily crunch in the Library, making you Lancaster's most hated student.
40 return tickets to the Lakes
You keep saying you'll go, so why don't you? With the money that the university is pocketing this week, you could go back and forth to Windemere a whopping 40 times! That'd cover you most weekends.
619 Red Bulls from Home Bargains
We can confirm, Home Bargains is the cheapest place in Lancs to buy energy drinks. If you drank 619 Red Bulls in a week, you'd probably be in no state to turn up to lectures yourself.
At least half of your overdraft
Okay… A quarter…
20 Lancaster University hoodies
This may seem like a small amount, but with the hoodies costing a whopping £30, it kind of makes sense. You could buy one of every colour about five times, then wear a different colour each day.
68 candles to hide from your landlord
Wherever you decide to stash your waxy contraband when your landlord pops over, there's probably not enough space for 68 candles. If you lit all of these at once, you'd have the best-smelling flat in all of Lancs.
97 Subway chicken teriyaki footlongs
For those days when you need more than a sausage roll to soothe your sense of impending dread
88 margarita pizzas from Sun Pizza
Who knew cheesy deliciousness came at such a bargain price? (Answer: we did.)
Six nights in a double room at Lancaster House Hotel
This is for those of us sleeping on an ancient mattress with a massive dip in the middle, more than three broken slats and a few questionable stains.
Three nights in a luxury studio suite at Lancaster House Hotel
Only Egyptian cotton will get us through lent term. The complimentary tea and coffee wouldn't go amiss either.
Three bronze gym memberships
It doesn't matter that you barely touch the one you have now; with three gym memberships, you could force your mates to (not) go with you as well.
207 SPAR coffees
Yes, they come from a machine. Yes, they are the reason I crawl onto campus every morning. No, I won't apologise about it.
49 Purple Cards
Only Lancs OGs will get that reference. Maybe if we all had this much spare cash lying around they wouldn't have been discontinued.
A Lancaster University spokesperson said: "Not all staff at Lancaster are members of the staff union and not all members may choose to strike on any given day of the planned action so we hope that most teaching and learning will take place as usual. We do ask that students check Moodle for any last-minute changes to their timetable as academic colleagues do not have to inform us in advance if they are taking action.
"As in previous action, those staff who do strike will expect to have pay deducted. Typically, any savings on payroll will be prioritised for expenditure that benefits students and are likely to be redirected to those departments where the action has taken place to help mitigate the effects on student experience and support staff managing additional workloads as a result of industrial action. The University has charitable status and any surplus generated is reinvested in the further development of the University for benefit of students and staff.
"The University has funding in place to support students who find themselves in difficult financial circumstances and keeps the level of this funding under close review each year.
"Departments are working hard to minimise the disruption to students, and we expect that throughout the industrial action the University and its services will be running normally. This includes the Library, Colleges, Sports Centre and support services such as Counselling, Disability, and Funding, and IT."
Related stories recommended by this writer
• Smash or pass? We made our own smash burgers at Sultans
• All the proof you need that the Learning Zone is better than the library
• The best walks in and around Lancaster for students pressed for time